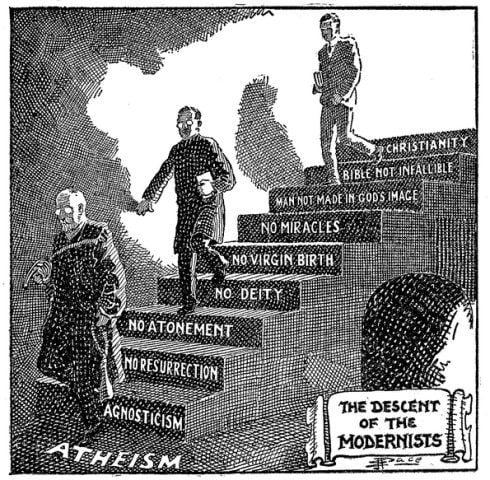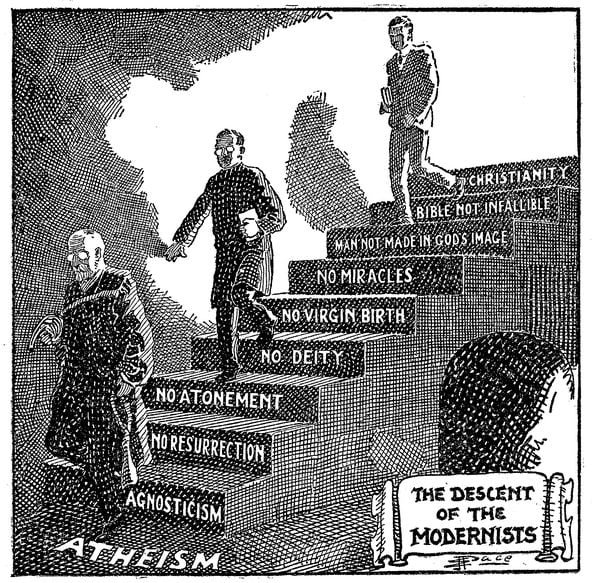 An increasing number of Evangelicals find themselves emotionally, theologically, and politically at odds with Evangelical Christianity. And it's not just people in the pews either. Evangelical pastors, evangelists, missionaries, and college professors also find themselves in opposition to Evangelical beliefs and practice. Skewered by keepers of the book of life (discernment ministries and Fundamentalist zealots) as Christ-denying apostates who likely never were Christians, these servants of God find themselves increasingly attacked and discredited over their willingness to verbalize and share their doubts and questions about the "faith once delivered to the saints." I know firsthand the savagery of those who believe God has called them to seek out disloyal Evangelicals. I know firsthand their attacks on your character and family. I know firsthand the lengths to which they will go to discredit your story — even saying that you were never a pastor and or your story is a complete fabrication. Yet, despite the increasing violence against doubters who dare to go public with their doubts, questioning congregants and clergymen continue to tell their stories.
Many of these doubters eventually turn to atheism or agnosticism. My journey from Evangelicalism to atheism was one of a slow slide down the proverbial slippery slope. (Please see the From Evangelicalism to Atheism series) I knew that Evangelicalism was a charade, a religious house built on a faulty foundation, but I desperately wanted to keep believing in Jesus. It was all I knew. So, for a time I tried to make intellectual peace with liberal Christianity, but in the end, I found its arguments intellectually lacking. From there, I thought, maybe Unitarian-Universalism (UU) is the answer. While I met a number of wonderful UU people, I came to the conclusion that UU was just a religion of sorts for atheists and agnostics; a religion for people who loved liturgy and spirituality, but rejected dogma. I found myself asking, why bother?
I have noticed in recent years that supposedly non-judgmental, loving liberal Christians have taken to attacking atheists, suggesting that atheists are no different from Fundamentalists who say that if you can find one error in the Bible then Christianity is false. Atheists are accused of attacking a straw man Christianity, instead of engaging "real" Christianity. While I certainly agree that some atheists are every bit as Fundamentalist as Christian zealots, most of them are not. In fact, many of the atheists I know, myself included, have given Christianity a fair shake. We have weighed Christianity — including its liberal flavor — in the balance and found it wanting.
Liberal Christians rightly condemn Evangelicals for their rigid literalism and commitment to Bible inerrancy. To liberals, only country hicks and intellectually challenged people believe the Bible is literally true, without error, and infallible in all that it teaches. Who in their right mind thinks the earth was created by the Christian God 6,024 years ago? Who in their right mind believes in Noah's worldwide flood? Who in their right mind believes all those Old Testament stories are true? Who in their right mind believes Jesus actually worked all the miracles attributed to him in the Gospel? Who in their right mind believes in a literal Hell where non-Christians are tormented day and night forever? Who in their right mind believes that Jesus was the virgin-born son of God who came to earth to die for sinners and resurrected from the dead three days later? Uh, wait a minute Bruce, I agree with you on everything except what you said about Jesus' birth, death, and resurrection, liberal Christians say. Jesus is real! Jesus died for my sins! Jesus resurrected from the dead! Jesus promised me a home in Heaven when I die! (This is best said jumping up and down.) And therein is the fundamental problem I have with liberal Christianity. While the Evangelical holds on to rigid literalism and inerrancy, the liberal Christian jettisons virtually everything except the Jesus of the gospels. Liberal Christians believe most of the stories and teachings in the Bible are allegorical or metaphorical, yet when they read the Bible verses about Jesus' birth, death, and resurrection, all of a sudden they become rigid literalists and can be every bit as Fundamentalist as Evangelicals. All of a sudden, the words of the Bible matter and are to be taken literally, thus proving at some point along the inerrancy spectrum, Evangelicals and liberals alike believe these Bible verses really, really, I mean R-E-A-L-L-Y are true!
Over the past decade, I've engaged in heated discussions with countless Evangelical apologists. Years ago, these discussions (and personal attacks) became so emotionally draining that I quit blogging, vowing never to write again. Yet, months later I would arise from the ashes and try again. All told, I went through this process at least three times. Long-time readers sensed a pattern, knowing that, yes, Bruce will crash and burn, but eventually he will rise again from the dead. June 2014 was one of those times. I thought, at the time, I am really done with this! Time to move on! However, in December 2014, I opened up shop again, calling my venture The Life and Times of Bruce Gerencser. Come December, I will have been successfully open and serving up either bullshit or gourmet meals depending on your view of Evangelical Christianity, for five years. What changed? Why have I been able to keep writing week after week, year after year?
Four things stand out, and yes, I am going to bring this post back around to its subject.
First, I began seeing a secular counselor on a regular basis. He literally saved my life. I still see him every few weeks.
Second, I developed close relationships with a handful of readers who knew the warning signs of an impending Bruce crash and burn. They took on the burden of engaging Evangelicals in the comment section, and were willing to warn me when they saw me getting wound up and ready to explode.
Third, Loki brought a woman by the name of Carolyn into my life. When Carolyn first contacted me, she told that she loved my writing, but my grammar really needed some work. At first, I was offended, but I can tell you today, she was absolutely right. Carolyn not only edits my writing, but she has also become a dear friend. She knows me well enough to sense when I am deep in the valley of depression and despair, and sometimes all I need from her is a text that says, Are you okay? And, after 50 texts back and forth, I start feeling better! Don't let anyone tell you that online friendships are of little value. I know better.
Fourth, I learned that it was okay to NOT engage Christian zealots in discussions; that my target audience was Christians who had doubts or questions about their faith or people who had already left Christianity. I decided to let Evangelical apologists have their say in the comment section and then send them packing. I wanted this blog to be a haven safe and free from Evangelical bullies and trolls — a la Jim Wright's recent comments. All in all, I think I have succeeded.
Every year, scores of commenters end up banned from commenting. Banning works this way. Run afoul of the commenting guidelines or act like an asshole, and your commenting privileges are revoked. Come the start of each year, however, I clear the ban list, giving everyone banned a fresh start, an opportunity to show me and the readers of this blog that they can play well with others. Sadly, many un-banned commenters quickly find themselves banned again — thus proving that a leopard can't change its spots.
What might be surprising to readers is this: only one commenter is permanently banned. Wow, she must have really been a Fundamentalist! Actually, she is a liberal Christian, one of the most irritating commenters I have ever known. Why, you ask, does she irritate me? When pressed on what it is that she actually believes, she always dodges my questions or attempts to muddy the waters. When asked to give me a list of what were her non-negotiable beliefs — silence. When asked to state her cardinal, must-believe theological beliefs — silence. When asked if she believed atheists such as myself go to Hell when they die — silence. I found her obfuscation to be akin to attempting to nail Jell-O to a wall. One time, we got into a discussion about her belief that God is Love. While certainly, the Bible teaches God is love, it also teaches that God is angry with the wicked every day, hates sinners, and can and does act in vindictive, capricious, violent ways. This woman wanted the God of love, but not the God of wrath. She made much of all the places in the Bible that spoke of God's wonderful grace and love. I replied, "let's talk about Genesis 6-9; you know Noah's flood; you know where God killed every man, woman, child, infant, and unborn fetus save eight people. By all means, from this passage of Scripture, show me the God of Love." Of course, she had no answer for me.
A lot of liberal Christians read this blog. They love my frontal assaults on Evangelical Christianity. They love my liberal politics and progressive social values. And I love them too. I am all for ANY religious belief — including worshipping Bruce Almighty — that moves people away from religious fundamentalism — especially Christian Fundamentalism. That said, I truly don't understand, from a belief perspective, liberal Christians. What beliefs really matter? How can one dismiss, reinterpret, or spiritualize most of the Bible, yet believe in a literal born of a virgin, crucified, resurrected from the dead Jesus? How does someone determine what's to be taken literal, and what's not? Liberals accuse Evangelicals of having wooden literalism only when it suits them or when it validates their theology, but how is this any different from what Liberal Christians do? Isn't this buffet approach to faith just a matter of degree? Why is it laughable when Evangelicals say they believe every word of the Bible, yet dismiss certain verses when it's convenient or expedient to do so, but when Liberal Christians do the same, it's somehow different? Different how? Aren't both groups picking and choosing what it is they really believe and ignoring the rest?
I also wonder if Liberal Christians are, deep-down in their heart-of-hearts, universalists; people of faith who believe all roads lead to Heaven. If this is so, then why try to rescue disaffected Evangelicals from the jaws of atheism and agnosticism? Shouldn't freeing people from the Evangelical cult be all that matters? If there's no Hell, no final judgment, no accounts to be settled between God and man, why bother? Or at the very least, why not just admit that you go to church for social and cultural reasons, and your faith gives you a sense of purpose and meaning? You see, I suspect there are more than a few atheists and agnostics hiding in plain sight in liberal Christian churches. I also suspect that a number of liberal Christians are closer theologically to their Evangelical brethren than they are willing to publicly admit; that in the end Christians are going to win the grand prize of eternal life, and atheists are going to be annihilated by God, snuffed out of existence for all eternity — as if somehow that's loving.
Liberal Christianity remains a conundrum to me. I have asked before for Liberal Christians to explain to me their view of the Bible and how and why they determine which parts of the Bible to believe and which parts, in Thomas Jefferson-style, to excise. So far, I have yet to hear a cogent explanation and defense of liberal Christianity. I can see its effect on the world through its good works and love for others, but intellectually, at least for me, Liberal Christianity remains Jell-O nailed to a wall.
About Bruce Gerencser
Bruce Gerencser, 62, lives in rural Northwest Ohio with his wife of 41 years. He and his wife have six grown children and twelve grandchildren. Bruce pastored Evangelical churches for twenty-five years in Ohio, Texas, and Michigan. Bruce left the ministry in 2005, and in 2008 he left Christianity. Bruce is now a humanist and an atheist. For more information about Bruce, please read the About page.
Are you on Social Media? Follow Bruce on Facebook and Twitter.
Thank you for reading this post. Please share your thoughts in the comment section. If you are a first-time commenter, please read the commenting policy before wowing readers with your words. All first-time comments are moderated. If you would like to contact Bruce directly, please use the contact form to do so.
Donations are always appreciated. Donations on a monthly basis can be made through Patreon. One-time donations can be made through PayPal.