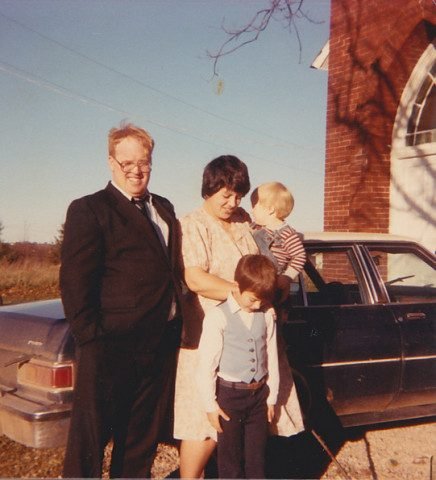 In July 1983, I started a new Independent Fundamentalist Baptist (IFB) church in the southeast Ohio community of Somerset. After a year or so of meeting in rented buildings, we bought a 150-year-old abandoned Methodist church building five miles east of Somerset, on top of what locals called Sego Hill. For the next decade, I would pastor a rapidly growing (and later declining) congregation. In 1987, Somerset Baptist Church crossed the 200 mark, attendance-wise. We were the largest non-Catholic church in Perry County. I proudly displayed on our church sign the brag, "Perry County's Fastest Growing Church." Of course, a few years later, when attendance dropped to under 100, I didn't change the line to say, Perry County's Fastest Declining Church." Only good publicity for Jesus, I thought at the time.
In the summer of 1987, my wife and I, along with our children, attended the Ohio State Fair. The AIDS crisis had come to the attention of then-Governor Dick Celeste — a Democrat — and the Ohio Health Department. The Health Department had set up an AIDS information table at the fair, including information about AIDS, condom use, and how to have safe sex. Needless to say, I was outraged over this overt, in-your-face display of immorality. At the time, I hated homosexuals, and it was not uncommon for me to use homophobic slurs from the pulpit. Privately, I would share with colleagues in the ministry the last homo-joke I had heard. Example: What do you call a man with AIDS in a wheelchair? Rolaids. Funny, right? When a church member told me that he had physically assaulted a gay man who had come on to him, I complimented him for standing up to faggots. Such was the Bruce Gerencser of the 1980s.
Not one to let my moral outrage pass, I returned home and set in motion what would be one of the biggest moments in the history of Somerset Baptist Church. I thought, what was the best way to let Governor Celeste, the Ohio Health Department, and homosexuals know what GOD thought about AIDS and their condom/safe-sex initiative? I decided that the church would run a full-page ad in the Perry County Tribune that would expose what I saw at the state fair and what the Bible said about homosexuality — an abomination that demanded capital punishment.
I made a passionate pro-God, anti-homosexuality appeal to congregants, asking them to help fund a full-page ad in the local newspaper. In short order, I had collected the $900 necessary to publish "What the Bible Says About Homosexuality." The newspaper ran the advertisement without changing a thing. I called out Governor Celeste by name, as I did the Ohio Health Department. I listed the relevant Bible verses about homosexuality and wrote a short sermonette that drove these verses home. I was quite proud of myself. I sure told that queer-loving liberal, didn't I? I let everyone in Perry County and the surrounding area know exactly what GOD — whom I often confused with Bruce — said about homosexuality, AIDS, and safe sex.
The advertisement got a lot of press, including coverage by at least one TV station in Columbus. Boy, was I proud of the stand Somerset Baptist Church took against sodomy and sexual perversion! At the time, I believed that AIDS was a curse sent by God as judgment on homosexuals. I know it is hard for readers to square the Bruce they now know with the Pastor Bruce of the 1980s, but let my story be a reminder that change is possible; that even homophobic Christian bigots can see the light. (Please see Bruce, What was Your View on Homosexuality When You Were a Pastor?)
About Bruce Gerencser
Bruce Gerencser, 62, lives in rural Northwest Ohio with his wife of 41 years. He and his wife have six grown children and twelve grandchildren. Bruce pastored Evangelical churches for twenty-five years in Ohio, Texas, and Michigan. Bruce left the ministry in 2005, and in 2008 he left Christianity. Bruce is now a humanist and an atheist. For more information about Bruce, please read the About page.
Are you on Social Media? Follow Bruce on Facebook and Twitter.
Thank you for reading this post. Please share your thoughts in the comment section. If you are a first-time commenter, please read the commenting policy before wowing readers with your words. All first-time comments are moderated. If you would like to contact Bruce directly, please use the contact form to do so.
Donations are always appreciated. Donations on a monthly basis can be made through Patreon. One-time donations can be made through PayPal.