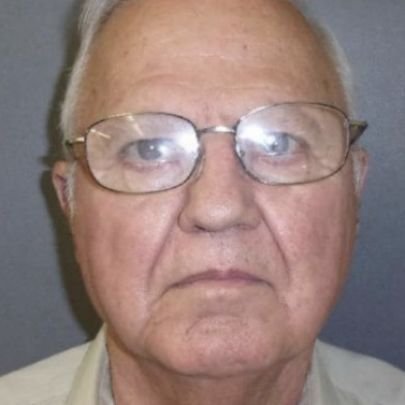 The Black Collar Crime Series relies on public news stories and publicly available information for its content. If any incorrect information is found, please contact Bruce Gerencser. Nothing in this post should be construed as an accusation of guilt. Those accused of crimes are innocent until proven guilty.
In October 2017, I posted a story detailing sexual abuse allegations against Garry Evans, pastor of Rushville Baptist Temple in Rushville, Indiana.  Rushville Baptist is an Independent Fundamentalist Baptist (IFB) congregation.
A 72-year-old pastor in Rush County is accused of molesting multiple young children in his congregation.

Garry Evans, Pastor of the Rushville Baptist Temple was arrested Wednesday evening during a traffic stop.

According to court documents, the investigation began after a 3-year-old child who attends the church told her mother that Evans had taken her into his office to give her candy then "pulled his pants down" and made her touch his genitals.

Shortly after the investigation began another mother came forward saying her 7-year-old and 5-year-old claimed they had also been touched by the pastor. Both girls told investigators that "The Pastor" gives the kids candy when they go into his office alone, and touches them or makes them touch him. The youngest girl told investigators that it started happening after she started kindergarten in August.

And another mother with two young girls at the church also came forward with a similar story.

Rushville Police Chief Craig Tucker said a woman also came forward and said she had been molested by Evans decades ago, in a different community. That woman helped police pursue the new cases, but it is unclear if charges can be sought in hers.

Evans is charged with three counts of child molestation, four counts of sexual battery and five counts of child solicitation. He is currently being held without bond at the Rush County Jail.

….
In November 2017, the Rushville Republican reported:
The Rush County Prosecutor's Office filed more charges Thursday against Garry Evans, the Pastor of the Rushville Baptist Temple Church. The new charges stem from allegations from a new alleged victim, identified in Court filings as a six-year-old. The new charges include Child Molesting, a Level 4 Felony, and Child Solicitation, a Level 5 Felony.

Evans previously was charged with Child Molesting, Child Solicitation, and Sexual Battery involving five alleged victims. Evans posted the $20,000 bond soon after it was set by the Judge. Along with the new charges, the Prosecutor filed a motion to increase Evans' original bond. Rush County Prosecutor Phil Caviness explained that the fact that these charges bring the number of alleged victims to six justifies a higher bond than the standard Level 4 Felony case, and added that his office was seeking Evans to be monitored by the Rush County Community Corrections Program if he is released on bond. "We feel that given the charges, GPS monitoring and protective orders for all of the alleged victims and their families are important conditions of bond in this case," Caviness said.

Court documents indicate that these new alleged incidents occurred sometime between the Fall of 2016 and Summer, 2017, but were disclosed after the first charges were filed against Evans. Trial for these charges currently is scheduled to begin on Feb. 20, 2018.
After these latest charges were filed, Evans attempted to commit suicide.
In February 2018, Evans was arrested and charged with criminal trespassing. His wife was also arrested. The Herald-Tribune reported at the time:
A report of criminal trespass received by the Rushville Police Department Jan. 29 led to the arrest of Pastor Garry Evans, 72, and his wife Gay Evans, 70.

The elder Evans had been released from jail after posting a $20,000 bond following his initial arrest in October 2017 regarding a number of allegations of inappropriate activity with minors, according to earlier editions of the Rushville Republican. A condition of his bond required that Evans be placed on GPS monitoring by the court.

Although innocent until proven guilty, Evans was initially charged last fall with three counts of child molestation, a Level 4 felony; four counts of sexual battery, a Level 5 felony; and five counts of child solicitation, a Level 6 felony.

Additional allegations and charges were filed with the courts in November 2017 when another minor child came forward. Following the second arrest, Evans, the longtime pastor of the Rushville Baptist Temple, unsuccessfully attempted to take his own life and, as a result, was hospitalized for an extended period of time.

The couple's most recent legal troubles began when the pair appeared Jan. 28 at a Rushville residence stating they wished to see a family member they believed to be inside. The tenant reported they would not leave until they spoke with the individual. The tenant and complainant in the case informed the Evanses that they were not welcome at the property and needed to leave. The couple refused and demanded to speak with the relative.

Following several attempts to get them to leave, the complainant stated that she felt threatened and retreated into the residence, where she retrieved a firearm. The woman returned to the door and again told the couple to leave, but they refused. At this time, Gay Evans attempted unsuccessfully to take the firearm from the resident. The complainant then locked herself inside and stowed the firearm.

A few moments later, the resident observed Garry and Gay Evans looking in a vehicle on the property. The complainant then chased the pastor and his wife off her property with a baseball bat.

As a result of the incident, warrants were issued for the arrest of Garry Evans and Gay Evans for criminal trespass, a Class A misdemeanor.

The pair were taken into custody Tuesday afternoon, Jan. 30. During the course of the arrest, Gay Evans became verbally abusive and physically resistant toward officers and as a result was additionally charged with resisting law enforcement, a Class A misdemeanor.

….
Earlier this month, Evans' trial began, culminating with the jury acquitting him on all counts. As of today, the prosecutor's office has not made a public statement in relation to Evans' acquittal.