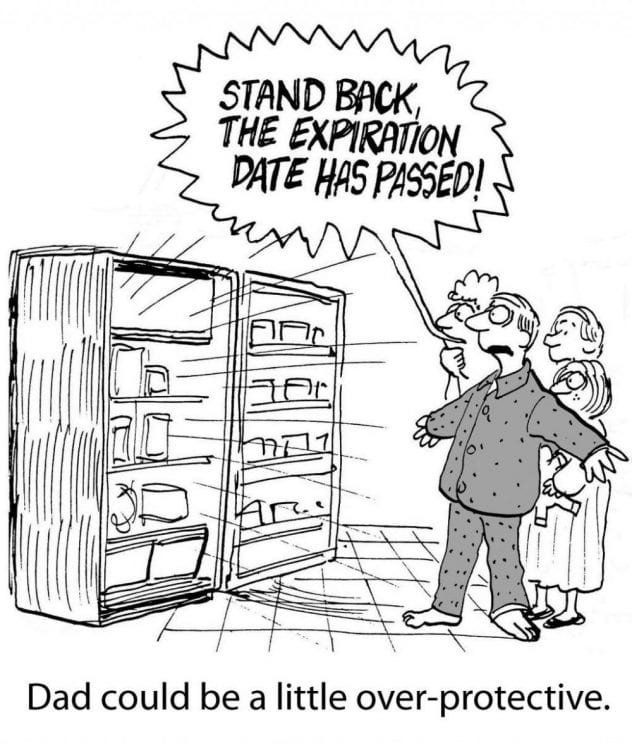 This is not a post about food in general, dieting, or the future of the world food supply. I certainly have opinions on all of the subjects, but in this post, I want to share a list of a few of my eccentricities when it comes to food and drink. Enjoy
Ice Cream
I love ice cream. When I want seconds, I always have to have a new bowl and spoon.
Expiration Dates
I treat expiration dates as if they are etched in stone. Yes, I know many expiration dates are "best if used by" dates. It doesn't matter. Out the item goes on its expiration date.
Leftovers
All leftovers must be eaten within seventy-two hours. Out they go, regardless of freshness.
Eating Food Made by Others at Church Potlucks
I pastored Baptist churches. Baptists are known for their love of potlucks — where individual church members bring a dish to share with everyone. As a pastor, I visited church families at their homes several times a year. This allowed me to develop personal relationships with them outside of a church setting. Of course, this also exposed me to how they lived — including how clean they kept their homes. I have seen more than a few homes posing as landfills. Filth everywhere. Over time, I developed a phobia about eating food cooked by anyone except Polly. I just couldn't bring myself to eat so-and-so's food, knowing the condition of their kitchens.
I passed this phobia on to my oldest two sons. They hate potlucks.
Drinking After Others
I don't drink after other people — ever. I dated Polly for two years before we were married. I have known her for forty-three years. We have swapped a lot of spit, but I have never, ever drank after her. Not one time. The same goes for my children, grandchildren, siblings, and parents. I would die of thirst before I would drink after someone else.
Eating One Food Item at a Time
Generally, I eat my food one item at a time. Every once in a blue moon — say at a steak joint — I will only eat part of my baked potato before moving on to my steak.
Cleaning the Table at a Restaurant
I always stack up all the dishes and clean the table before we leave. I don't want the server to think we are pigs.
Bread Balls
On occasion, I will take two or three pieces of cheap white bread and mash them into a ball and eat it. The first time Polly saw me do this, forty-something years ago, she thought I was nuts. She should have followed her gut instinct and run.
Lukewarm Food
I like my food either cold or hot. I refuse to eat lukewarm food, be it at a restaurant or at home. Thanks be to Loki for microwaves.
Cheap Hotdogs
I rarely will eat cheap hotdogs. I know how hot dogs are made; what cuts of meat are used. Something that sells for $1 a pound can't be good. Well, unless it's a fried corn dog. The batter turns the hot dog into a sirloin steak.
Beggar Cats and Dogs
We have a cat and a dog. Both of them are twelve or so years old. They have been part of our family for over a decade. Much to Polly's consternation, I give both of them table scraps. They have turned into vultures who sit at my feet, waiting for me to give them food.
Thirty-Eight and Zero
Our refrigerator and freezer have thermometers that are regularly monitored by yours truly. The fridge is kept at exactly thirty-eight degrees. Not thirty-six or forty — exactly thirty-eight. The freezer is kept at zero at all times. We plan to buy a new freezer sometime next year. Our current one is twelve years old and is manual defrost. Who is the dumbass who bought a MANUAL defrost freezer? The freezer has to be unloaded and manually defrosted every two to three months, depending on the weather. On the bucket list: new auto defrost freezer.
Do you have food-related peculiarities or habits? Please share them in the comment section.
About Bruce Gerencser
Bruce Gerencser, 62, lives in rural Northwest Ohio with his wife of 41 years. He and his wife have six grown children and twelve grandchildren. Bruce pastored Evangelical churches for twenty-five years in Ohio, Texas, and Michigan. Bruce left the ministry in 2005, and in 2008 he left Christianity. Bruce is now a humanist and an atheist. For more information about Bruce, please read the About page.
Are you on Social Media? Follow Bruce on Facebook and Twitter.
Thank you for reading this post. Please share your thoughts in the comment section. If you are a first-time commenter, please read the commenting policy before wowing readers with your words. All first-time comments are moderated. If you would like to contact Bruce directly, please use the contact form to do so.
Donations are always appreciated. Donations on a monthly basis can be made through Patreon. One-time donations can be made through PayPal.