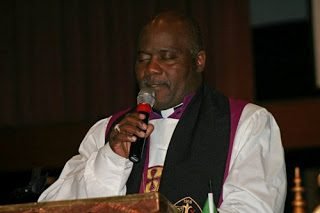 The Black Collar Crime Series relies on public news stories and publicly available information for its content. If any incorrect information is found, please contact Bruce Gerencser. Nothing in this post should be construed as an accusation of guilt. Those accused of crimes are innocent until proven guilty.
Gregory Lucy, director and bishop of El Shaddai A.O.H. Church of God in Dixon Mills, Alabama, pleaded guilty to sexually abusing an underage girl. (A.O.H. stands for Apostolic Overcoming Holy [Church of God])
Lucy was arrested in 2016 after being indicted on four counts of first-degree sexual abuse and one count of attempted rape. Lucy is a bishop at church.

According to court records, Lucy was accused of fondling the girl's breasts and genitals in March of that year. Authorities didn't say whether the victim was a member of Lucy's congregation.

Lucy this week pleaded guilty in a Marengo County courtroom to one count of first-degree sex abuse. As part of his plea agreement, the other charges against him were dismissed.

District Attorney Greg Griggers is recommending a 10-year prison sentence for the Class C felony conviction, records show. Griggers said in court documents the state will be opposed to any probation or any type of split sentence for Lucy.
According to 2015 bio on the AOH Church of God website:
Bishop Gregory Lucy, is know [sic] to some as "Overseer," others as an intellectual, community leader, visionary, educator, counselor, and still others as a devoted husband, beloved father, and loyal friend. No matter your point of reference, there are few places you will travel in this area without hearing the name Overseer Gregory Lucy. A native of Dixons Mills, Alabama Overseer Lucy was one of seventeen children born to the late John and Alma Lucy. Gregory Lucy was raised alongside a diverse array of siblings. Many of his childhood experiences nurtured his unique call to the ministry and helped honed his distinct ability to deliver the gospel to reach diverse people of many backgrounds and denominations. As a scholar, Overseer Lucy graduated from Marengo High School and went on to attend Bishop State Community College in Mobile, AL. It is noteworthy to mention that the years Overseer Lucy attended Bishop State, helped distinguish and contributed to his greater accomplishments later in life.

….

In 1986, at the age of thirty, the late Senior Bishop Jasper Roby ordained Overseer Lucy an Elder. After serving as assistant Pastor for two-years under the leadership of Elder Willie Jones, Overseer Lucy accepted his first pastorate at Dixons Mills A.O.H. Church of God appointed by Bishop G. W. Ayers. During this tenure, many changes were made, from many building restorations to significantly increasing the membership of the church. Because of his consistent dedication to God's work, Overseer Lucy was promoted from an Elder to Assistant Overseer of the 6th District. In 2000 God gave Overseer Lucy a vision to move the church to a new location and build it debt free, which at the time seemed to be a huge task to accomplish. He continually encouraged the members that the new church and location would come to pass without fail stating, "When God gives a vision, he will provide." On September 29, 2002, the new debt-free church with a seating capacity of six hundred was dedicated and given the new name El Shaddai A.O.H. Church of God.

….

In March 2006 Overseer Lucy was appointed Overseer of the 22nd District. In June 2011 Overseer Lucy was appointed Bishop-Elect in this great Apostolic Overcoming Holy Church of God. Bishop Lucy continues in the promises that God has given him as he endeavors to nurture a church that goes "beyond the walls," pursuing an ongoing effort to touch lives with the love of God. It is also his desire that El Shaddai A.O.H Church have a positive and powerful impact on its community bringing hope and uplift in every way possible. "The Lord is truly blessing this church, and HE continues to bless me and I can assure you that if you live for God, He will take care of you." – Bishop Lucy is the proud husband of 30 years to Lady Phyllis Lucy, a devoted father to Gabriel and Adrienne Lucy and loving grandfather to Brendon L. Lucy. Bishop Lucy was consecrated bishop in 2013.
And now he can add child molester to his resume.