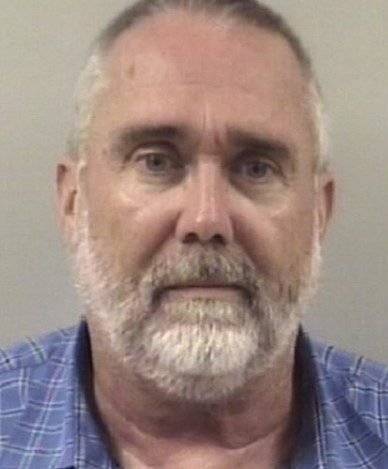 The Black Collar Crime Series relies on public news stories and publicly available information for its content. If any incorrect information is found, please contact Bruce Gerencser. Nothing in this post should be construed as an accusation of guilt. Those accused of crimes are innocent until proven guilty.
Eariler this year, Stephen Morris, pastor of Oliver's Grove Baptist Church in Four Oaks, North Carolina,  was accused of raping a thirteen-year-old girl. (The church has no web presence.)
The Johnston County Sheriff's Office arrested 61-year-old Reverend Stephen Morris last Friday on 10 felony counts, including five counts of statutory rape and five counts of taking indecent liberties with a child.

According to court documents, Morris is accused of statutory rape with a 13-year-old between June 2013 and June 2014.

….

Detectives say the victim is now 19 years old and reported what happened to police last month.

Because the incident involves a juvenile victim, authorities would not disclose how the victim and suspect knew one another.

Morris remains in the Johnston County jail under a $2.5 million bond.
Morris now faces additional sex crime charges involving two underage girls, along with new charges related to the thirteen-year-old victim.
The Johnston County Report says:
The former pastor of a Four Oaks church charged in July with engaging in sexual acts with a juvenile has now been charged with crimes against two more underage victims.

everend Stephen Arthur Morris was the pastor at Oliver's Grove Baptist Church on Highway 301 South of Four Oaks when he was originally arrested on July 5th, 2019. He resigned the same day from his role at the church. He posted bail July 26th, 2019 when his bond was lowered to $250,000 and was confined to house arrest at his residence on Parkertown Road. Morris is now back behind bars.

Today (Wednesday), Rev. Morris was served with additional warrants involving the original victim plus two additional victims who have now come forward.

Morris was indicted Oct. 7th by a Johnston County Grand Jury on 12 new charges, that's in addition to 14 charges he already faces.

Eight of the 12 new charges are for additional incidents in 2013 and 2014 involving the first victim. Those new charges include additional counts of statutory rape and taking indecent liberties with a minor for sexual acts with the female victim, who was 13 at the time of the alleged offenses.

After the arrest of Rev. Morris was reported by the media in July, JoCoReport has learned two additional victims came forward reporting incidents to the Johnston County Sheriff's Office. Those incidents occurred in 2008. Rev. Morris is accused of soliciting nude photos of the two young girls who were 9 and 11 at the time.