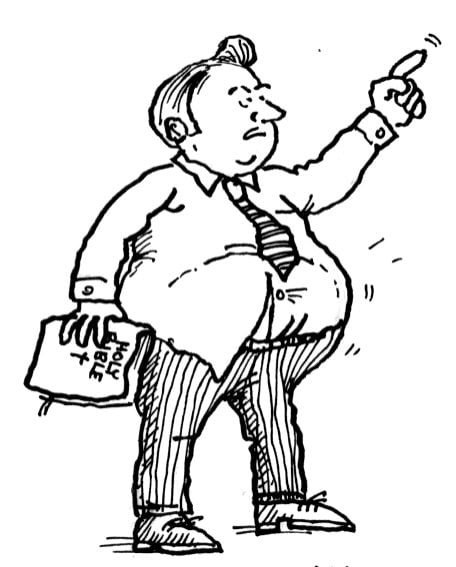 Have you noticed that when many big-name, megachurch pastors and not-so-big name pastors get themselves in trouble that they often resign, disappear for a while, and then show up in a new town, claiming that "God" is leading them to start a new church? Or sometimes, they squirrel themselves away for a year or so, and then the next thing you read is that they are the new pastor of such-and-such church. No matter what the crime or misbehavior, "fallen" pastors almost always find a path back to the ministry.
The main reason, of course, is that these men tend to be charismatic, winsome leaders who easily attract followers, followers who are willing to let the past be the past, followers who are willing to grant them redemption and forgiveness, followers who are far more interested in the "man" than they are his behavior. (Please see The Evangelical Cult of Personality.) Big-name preachers, in particular, become demigods. People flock to them, hanging on every word, regardless of who they might have had an affair with or sexually molested in the past. Sadly, way too many Evangelicals are stupid and gullible, willing to sacrifice reason and moral decency for the attention of a soiled big-name preacher.
In virtually every other setting, you commit a crime or have an inappropriate relationship with a subordinate, and your career is over. Not so for "fallen" Evangelical preachers. No matter what a preacher does, there is nothing that stands in his way if he wants to go to a new city and start a church. The Internet has changed this dynamic somewhat, but before the Internet, it wasn't uncommon to hear of preachers who "fell" (or ran) into sin, resigned, and then moved a few thousand miles away to start a new church. (Please see How to Start an Independent Baptist Church.) Anyone can start a new church. If I were so inclined, I could start a new church by Sunday. Why, if all my children and their spouses and my grandchildren showed up, I would have more than twenty-five people in attendance for the first service at First Church of Bruce Almighty. By default, First Church would be tax-exempt, and attendance-wise would be larger than several "real" churches nearby. There's no secular or religious authority that could stop me from doing so. That's the beauty (and the danger) of the separation of church and state. Pastor so-and-so can fuck his way through the congregation, get caught and resign, and then pack up, move five states away, and start a new church. Felon Jack Schaap, the disgraced pastor of First Baptist Church in Hammond, Indiana, will be out of federal prison in a couple of years. Does anyone doubt that once out of jail, Schaap will try to return to the ministry? Remember all the bad shit Jim Bakker did? After he got out of prison, he wrote a book titled, I Was Wrong. Not too wrong, however. Bakker is back on TV, preaching the "gospel" and fleecing anyone and everyone who comes his way. Ted Haggard? Jimmy Swaggart? Perry Noble? Mark Driscoll? The list goes on and on. All of these men made a mockery of their calling, and in some instances committed crimes. Yet, today all of them are still in the ministry. Granted, they haven't reached the levels of notoriety they once had, but thousands of people have flocked to their new churches, seemingly oblivious to their past sins, "indiscretions," failures, and crimes.
Why don't these "fallen" preachers move on to other jobs or careers? Why do they return to the ministry, drawn to it like a moth to the light? With few exceptions, every disgraced preacher I know later reentered the ministry. Sure, some of them labor in obscurity, often doing little more than preaching at nursing homes or jails. However, most of them find a path back to the ministry, often in the same capacity as before. Yesterday, I posted a story about Pastor Donald Foose. Foose confessed to and was convicted of sexually molesting a teenage girl. After serving nine months of a two-year prison sentence, Foose moved down the road to a new church. After several years at this church, he became its pastor. The former pastor and other church leaders knew about Foose's criminal past, yet they uncritically believed him when he said, "I didn't do it." Worse yet, several men who should have been some sort of check and balance chose, instead, to give Foose a pass, believing that everyone deserves redemption and a new start. I wonder if these men would be as understanding if it were their daughters whom Foose sexually assaulted? I doubt it.
Why can't these preachers move on to new jobs, employment that's not connected to their religious past? One pastor I know quite well had an affair with his secretary. While there were extenuating circumstances — his wife was a lesbian who hadn't had sex with him in 20 years — he left the ministry and started working a secular job. He never pastored a church again. Why is it so many disgraced pastors don't do the same? Oh, they will get a secular job for a year or two until the heat dies down and people move on, but more often than not, back to the ministry they go.
I am convinced that many of these men are addicted to the ministry. They spent years being the center of attention. People looked up to them, fawned over them, and treated them as if they were gods. I left the ministry in 2005. I miss the constant adulation and praise of others. I miss being the hub around which everything turned. I miss having the respect of others. I miss, to put it bluntly, being DA MAN! Pastors who read this blog know what I am talking about. The close connection preachers have with congregants is fulfilling and satisfying. It is almost impossible to find similar feelings in the "world." Much like drug addicts craving hits of methamphetamine, preachers crave the attention, flattery, and admiration they received from congregants. Live off this high long enough, and you can't imagine not having it. That's why many pastors with crimes/indiscretions in their pasts end up rebooting their ministries somewhere else. These "men of God" are much like King David as he looked over the rooftops and saw Bathsheba naked, taking a bath. "I have got to have her," David thought. And have her, he did. So it is with the preachers I have talked about in this post. Their Bathsheba is the ministry.
About Bruce Gerencser
Bruce Gerencser, 62, lives in rural Northwest Ohio with his wife of 41 years. He and his wife have six grown children and twelve grandchildren. Bruce pastored Evangelical churches for twenty-five years in Ohio, Texas, and Michigan. Bruce left the ministry in 2005, and in 2008 he left Christianity. Bruce is now a humanist and an atheist. For more information about Bruce, please read the About page.
Are you on Social Media? Follow Bruce on Facebook and Twitter.
Thank you for reading this post. Please share your thoughts in the comment section. If you are a first-time commenter, please read the commenting policy before wowing readers with your words. All first-time comments are moderated. If you would like to contact Bruce directly, please use the contact form to do so.
Donations are always appreciated. Donations on a monthly basis can be made through Patreon. One-time donations can be made through PayPal.