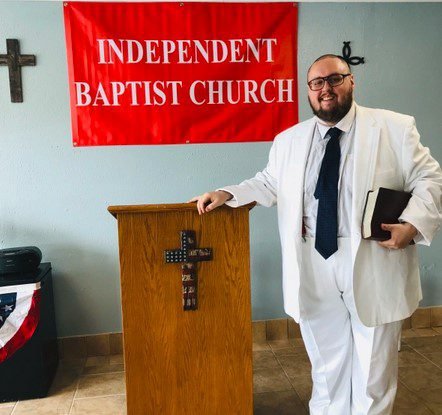 The Sounds of Fundamentalism is a series that I would like readers to help me with. If you know of a video clip that shows the crazy, cantankerous, or contradictory side of Evangelical Christianity, please send me an email with the name or link to the video. Please do not leave suggestions in the comment section. Let's have some fun!
Today's Sound of Fundamentalism is a Twitter video clip of Independent Fundamentalist Baptist (IFB) preacher Nathan Rager preaching at Independent Baptist Church of Tampa Bay in Tampa Bay Florida. Rager — a "real" man — loved the phrase, lily-livered liberals.
Want to hear Pastor Rager's view of the Coronavirus pandemic? You know you do. 🙂 He is definitely in favor of infecting as many people as possible. Get out there and go soulwinning, bless God! God is in control.