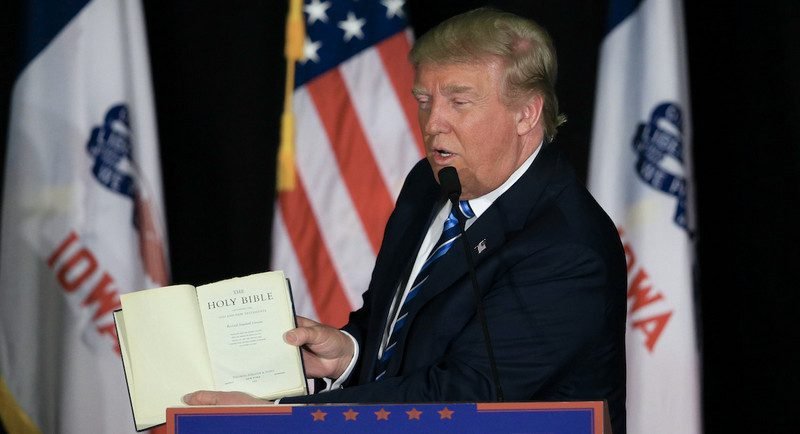 Evangelicals desperately want to believe that Donald Trump is a Christian. For decades, Evangelicals clamored for God to give them a Christian president. Jimmy Carter? Christian, but the wrong kind. Bill Clinton? Christian, but he had that whole blue dress thing. Besides, he was a Democrat. George W. Bush? Christian, but he was too busy waging war to bother with Evangelical demands. Why he wasn't even pro-life. Obama? Christian, but he was the unholy trinity of black, democrat, and liberal Christian. Not one of us, Evangelicals said. In November 2015, eighty-two percent of voting white Evangelicals helped elect Donald Trump as the forty-fifth president of the United States. Finally, Evangelicals believed they had a Christian president. Never mind the fact that Trump is a narcissistic liar who bragged about grabbing women by their genitals, a man who has been repeatedly accused of sex crimes. In his blessed heart-of-hearts, Evangelicals believe Trump is a Christian. James Dobson says that Trump is a "baby-Christian." Instead of looking at the character of the man, Evangelicals divert attention to the president's agenda. It is here that we see that Trump plays Santa Claus for Evangelical culture warriors. His policies, cabinet, and judicial appointments make it clear that Evangelicals are ruling the White House. It's hard to walk down the halls of 1600 Pennsylvania Avenue without running into Evangelicals either praying, going to Bible study, or trying to subvert the U.S. Constitution.
For Evangelicals who still have a shred of decency left, I am sure that Trump's awful behavior continues to bother them. Instead of admitting that they made a mistake voting for the most unqualified man ever to be president, Evangelicals search far and wide looking for anything that suggests to them that Trump is one of them. If Evangelicals can convince themselves that the president is a Christian, they will happily vote for him in November. He's God's man for such a time as this, Evangelicals tell themselves — even though Trump's handling of the Coronavirus pandemic has been nothing short of a 9-11/Katrina-level disaster. Some Evangelicals even think that Trump is the reincarnation of King Cyrus.
The latest straw Evangelicals are grasping at has to do with a Bible sent to the president by his Scottish relatives. Evangelical evangelist Ron Susek explains the story this way:
1949. The Island of Lewis in the Hebrides (off the coast of Scotland) was struck by a revival that shook the islanders at the time, and in varying ways continues to impact the world to this day.

It began in the late 1940s on the small Scottish island of Lewis in the village of Barvas. Two Smith sisters, Peggy who was blind and Christine who was arthritic, began to pray. Peggy received a revelation that revival was coming. Some Christian leaders met in a barn to pray, not for others, but for their own cleansing.

Soon revival broke. A fifteen-year-old boy name Donald Smith proved to be a great prayer warrior who kept his heart close to God. He became involved in this famous Hebrides Revival which lasted three years.

Years earlier, Mary Anne Smith MacLeod, niece of the two elderly women and a cousin of Donald Smith emigrated to America and met a young man named Frederick. They fell in love and married in January of 1936 and had five children: Mary Anne (Barry), Frederick Jr., Elizabeth (Grau), Donald and Robert.

The one elderly sister who had prayed for revival sent her Bible to America as a gift to Mary Anne, who subsequently gave it to her son, Donald. Today, this Bible lies in her son's office – the Oval Office – at the White House and it was one of the Bibles upon which he placed his hand to take the oath of office. Yes, President Donald Trump's roots reach back to one of the greatest revivals in history.

No true believer has the right to withhold prayer for President Trump because of disagreement. No flawless wonder has ever headed any nation. Still, the Bible commands that we pray for those in authority (2 Timothy 2:2).

Remember God's promise: "If my people, which are called by my name, shall humble themselves, and pray, and seek my face, and turn from their wicked ways; then will I hear from heaven, and will forgive their sin, and will heal their land" (2 Chronicles 7:14).

Do not withhold heartfelt prayer for this President by comparing him to Jesus. We all fail that test. Begin praying for an awakening to sweep from the Oval Office to every corner of the land.
Evidently, Susek and other Evangelicals like him believe that this special Bible being in the proximity of President Trump is enough to affect him is a positive way. Christianity by osmosis, perhaps?
Independent Fundamentalist Baptist (IFB) luminary Clarence Sexton, pastor of Temple Baptist Church in Powell, Tennessee, and president of The Crown College, released a video titled Donald's Bible. Five minutes long, the video features Sexton breathlessly and with tears in his eyes recounting the history of Donald's Bible.
Evangelicalism has sold it soul for a bowl of pottage. Whatever moral and ethical influence they once had, it is now gone. In its place we find raw political power fueling the rise of an Evangelical theocracy in America. That's why Evangelicals either ignore Trump's licentious behavior or they try to find slivers of Christian faith in the man. This, then, gives them license to re-elect Trump, thus giving Evangelicals four more years to return the United States to Christian nation status; four more years to undo sixty years of social progress; four more years to enact their version of sharia law; four more years to ban abortion and destroy the wall of separation between church and state.
And is Trump loses the election? Hard to tell what ever-Trumpers will do. Hard to tell what Evangelicals will do when their Faustian bargain with the Devil comes to naught. Imagine their outrage if Biden wins the presidency and Democrats regain the majority in the Senate. Why, they will be living through the Great Tribulation, with no rapture in sight.
As far as Trump is concerned, I have a vision of him packing up the Oval Office, preparing for Sleepy Joe to sit in HIS chair. As he gathers up HIS Bible and coloring books, he looks at the Bible and says, a lot of good you did for me! And with that, he throws the Bible into the trash. A rightful ending to the presidency of the most wonderful, beautiful, bigly Christian president in American history.
Bruce Gerencser, 66, lives in rural Northwest Ohio with his wife of 45 years. He and his wife have six grown children and thirteen grandchildren. Bruce pastored Evangelical churches for twenty-five years in Ohio, Texas, and Michigan. Bruce left the ministry in 2005, and in 2008 he left Christianity. Bruce is now a humanist and an atheist.
Connect with me on social media:
Your comments are welcome and appreciated. All first-time comments are moderated. Please read the commenting rules before commenting.
You can email Bruce via the Contact Form.