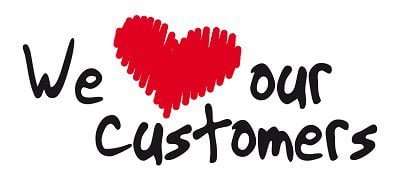 Repost from 2015. Edited, rewritten, and corrected.
Have you ever read an Evangelical or Independent Fundamentalist Baptist (IFB) church advertisement or sign that says, First Baptist Church, The Friendliest Church in Town or We LOVE People? No one ever bothers to ask, so are all the other congregations in town churches that hate people and are unfriendly?
Churches who talk about their love for people and how friendly they are sincerely think these advertising slogans are true. To them, shaking hands with visitors, making them feel at home, and letting them know where the nursery and bathrooms are shows that they are a people-loving, friendly church. The question I ask is this: WHY does this or that church love people and befriend newcomers? What is their motive for being so loving and friendly? Most often, their motive is to win lost souls to Jesus, resulting in increased attendance. And more people=more money in the offering plate. Like any business, their goal is to gain customers, increase revenues, and expand the business.
Ask any Evangelical pastor or church member if their church loves people and they will say, Of course we do! We love people like Jesus loved people. We love our neighbors just like we love ourselves. But this is no disinterested love. This is a love that has an ulterior motive. It is a love that has conversion and assimilation as its goal. Just ask them if a lesbian woman in a same-sex marriage can join their church or teach Sunday school and you will find out quickly how little they actually love other people.
Their Jesus is a Jesus who loves people so much that he does not leave them where they are or as they are. Their Jesus changes and transforms people, so their objective is to love and befriend people so that they might be saved (changed and transformed) and become a part of their church. That's what their Jesus is all about, making more church members. (Matthew 28:19,20) Sounds crass, but any Evangelicals pastor who tells you church attendance numbers don't matter is lying.
Compare Evangelical love for people to love that accepts people as they are, where they are. There's a big difference between the Evangelical love for people and loving and befriending people with no expectation of return. In some liberal/mainline churches such an approach to love and friendship exists, but I've never seen it in Evangelical or IFB churches. And I just know a commenter is going to scream that THEIR church is different. Sure it is.
Once an unaware newcomer is friended and loved to Jesus and made a part of the church, it is on to new people to pretend-friend. For those taken in by the friendliest church in town advertising campaign, they quickly learn that the church is no more or less friendly than any other church or social group. In every church there are kind, decent, friendly people. There are also people, sometimes the pastor, who are mean, nasty, and unfriendly. Sadly, in churches that are Fundamentalist, their initial friendliness quickly dissipates and is replaced with legalism, demands to conform, and a quick unfriending if you do not fall in line. Ask anyone who has deconverted: what happened to all the friends they had while attending the friendliest church in town? Once people leave their churches, they often find out how unfriendly their churches really are. They find out that friendship was a lure, a scam. The true nature of a church is revealed by how it treats those who leave the church, regardless of their reason for leaving.
Bruce Gerencser, 66, lives in rural Northwest Ohio with his wife of 45 years. He and his wife have six grown children and thirteen grandchildren. Bruce pastored Evangelical churches for twenty-five years in Ohio, Texas, and Michigan. Bruce left the ministry in 2005, and in 2008 he left Christianity. Bruce is now a humanist and an atheist.
Connect with me on social media:
Your comments are welcome and appreciated. All first-time comments are moderated. Please read the commenting rules before commenting.
You can email Bruce via the Contact Form.