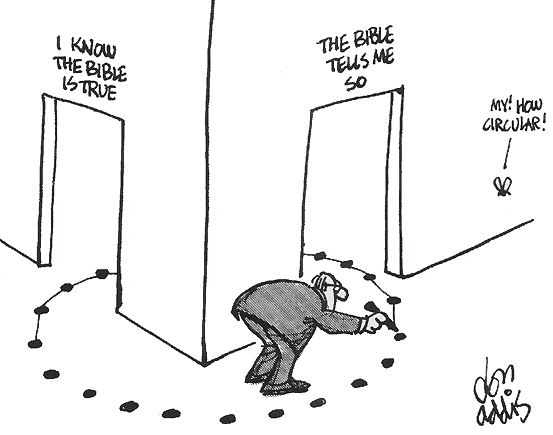 Repost from 2015. Edited, rewritten, and corrected. 
Back in the late 1980s, I did a lot of street preaching in places such as Newark, Zanesville, and Lancaster, Ohio. One day, while I was preaching on the courthouse sidewalk in Newark, two Mormon missionaries came up to me and wanted to talk. I said, fine, as long as we limit our discussion to the King James Bible. They told me they couldn't do that because the King James Bible AND The Book of Mormon were both authoritative. Because I was unwilling to accept their assertion that The Book of Mormon was authoritative, there was no point in them trying to talk to me. These missionaries presupposed that The Book of Mormon: Another Testament of Jesus Christ and the King James Bible were both God's word. Unless I was willing to accept their presuppositions, no meaningful discussion could take place. So it is with Evangelicals who demand that I accept the Protestant Bible as authoritative.
Over the years, numerous Evangelicals have come to this blog and tried to use THE BIBLE SAYS argument to show me the error of my way. Bruce, it says _________________ right here in John, Romans, Acts, James, Revelation, Genesis, Jude, or Concordance. They assume (presuppose) that I accept the Bible as authoritative; that I accept the Bible as the standard for truth. I don't, and neither do most of the people who read regularly this blog. These defenders of the Holy Evangelical Faith® fail to understand that I have studied the history of the Bible and the claims it makes, coming to the conclusion that the Bible is not an authoritative book; that it is not in any way a supernatural or divine text. At best, it is a collection of books written by unknown authors trying to explain their understanding of the world. If Evangelicals understood this rather than asserting that the Bible is an inerrant, inspired, infallible book, we might be able to have a meaningful discussion. Instead, they pull the Bible out of the bookcase and demand that it be treated as THE book above all books. They demand the Bible be accepted as THE truth above all truth. I reject this assertion. The Bible is not superior to any other literary work. In fact, as far as literature goes, the Bible leaves a lot to be desired.
No matter how loudly someone says THE BIBLE SAYS it carries no weight with me. Why should I grant the Bible the authority Evangelicals claim for it? Well, because THE BIBLE SAYS! Exactly. This is circular reasoning, and this is why it's impossible to have thoughtful, rational conversations with Evangelicals. THE BIBLE SAYS lots of things modern Christians no longer believe. No Evangelical is really one-hundred-percent THE BIBLE SAYS. I don't know of an Evangelical pastor, evangelist, missionary, deacon, Sunday school teacher, or pew warmer who believes and practices every word of the inerrant, inspired, infallible Word of God. All Evangelicals develop their own method of interpretation, and with this system inconvenient or difficult verses are explained away or reinterpreted. What Evangelicals really consider authoritative is their own personal interpretation and opinion. This is why I think there's no such thing as the faith which was once delivered to the saints or one Lord, one Faith, one Baptism, One God. Two thousand years removed from the death of Jesus, what we have is not Christianity in the singular sense, but Christianities, with every Evangelical having his or her own understanding of Christianity and the teachings of the Bible.
If every Christian believed the same things, I might pause to consider the validity of Christianity. However, it is evident, at least to me, when Christians appeal to the Bible what they are really appealing to is personal opinion and interpretation.
Did you grow up in or attend a church that stressed THE BIBLE SAYS thinking? How did your pastor handle conflicts over what, exactly, the Bible said? Please share your experiences in the comment section.
Bruce Gerencser, 66, lives in rural Northwest Ohio with his wife of 45 years. He and his wife have six grown children and thirteen grandchildren. Bruce pastored Evangelical churches for twenty-five years in Ohio, Texas, and Michigan. Bruce left the ministry in 2005, and in 2008 he left Christianity. Bruce is now a humanist and an atheist.
Connect with me on social media:
Your comments are welcome and appreciated. All first-time comments are moderated. Please read the commenting rules before commenting.
You can email Bruce via the Contact Form.