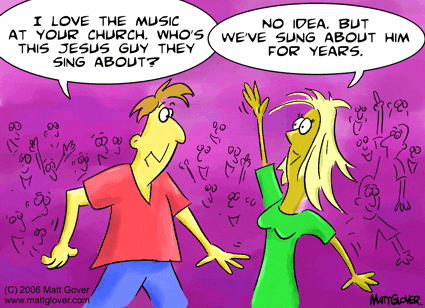 Repost from 2015. Edited, updated, and corrected.
Warning! Snark ahead.
When I started attending a Christian church in the late 1950s, hymns, hymns, and only hymns were the songs of the church. In the 1960s, southern gospel music started to influence what was sung on Sunday mornings. From there came the Gaither era, the contemporary Christian music era (CCM), and finally the praise and worship era. Drums, guitars, praise teams, and worship leaders are standard fare in churches now. Seniors tend to not like it, millennials think it is boring, and baby boomers say, FINALLY, rock music in the church.
Over the last eight years I spent in the ministry, the churches I pastored used a blended worship approach. We'd sing hymns, but we also sang a lot of praise and worship songs. My three oldest sons played bass and guitar, so they became the church band. At the time, I thought it was wonderful, but now that I am years removed from singing love songs to Jesus, I have a far different opinion.
Just for fun, I clicked the Praise and Worship channel on Rdio — a now defunct music streaming service. I listened to many of the songs we sang years ago, mixed in with new praise and worship songs. As I listened to the instrumentation, I couldn't help but notice how the songs stirred my emotions. It's the instrumentation that gives the syrupy, Jesus-is-your-boyfriend lyrics their sexual appeal. I thought, these songs are love-making songs. And that is exactly why so many Christians love them. Hymns generally appealed to the intellect. Praise and worship music makes no pretense of appealing to the intellect. The music is meant to agitate emotions, putting listeners in a frame of mind that makes it easy for Jesus to have "commune" with believers.
Many praise and worship songs are little more than aids for spiritual masturbation. Often, the lyrics are shallow and repetitive, focusing on self and not God. Some of the lyrics are so shallow that just by swapping a few words, you can change the song from a love song to Jesus to a love song to your boyfriend, girlfriend, or spouse, Take the song (Trading My Sorrows) Yes Lord by Matt Redman. The next time you are making love to your significant other, speak or sing these lyrics, changing the word Lord to the name of your partner:
We say yes lord yes lord yes yes lord
Yes lord yes lord yes yes lord
Yes lord yes lord yes yes lord amen
Make sure you sing it loudly so the neighbors will know it is your lucky night.
The draw of praise and worship music is its emotional appeal. Visit a local we are the hippest church in town and observe the effect the music has on parishioners. All around you will be people dreamily lost in the love of Jesus. Some will be so enthralled that they begin making love to Jesus, not caring a bit that they are participating in the equivalent of a YouPorn video. It's emotional sex with your clothes on.
On one hand, the effect this music has on parishioners reflects the power of music to move our emotions. When Polly and I attended a Darius Rucker concert years ago, both of us noticed the emotional connection attendees made with the music. Both of us were stirred emotionally by Rucker's songs. The problem with praise and worship music is that it is sold as a way to get closer to God. Countless Evangelicals go to church on Sunday to get their emotional fix. Forget the sermon. They are there to wrap their arms around Jesus and do a slow dance with the King of Kings and Lord of Lords. It is in this highly emotional state that parishioners are open to whatever their pastor is selling that day. While worship leaders will likely object and say that the music prepares believers to hear from the Lord, I am convinced the music is used, whether purposely or ignorantly, to weaken psychological defenses and make it easier for parishioners to "hear" what the pastor, uh I mean God, is trying to tell/sell them.
The music puts parishioners in an altered state. This is by design, and any pastor or worship leader who tells you differently is lying. Even with hymns, it is possible for the songs to elicit a specific emotional response. The ebb and flow of the average worship service is a highly designed and scripted affair meant to achieve a certain goal. If this is not true, why don't churches start their services with the sermon? Instead, the music is used to open the hearts (minds) of listeners to whatever their pastors are going to say. By manipulating emotions, pastors have a greater chance to get those under the sound of their voice to do what they want them to do. Again, if this is not so, why do most pastors and worship leaders choose songs that perfectly dovetail with the sermon? Why not take requests from the floor if what song is sung doesn't matter?
But it does matter. And it is not just the music. Modern church services have turned into tightly scripted affairs. Sound, lighting, and program structure are used to set the mood; no different from me coming home and finding the lights dimmed, candles lit, rose petals on the floor, and the sweet voice of Karen Carpenter quietly wafting through the air. The former is meant to help the parishioner get lucky with Jesus. The latter is meant to remind Bruce that sometimes the ballgame doesn't come first. 🙂
Even in Independent Fundamentalist Baptist (IFB) churches — a sect known for hating contemporary music — certain songs are used to elicit emotional responses from the congregants. The goal is the same regardless of the style of music. Through emotional manipulation, the words of pastors are more easily received. In most cases, little harm is done. But, sometimes, by manipulating the hearers' emotions, the songs lead congregants to make decisions or do things they wouldn't have ordinarily done. Those slobbering IFB preachers were right about secular music. Certain "Satanic" songs can lower inhibitions and pave the way for a romp in the sack with your boyfriend/girlfriend. Such evil! But what they don't tell you is that certain "godly" songs can lower inhibitions too, and pave the way for a romp in the sack with Jesus.
Bruce Gerencser, 66, lives in rural Northwest Ohio with his wife of 45 years. He and his wife have six grown children and thirteen grandchildren. Bruce pastored Evangelical churches for twenty-five years in Ohio, Texas, and Michigan. Bruce left the ministry in 2005, and in 2008 he left Christianity. Bruce is now a humanist and an atheist.
Connect with me on social media:
Your comments are welcome and appreciated. All first-time comments are moderated. Please read the commenting rules before commenting.
You can email Bruce via the Contact Form.