If it is God's will that I get coronavirus, that is the will of the Almighty. I will not live in fear.
— Robert Montanelli, Trump Rally Attendee in Tulsa, Oklahoma
On Saturday, President Donald Trump held a pep rally at the BOK Center in Tulsa, Oklahoma. Trump bragged about how filled the Center would be, saying that 1,000,000 people requested tickets to his rally. Trump even planned for a huge outside crowd. All told, 6,200 people attended the indoor rally, and outside? Several dozen people, such sparse numbers that Trump canceled plans to address them after the main rally. Trump promised a John Holmes-like crowd. Unfortunately, as is often the case with the President, reality was much smaller than promised (just ask Stormy Daniels).
One attendee at the rally was Robert Montanelli from Broken Arrow — a Tulsa suburb. Montanelli wore a red "Keep America Great" hat and an oft-washed "Crooked Hillary for Prison" tee-shirt. When asked why he refused to wear a mask, Montanelli, with Trump-like bravado, said:
If it is God's will that I get coronavirus, that is the will of the Almighty. I will not live in fear.
While the New York Times article that quotes Montanelli doesn't mention his religious affiliation, his words have an Evangelical feel to them. I suspect the overwhelming majority of rally attendees were white Evangelicals. While I spotted a few blacks in the crowd, it was evident, at least to me anyway, that this water fountain was meant for Bible-quoting white Americans.
I suspect more than a few Trump supporters in attendance agreed with Montanelli: no masks needed. God is in control of everything, including the Coronavirus pandemic, and if they (or anyone else, for that matter) are infected with COIVD-19, God is to blame, not them. Of course, Evangelicals never use the word "blame" when speaking of their God's sovereign, decretive acts, but if God holds the world in the palm of his hand, and is in control of everything, then "blame" is appropriate.
Evangelicals believe God is the first cause of everything, the creator of the universe. Thus, God is to blame for COVID-19. God is to blame for every infection and death. And yes, God should be credited for magically keeping some people from getting infected and/or dying.
In April, I wrote a post titled, No Need to Wear a Face Mask: When it's My Time to Die, I'm Ready to Go. Here's an excerpt from this post:
Like clockwork, my wife calls her mother every Sunday evening at 10:00 PM. They typically talk for an hour. Last Sunday, Polly asked her mom whether she was wearing a face mask when she went out in public. Mom replied, "no, I don't need to wear a mask." When Polly, out of concern for her eighty-four-year-old mother's health and that of her father, told her mom, "look, you need to get a mask and wear it whenever you go out of the house." Mom replied, "when it's my time to die, I'm ready to go." Polly angrily retorted, "and no one will be able to come to your funeral." Mom smugly replied, "oh well, I won't care. I'll be dead." And that was that . . .

….

Because of Mom's intransigent fatalism, it is unlikely that we will ever see Polly's parents again face to face. (Several weeks ago, we met them a public park for lunch. Seven hours round trip, two-hour visit.) We are not willing to risk infection, all because of her stubborn unwillingness to take basic health and safety precautions. We expect to one day hear the phone ring, and at the other end someone will be telling us one or both of them are dead. Will it be COVID-19 that kills them? I don't know. Both of them have serious health problems. A virus such as COVID-19 would make easy work of them. We wish they would at least take basic safety precautions, but they won't. I suspect that a month from now they will join their church family after church down at the local Olive Garden for lunch. "See, we all survived! Glory and praise to Jesus!" And three or four weeks later? Some of them may learn that their God is not in control; that their God is no match for COVID-19, influenza, or any of the other countless bacteria and viruses trying to kill us. Biology and science trump religion every time. Too bad the people who most need to hear this will be dead.
Fatalism is a foundational plank of Evangelical Christianity. Everything in life is predetermined and controlled by God. No need to worry about the Coronavirus pandemic or getting infected with COIVD-19. No need to worry about ending up in the ICU hooked up to a ventilator, dying alone. Everything that happens to you is according to God's perfect plan for your life. So what if you get infected, suffer, and die? JESUS suffered and died for you — he suffered bigly compared to your suffering — and thanks to his resurrection from the dead, a room in Heaven's exclusive Trump Hotel awaits you after death.
Of course, Evangelicals such as Montanelli don't really practice what they preach. Oh, they piously talk about God being in control, but their day-to-day lives reflect the fact that they are the ones controlling their destiny. They may shoot prayers up to the ceiling God, asking for divine direction and favor, but their lives reveal that they are ones answering those prayers.
I suspect that Montanelli looks both ways before pulling into an intersection. I suspect when he goes to the doctor, that he expects to be treated with modern medical techniques. Imagine the doctor saying, "I don't know what's wrong with you. Let's pray and ask God to heal you." Why, Montanelli would rightly be upset. I suspect that every aspect of Montanelli's life is controlled not by God, but self. Why then, did he refuse to wear a mask, saying that whether he dies or not is up to God?
Montanelli worships at the feet of the baby Christian Donald Trump. The president refuses to acknowledge or practice CDC or WHO guidelines. He wants to project manly power and strength, even though he has a hard time holding a glass or water or walking down an airplane ramp. Trump's latest rally was one long infomercial for how great he is. Should it be surprising, then, that Trump's followers try to emulate him? Montanelli's bravado is not so much about God and Christianity as it is his need to act like his hero. Sure, Montanelli is a believer, but the central figure in this story is Donald J. Trump, not God.
And if Montanelli contracts COVID-19? Will he "let go and let God?" Will he passively trust that God will, come what may, take care of him? Will he seek medical care? Will he take whatever drugs doctors prescribe? Will he encourage his family members to wear masks? Something tells me that when faced with serious illness and death, Montanelli will do everything in his power to stay alive.
And his boy Trump? Much like God, he will be AWOL. Montanelli will learn that he is on his own, that his life rests not in the hands of Jesus, but in the hands of qualified medical professionals.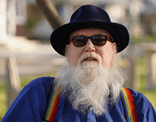 Bruce Gerencser, 65, lives in rural Northwest Ohio with his wife of 44 years. He and his wife have six grown children and thirteen grandchildren. Bruce pastored Evangelical churches for twenty-five years in Ohio, Texas, and Michigan. Bruce left the ministry in 2005, and in 2008 he left Christianity. Bruce is now a humanist and an atheist.
Connect with me on social media:
You can email Bruce via the Contact Form.
Your comments are welcome and appreciated. All first-time comments are moderated. Please read the commenting rules before commenting.