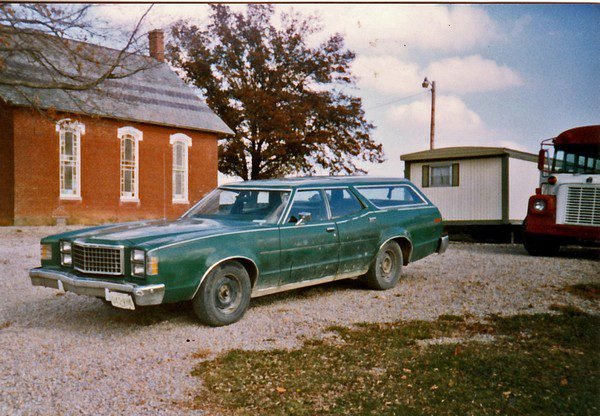 In July of 1983, Independent Fundamentalist Baptist preacher Bruce Gerenser, his wife, Polly, and their two young boys, aged four and two, moved from Buckeye Lake, Ohio to Somerset to start of new IFB church. I would remain pastor of Somerset Baptist Church until we moved to San Antonio, Texas in March 1994 so I could become the co-pastor of Community Baptist Church in Elmendorf.
Over the course of the eleven years I spent pastoring Somerset Baptist, we owned all sorts of automobiles — most of them cheap beaters or cars given to us by congregants. Every one of these cars has a story to tell. (Please see I Did It For You Jesus — Crank Windows and Vinyl Floor Mats.) One such car is the green Ford station wagon in the picture featured above.
John Nelson, a congregant who lived down the hill from the church with his wife and four sons (who later would attend our Christian academy), was what you would call a "wheeler and dealer." John has been running a perpetual yard sale for decades. His father owned a junkyard in nearby Saltillo. Over the years, I bought or traded for cars from John. One such car was the green wagon. If I remember right, I traded John a Chevy Caprice I had purchased from another church family for the station wagon. Out of the 50+ cars I/we have owned over the years, Polly hated this car the most. I mean really, really, really hated the car. And my three oldest sons hated the car too. Let me explain.
The station wagon was a huge car — common of the "boats" manufactured in the 1970s. Personally, I loved big cars — the bigger the better. Polly, however, did not. Not that what she liked or disliked mattered. I was officially in charge of all things auto related — from purchases to repairs to sales. Polly oh-so-fondly remembers days when I left the house with one car, only to return home later that day with a different one. She never, ever said a word, but I have to think that she more than once thought the Baptist equivalent of "what the fuck" when I drove up with a new rolling wreck.
As you can see from the photo, the station wagon had an ugly green paint job. The car had been repainted by a previous owner, by hand. Its paint really made the car stand out in a parking lot, much to the embarrassment of my family. 
Typically, I looked at prospective automobiles from one of two perspectives: looks and mechanical soundness. This car looked awful, but it was mechanically sound. I drove it all over southeast Ohio (and West Virginia on road trips) until I got bored with the car and traded it for something different.
Polly hated taking the car anywhere. She thought, at the time, that the station wagon was a rolling advertisement for our poverty; not the kind of car a preacher's wife should be forced to drive. Ever the trooper, she said nothing. 
While Polly disliked driving the car, it was my sons who couldn't stand the sight of the station wagon. At the time, our two oldest sons were enrolled at Licking County Christian Academy in Heath, Ohio. A ministry of the Newark Baptist Temple — an IFB church pastored by the late Jim Dennis, Polly uncle — LCCA was a non-accredited school populated primarily with children from middle class and affluent Christian families. The Gerencser children were among the poorest students to attend the school. 
LCCA was thirty miles from our home. A Bible church near our home, Maranatha Bible Church, then pastored by Bob Shaw, bussed children to LCCA every day, but my request to let our children ride the bus was denied. I suspected then, and still do today, that the church and its pastor didn't want our poor munchkins intermingling with theirs. So, we dutifully drove 60 miles a day to Heath to drop off and pick up our children from school. Later, a girl in our church started attended LCCA. We would take children to LCCA in the morning, and her father would pick them up after school on his way home from work. He, too, drove a junker.
My sons have told me that they were embarrassed to see me pull up in the school parking lot driving the green station wagon. Other parents drove new or late model automobiles. Not their preacher dad. Character building? Perhaps. I know this much. Neither of them drives their children to and from school with autos that look anything like the station wagon. Not going to happen. And these days, we drive a 2020 Ford Edge. No clunkers to be found in our driveway. If I came home with such a car today, why I suspect the top of my head would be sporting an indentation left from a Lodge cast iron skillet. Polly is definitely no longer passive when it comes to making car-buying decisions.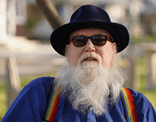 Bruce Gerencser, 65, lives in rural Northwest Ohio with his wife of 44 years. He and his wife have six grown children and thirteen grandchildren. Bruce pastored Evangelical churches for twenty-five years in Ohio, Texas, and Michigan. Bruce left the ministry in 2005, and in 2008 he left Christianity. Bruce is now a humanist and an atheist.
Connect with me on social media:
You can email Bruce via the Contact Form.
Your comments are welcome and appreciated. All first-time comments are moderated. Please read the commenting rules before commenting.