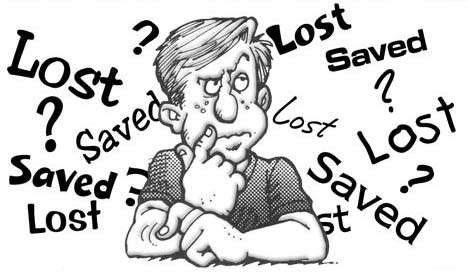 To hear many Evangelical preachers tell it, salvation is a transaction between God and humankind. Humankind is wicked, vile, and sinful, unable to do good and headed for eternity in the Lake of Fire. God, in his infinite wisdom, made a way for us to have our sins forgiven. Once we avail ourselves to this super-duper sin-erasing way, we have a ticket to Heaven that cannot be canceled. The moment we pray to Jesus and ask him to forgive us of our sins and come into our lives, one of Heaven's angels puts a door hanger on a room in the Father's House that says RESERVED.
Countless American Christians have prayed the sinner's prayer and are certain that when they die, they will wake up in Heaven. They have successfully pulled the handle on God's Salvation Dispensing Machine® and down the chute came a Fire Insurance policy that guarantees payment upon death. It is the only insurance that pays off to you AFTER you die.
Eternal security, also known as once-saved-always-saved, is a central tenet of many an Evangelical preacher's soteriology. Once in the family, you can never leave the family. God's family is like the mob, once you are in, you are in for life. What better thing to offer sinners than a guaranteed home in Heaven that costs them nothing more than a few heartfelt words?
Dear Lord Jesus, I know that I am a sinner, and I ask for Your forgiveness. I believe You died for my sins and rose from the dead. I turn from my sins and invite You to come into my heart and life. I want to trust and follow You as my Lord and Savior. In Your Name. Amen
The Bible says in Romans 10:9,10,13:
That if thou shalt confess with thy mouth the Lord Jesus, and shalt believe in thine heart that God hath raised him from the dead, thou shalt be saved. For with the heart man believeth unto righteousness; and with the mouth confession is made unto salvation. For whosoever shall call upon the name of the Lord shall be saved.
Arminians — those who believe you can lose your salvation — object to the doctrine of eternal security. According to their theology, Christians can and do lose their salvation. Good works are necessary to maintain one's salvation. Calvinists also object to the doctrine of eternal security. They emphatically believe that a person must persevere, hold on until death. And if they don't, this is proof that they were never really Christians.
Based on what I have written above, this means that someone such as myself, a reprobate, a denier of God and his offer of salvation, a man who once was saved, who once followed Jesus is either:
Still saved because once I was saved, I can never lose that salvation
Unsaved because I lost the salvation I once had
Never was saved
Over the years I have had numerous Christians tell me that one of these three statements is an accurate description of my present state. All of them are quite certain that they are 100% right about my standing with God and where I will end up when I die.
Every Christian sect would agree that salvation and eternal destiny are THE most important issues every person must decide. Amos 4:12 says, PREPARE to meet thy God. Surely then, God has made the whole salvation thing crystal clear, right? Nope.
Take the aforementioned verses in Romans 10:9,10, 13. It seems clear that belief = salvation = eternity in Heaven. John 10:28 says:
And I give unto them eternal life; and they shall never perish, neither shall any man pluck them out of my hand.
and 1 John 5:13 says:
These things have I written unto you that believe on the name of the Son of God; that ye may know that ye have eternal life, and that ye may believe on the name of the Son of God.
and Hebrews 8:38, 39 says:
For I am persuaded, that neither death, nor life, nor angels, nor principalities, nor powers, nor things present, nor things to come, Nor height, nor depth, nor any other creature, shall be able to separate us from the love of God, which is in Christ Jesus our Lord.
These are the verses on which the once-saved-always-saved believers hang their hats. Of course, Arminians and Calvinists both have arguments and rebuttals to the once-saved-always-saved interpretations. I once heard an Arminian preacher explain John 10:28 this way:
No man can pluck you out of God's hand but you can jump out by yourself.
The point I am trying to make is that the whole notion of Christian salvation is hopelessly convoluted, complex, and contradictory. Right now, Evangelical preachers reading this post are: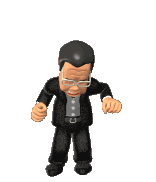 They are certain that THEIR soteriology, THEIR plan of salvation, is the right one. As I have stated numerous times, the Bible teaches multiple plans of salvation, with each plan contradicted by other Bible verses. Let me illustrate this. We already know what the once–saved-always-saved preacher says. Are there verses that contradict his salvation plan?
Hebrews 3:12-14 says:
Take heed, brethren, lest there be in any of you an evil heart of unbelief, in departing from the living God. But exhort one another daily, while it is called To day; lest any of you be hardened through the deceitfulness of sin. For we are made partakers of Christ, if we hold the beginning of our confidence steadfast unto the end;
This passage seems to be quite clear. A brother (brethren) can have an evil heart of unbelief and walk away from God. He will only have salvation and eternal life if he is steadfast to the end.
Can a person, for a time, fall away, and then come back to Jesus? Is it possible for someone such as I to repent of my sin, renounce my atheism, and return to following Jesus? Countless Evangelical preachers would say, YES! It's never too late. As long as you are a living, breathing soul, you can be saved.
But wait a minute!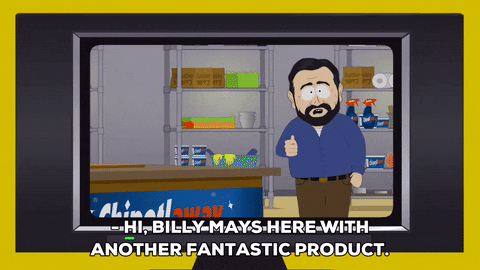 Doesn't Romans 1 and 2 talk about people who can't be saved, people who have been given by God over to a reprobate mind? Isn't it too late for them? And what about the Jews? John 12:37-40 says:
But though he (Jesus) had done so many miracles before them (the Jews), yet they believed not on him: That the saying of Esaias the prophet might be fulfilled, which he spake, Lord, who hath believed our report? and to whom hath the arm of the Lord been revealed? Therefore they could not believe, because that Esaias said again, He hath blinded their eyes, and hardened their heart; that they should not see with their eyes, nor understand with their heart, and be converted, and I should heal them.
God blinded the eyes and hardened the hearts of the Jews so they would not understand and be converted. In other words, these Jews couldn't be saved. Does this no-salvation-for-you only apply to Jews alive during the days Jesus walked the streets of Galilee and Jerusalem? Evangelicals argue endlessly over the Jews and whether they can be saved or even need to be saved.
Now, if I can, let me land this plane. Consider a few passages from the book of Hebrews.
Hebrews 6:4-6 says:
For it is impossible for those who were once enlightened, and have tasted of the heavenly gift, and were made partakers of the Holy Ghost, And have tasted the good word of God, and the powers of the world to come, If they shall fall away, to renew them again unto repentance; seeing they crucify to themselves the Son of God afresh, and put him to an open shame.
As a Christian, I was once enlightened and I tasted of the heavenly gift. I was made a partaker of the Holy Ghost, tasted the good word of God and the powers of the world to come. I am now an atheist and I have repudiated all that I once said I believed. According to Hebrews 6:4-6, it is IMPOSSIBLE for me to ever be saved again. Why? Because I make a mockery of Jesus's atoning work on the cross.
The writer of Hebrews reiterates this in Hebrews 10:29-31:
Of how much sorer punishment, suppose ye, shall he be thought worthy, who hath trodden under foot the Son of God, and hath counted the blood of the covenant, wherewith he was sanctified, an unholy thing, and hath done despite unto the Spirit of grace? For we know him that hath said, Vengeance belongeth unto me, I will recompense, saith the Lord. And again, The Lord shall judge his people. It is a fearful thing to fall into the hands of the living God.
Granted, theologians and preachers of every persuasion have explanations for the multiple, contradictory plans of salvation. Many will dismiss the Hebrews quotes with a wave of the hand, saying, these verses apply to the Jews not us. Others will open their sect's systematic theology book, turn to the section on soteriology (the doctrine of salvation) and "prove" that any salvation scheme but theirs is wrong and will likely lead to eternal damnation and hellfire.
Here's my point. If Christian theologians and preachers can't agree on something as basic as salvation, what hope is there for those not trained in theology? How can people, without the preacher telling them, read the Bible and find out for themselves the way to Heaven?
From cover to cover, the Bible is a convoluted, contradictory mess. Try as theologians and preachers might to "harmonize" the Bible to fit their respective theological systems, they remain unable to simply answer the question, what must I do to be saved? (Acts 16 and Mark 16) Even with the passage that asks the question what must I do to be saved, Christian preachers argue amongst themselves over whether salvation requires baptism.
All of what I have detailed here is evidence that the Bible is very much a human-made book. Surely, if the Bible is inspired, inerrant, and infallible as many Christians sects and preachers believe, one would think that the manner in which someone is saved, how one comes into right standing with God, would be clear. It's not.
Let me finish this post with Bruce Gerencser's salvation plan:
Live well, do good works, and die. The only heaven and hell you will experience in this life is what you and your fellow human beings create.
Straight from the mouth of Bruce Almighty, written down on this inspired, inerrant, and infallible page. Thus saith Bruce.
Bruce Gerencser, 66, lives in rural Northwest Ohio with his wife of 45 years. He and his wife have six grown children and thirteen grandchildren. Bruce pastored Evangelical churches for twenty-five years in Ohio, Texas, and Michigan. Bruce left the ministry in 2005, and in 2008 he left Christianity. Bruce is now a humanist and an atheist.
Connect with me on social media:
Your comments are welcome and appreciated. All first-time comments are moderated. Please read the commenting rules before commenting.
You can email Bruce via the Contact Form.