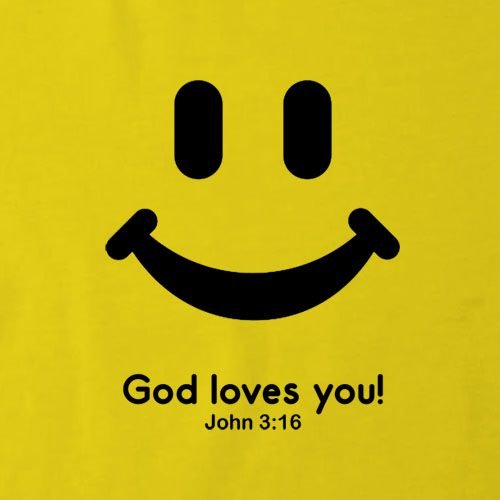 Imagine a story that goes like this . . .
One day, a young man walks up to a young woman and says:
I love you and I want to marry you. I know we have never met before, but I really, really, really love you, and if you will love me back, I have a wonderful plan for your life. I will be right by your side twenty-four hours a day. In fact, you will never be free of me because I promise to never leave or forsake you. I know you don't know me from Adam, but if you will love me and never forsake me, I will be your BFF.
Suddenly, the young man's face turns dark, and with a stern, threatening voice he says to the woman:
And if you don't accept my proposal of love and lifelong commitment, I promise to make your life miserable. I will afflict you, burn your house down, and reduce your life to Job's ash heap. I will make your life so miserable that you will wish you never had been born.
Any normal woman would recoil and run from such a man. Who would ever want to love such a person, one who offers conditional love, a love that promises violence and death if not requited? Yet, this is exactly the love that many Evangelicals try to sell to non-Christians.
Let me illustrate this fact with a tract from Osterhus Publishing House in Minneapolis, Minnesota. I picked this tract up at Dietsch Brothers Fine Chocolates and Ice Cream in Findlay, Ohio.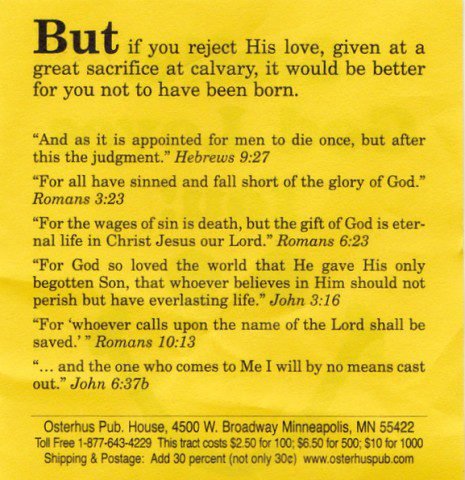 Is this not the essence of the gospel many Evangelicals preach? God says, "Love me or you'll wish you had."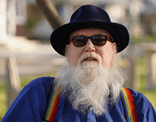 Bruce Gerencser, 65, lives in rural Northwest Ohio with his wife of 44 years. He and his wife have six grown children and thirteen grandchildren. Bruce pastored Evangelical churches for twenty-five years in Ohio, Texas, and Michigan. Bruce left the ministry in 2005, and in 2008 he left Christianity. Bruce is now a humanist and an atheist.
Connect with me on social media:
You can email Bruce via the Contact Form.
Your comments are welcome and appreciated. All first-time comments are moderated. Please read the commenting rules before commenting.