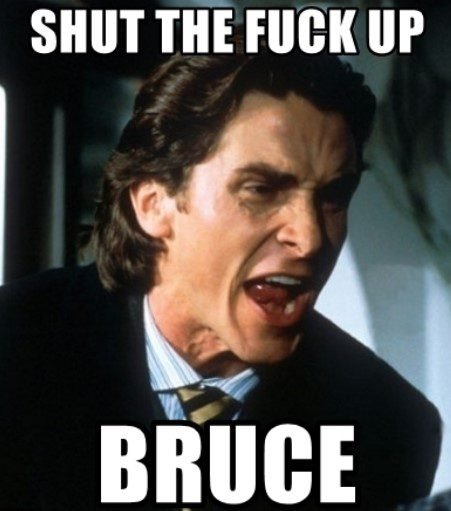 After I deconverted in November 2008, a dear friend of mine and a colleague in the ministry jumped in his car and drove three hours to my home in rural northwest Ohio in the hope of verbally beating some "sense" into me. After his disastrous visit, I wrote him a letter — to which he did not respond. (Please see Dear Friend.)
During our discussion, my friend, realizing that I was settled in my decision to leave Christianity, asked me to stop sharing my story with other people. He believed that writing about my present unbelief would unsettle Christians — particularly former congregants — and perhaps cause them to lose their faith. I wrote at the time:
I was also troubled by your suggestion that I not share my beliefs with anyone. You told me my beliefs could cause others to lose their faith! Is the Christian faith so tenuous that one man can cause others to lose their faith? Surely, the Holy Spirit is far more powerful than Bruce (even if I am Bruce Almighty).

I am aware of the fact that my apostasy has troubled some people. If Bruce can walk away from the faith…how can any of us stand? I have no answer for this line of thinking. I am but one man…shall I live in denial of what I believe? Shall I say nothing when I am asked of the hope that lies within me? Christians are implored to share their faith at all times. Are agnostics and atheists not allowed to have the same freedom?
Over the years, more than a few Evangelicals (and former congregants) have asked (told) me to shut up and move on; that my writing was causing all sorts of turmoil among the faithful; that I needed to find a different "hobby."
Just today, an Evangelical man, using a fake name and email address, left the following comments on the post, The Michael Mock Rule: It Just Doesn't Make Sense:
Please stop. It's one thing to leave God. Another to try and get others too.

Doesn't prove anything. God could break his own rules, obviously. This holds no water.
This man then sent me two emails:
Email #1

Why. You were walking in the right way. Doing what God called you to do. Why did you have to neglect his word and leave.

God loves you, he still does. Jesus loves you. Bad things happen to test your faith. I offer my sincerest condolences to you but God doesn't make these things happen. In most cases he helps you but he uses pain to remind you of your purpose. He allows you enjoy yourself but halts it with pain so you don't forget what you're here to do. He allows good things come to you so he also has the right to allow bad things come to you.

When you declared that you hated God did you even take a peek at all the good things he's done for you, no. You just used God as a scapegoat for your pains. Please consider this and come back to God. He'll take you wherever you are, even if you rejected him before.

Do you really want to suffer during judgement day. Do you really want to give up eternal life with God, the best thing possible, because you had pain? You really want to give up sitting up there with your family and friends and with your Creator, the one who loves you the most just because you had moments of pain that are incomparable to the joy you will receive up there? Then please, please just try to reconsider.

Email #2

Praying for you
This man read a total of eight posts, including several that should have warded him off from sending me the aforementioned emails. However, I am sure that he felt "led" by God to contact me, believing that his words would persuasively cause me to see the error of my way. Instead, his masturbatory prose caused me to sigh, saying to myself, Jesus H. Christ, will they ever learn? I know, I know, dumb question. Twelve years and thousands of emails and comments from Evangelicals later, it seems that this particular species of Christianity is incapable of rationally and thoughtfully engaging me in a meaningful, thoughtful, productive way.
Now let me answer his comments and emails.
I have no intention of stopping my writing and storytelling. I am just one man with a story to tell; no different from countless Evangelicals who blog about their faith or stand up during testimony time and share what God has done for them. Why should I shut my mouth while Evangelical zealots run to and fro across the Internet and down every city and village street preaching the Christian gospel, imploring non-Christians to repent of their sins and put their faith and trust in Jesus Christ? Why do Evangelicals think that they should be the lone voice in the public square? Surely, I am not that big of threat to Christianity. Surely, the triune God of Christianity is powerful enough to put an end to my storytelling. That God, the Father, God, the Son, and God, the Holy Spirit, don't bother me at all suggests that they don't care (too busy helping Grandma find her car keys) or they don't exist. I am going with the latter.
I will continue to tell my story, critique Evangelical Christianity, and expose clergy sexual misconduct as long as I am physically able to do so. I have a draft folder full of things I hope to write about someday, and as long as that folder has files, I plan to keep on writing.
The letter writer wrongly thinks that the reason I left Christianity is because of some "bad" things" that supposedly happened to me. Fine, I might as well tell the truth. No more lying to my family, friends, and readers. You see, I was molested. In fact, I was molested daily for years. I have kept the name of abuser secret, but today, I am going to share his name with the world. His name is Jesus. Once I got away from Jesus, the Bible, and the church I felt as if I had been delivered and set free. All praise be to Loki! There, are ya happy?
One of the reasons I continue to write is that I daily come in contact with other people who have been molested by Jesus or his representatives on earth. I want to help them break free from the pernicious hold their abusers have over their lives. While the primary reason I left Christianity is that it no longer made any sense to me (please see The Michael Mock Rule: It Just Doesn't Make Sense), there was a psychological component to my deconversion. One of the popular hymns I grew up singing was the song, "Burdens are Lifted at Calvary." One of the stanzas goes like this:
Cast your care on Jesus today
Leave your worry and fear (worry and fear)
Burdens Are Lifted At Calvary
Jesus is very near
As an atheist and humanist, I have rewritten these lyrics a bit:
Cast your care on skepticism and reason
Leave your worry and fear, knowing that shit happens to everyone
Burdens are lifted through intellectual inquiry
Jesus is nowhere to be found; a dead man, buried in an unknown Palestinian grave
I have nowhere on this site said that I hated God. Evangelicals will search in vain for a quote of me saying that I hate the Big Man Upstairs. I suspect this man is referring to my post, Why I Hate Jesus. In the two paragraphs of this post I unequivocally state:
I don't hate the flesh and blood Jesus who walked the dusty roads of Palestine, nor do I hate the Jesus found in the pages of the Bible. These Jesuses are relics of the past. I'll leave it to historians to argue and debate whether these Jesuses were real or fiction. Over the centuries, Christians have created many Jesuses in their own image. This is the essence of Christianity, an ever-evolving religion bearing little resemblance to what it was even a century ago.

The Jesus I hate is the modern, Western Jesus, the American Jesus, the Jesus who has been a part of my life for almost fifty-eight years. The Jesuses of bygone eras have no power to harm me, but the modern Jesus – the Jesus of the three hundred thousand Christian churches that populate every community in America – he has the power to affect my life, hurt my family, and destroy my country.  And I, with a vengeance, hate him.
As you can see, I don't hate God or Jesus. How could I since Jesus is dead and the Christian God is a myth? I don't waste my time "hating" dead people or mythical beings. Damn you, Zeus! I hate you! Silly, right? So it is when Evangelicals suggest that I "hate" their peculiar version of the Christian God. What I hate is what is done is the name of the Christian God. I hate those who come in the name of Jesus waging war against anyone who dares to believe differently from them. I hate the Christian bigots, racists, and homophobes who use the name of their God to deprive people of justice and equal protection under the law. Evangelicals give me plenty of real flesh-and-blood people and beliefs to hate. Why waste my time hating fictional beings, when so much damage and carnage is being committed by living, breathing Evangelicals. Remember, Evangelicals gave to the world Donald Trump. Need I say more?
This man asks me:
Do you really want to suffer during judgement day?
Do you really want to give up eternal life with God?
Do you really want to give up sitting up there [in Heaven] with your family and friends?
Do you really want to give up sitting up there [in Heaven] with your Creator?
This man presupposes that I believe that the Christian God is real; that there is a Heaven and Hell; that the Bible God is the creator of everything; that humans are eternal beings; that my family and friends will be in Heaven while I am being tortured by God in Hell.
Of course, I reject his presuppositions out of hand. I have seen no satisfactory evidence for the existence of the Bible God, nor have I seen any adequate evidence for the existence of Heaven or Hell. If this man has evidence for these claims, he needs to present it. Not that he can or will. I am no longer a newly minted atheist. I am a grizzled veteran of countless battles with God's chosen ones. I think I can safely say that I have heard every possible argument used by Evangelical apologists to prove the existence of their God; to prove that their God is the creator of the universe; to prove that all humans are sinful and in need of salvation; to prove that Heaven or Hell awaits every human — past, present, and future — depending on whether they are saved/born-again/elect. I find none of their arguments persuasive, and often, I find them laughable.
Unfortunately, Evangelical zealots fail, either deliberately or out of ignorance, to understand that I know the teachings of Christianity inside and out; that I am quite knowledgeable about the Bible; that I was in the Christian church for fifty years; that I spent twenty-five years pastoring Evangelical churches; that I read and studied the Bible for thousands and thousands of hours; that I devoted myself to following Jesus and teaching others the Bible.
Want to bring me back into the fold, Evangelicals? Want to see me gloriously saved or reclaimed from my backslidden state? You need to come up with better arguments for God/Christianity/the Bible. Just asserting certain things are "true" ain't going to fly with me.
This man concludes his words to me with an email that says:
Praying for you
Keep in mind, this man read the Comment Policy and Dear Evangelical pages. He knows I really don't like it when Evangelicals tell me that they are "praying for me." By all means, if Evangelicals feel "led" by the Holy Spirit to pray for me and the godless readers of this blog, do so. All I ask is that they keep their ceiling prayers to themselves. I don't need to know about it. However, I suspect that when Evangelicals use the "praying for you" line, they don't really care what I think. They believe God expects them to say this, so they do. Or, they use "praying for you" like an Evangelical equivalent of "fuck you." Either way, I really don't want to hear it.
Let me conclude this post by quoting the infamous atheist and host of The Atheist Experience, Matt Dillahunty: FUCK OFF, DUDE!
And all Loki's people said, Amen!
Bruce Gerencser, 66, lives in rural Northwest Ohio with his wife of 45 years. He and his wife have six grown children and thirteen grandchildren. Bruce pastored Evangelical churches for twenty-five years in Ohio, Texas, and Michigan. Bruce left the ministry in 2005, and in 2008 he left Christianity. Bruce is now a humanist and an atheist.
Connect with me on social media:
Your comments are welcome and appreciated. All first-time comments are moderated. Please read the commenting rules before commenting.
You can email Bruce via the Contact Form.