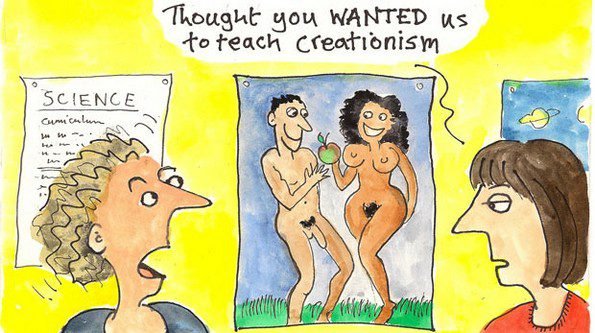 This is not a science blog. I have no training in science, outside of high school and college biology classes and whatever knowledge I have gained from the books I've read. I don't engage in long, protracted science discussions because I don't have the education necessary to do so. I know my limitations. Theology, the Bible, Evangelicalism, and sex are my specialties and this is why I primarily write on these subjects (Okay, maybe not sex).
When I post a science article, I do so because I think it will either help readers or it illustrates the ignorance that is pervasive in many corners of the Evangelical world. I don't have the skill or knowledge to adequately defend evolution, but I know people who do, and I trust them because they have the requisite training, knowledge, and experience to speak authoritatively. All of us, to some degree or another, trust experts. No one knows everything.
The problem that arises when I post a science article is that it attracts young-earth creationists. Armed with a limited understanding of science, colored by creationist presuppositions, creationists want to debate and argue with me about the article I posted. Generally, I try to steer such arguments back to the Bible and theology because I think that is the best way to disembowel creationism. Ask yourself, when's the last time you've seen creationists abandon their beliefs as a result of a blog debate or discussion? It doesn't happen, and the reason is quite simple: abandoning their beliefs would require them to also let go of their faith. Until creationists are willing to entertain the notion that they might be wrong about the inspiration, inerrancy, infallibility of the Bible, it's impossible to reach them. Facts don't matter because faith always trumps facts.
Young-earth creationists love to come to blogs such as this one because they can make themselves look like they are experts in disciplines such as biology, physics, archaeology, and cosmology. They know I am not going to engage them in a science discussion, and unless someone with a science background responds to them, that's where the discussion ends. I'm sure they think they've won a mighty victory for the triune God of the Protestant Christian Bible, but all that has happened is that no one wanted to waste their time with someone who has no desire or ability to follow the evidentiary path wherever it leads.
I am content to let them play a scientist on this blog. If those of you trained in the sciences want to engage them, please do so. I will stick to what I know: theology, the Bible, and Evangelicalism. And even with these things, I have backed countless Evangelicals into a corner only to have them throw their hands up and tap out by saying FAITH! FAITH! FAITH! Once someone appeals to faith, all discussion is over (at least for me).
Each of us has competency in certain subjects or disciplines. I know where my competency lies, and I don't pretend to know what I don't know. Now, this does not mean that I have no understanding of science and the scientific method. I do, and my knowledge increases every time I read a science article, blog, or book. But I could follow this path for the next twenty-five years and still not have the necessary expertise to pass myself off as a science expert. I find it laughable that someone — anyone — thinks they can read x number of books and be as competent and knowledgeable as those who have spent six to ten years in college training for a specific scientific field and now work in that field every day of their lives. Such thinking is called hubris.
I am not suggesting that someone can't become conversant and competent in a specific subject without going to college. I know firsthand the importance of study and hard work. That's what I did for twenty-five years, spending hours and hours each week reading and studying the Bible and theology. Would I have been better off if I had gone to Princeton and not an Evangelical Bible college? Sure, but I did a pretty good job over twenty-five years plugging up the lack-of-knowledge holes. I still have gaps in my knowledge, but that can be said of every person. None of us knows everything, even when it comes to our particular area of expertise. I am a serious amateur photographer, and I know a good bit about the craft. But, the more I read and practice my craft, the more I realize how much I still don't know.
The good news about my areas of expertise — theology, the Bible, and Evangelicalism — is that rarely is there any new information. Outside of archaeological finds that might have some connection to the Bible, there's not much happening in Bible Town. Sure, there are small skirmishes going on over the historicity of Jesus and what the Bible really, really, really says about _______________, but for the most part, it's just the same shit, different day. I don't wake up in the morning and say, Hey, I wonder what new and exciting story about the Bible, theology, or Evangelicalism awaits me. 
Bruce Gerencser, 66, lives in rural Northwest Ohio with his wife of 45 years. He and his wife have six grown children and thirteen grandchildren. Bruce pastored Evangelical churches for twenty-five years in Ohio, Texas, and Michigan. Bruce left the ministry in 2005, and in 2008 he left Christianity. Bruce is now a humanist and an atheist.
Connect with me on social media:
Your comments are welcome and appreciated. All first-time comments are moderated. Please read the commenting rules before commenting.
You can email Bruce via the Contact Form.