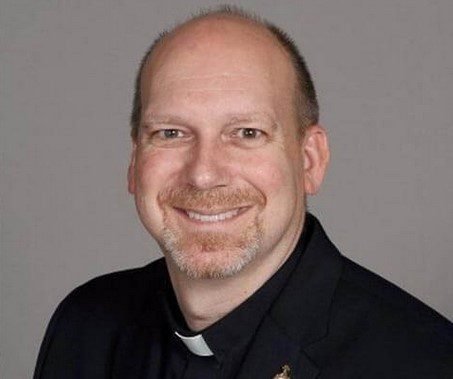 The Black Collar Crime Series relies on public news stories and publicly available information for its content. If any incorrect information is found, please contact Bruce Gerencser. Nothing in this post should be construed as an accusation of guilt. Those accused of crimes are innocent until proven guilty.
Michael Zacharias, pastor of St. Michael the Archangel Parish in Findlay Ohio, stands accused of grooming and sexually assaulting minors for years. (I attended high school in Findlay in the 1970s. Several of my friends attended St. Michael's.)
The Federal Bureau of Investigation on Tuesday arrested the pastor of St. Michael the Archangel Parish, alleging that he groomed and sexually assaulted minors for years, beginning in Toledo.

Special Agent in Charge Eric Smith said the Rev. Michael Zacharias, 53, is believed to have groomed and sexually assaulted minors since the late 1990s.

The Northwest Ohio Child Exploitation and Human Trafficking Task Force took the priest into custody after he presided at a 7 a.m. Mass at St. Michael the Archangel Parish. Father Zacharias faces charges of coercion and enticement, sex trafficking of a minor, and sex trafficking of an adult by force, fraud, or coercion, according to court documents.

….

Agent Smith addressed the media at a morning news conference outside the priest's residence on Greendale Avenue in Findlay, which abuts the parking lot of the parish grounds. He said the criminal complaint filed against the priest includes accounts from two victims, but his department believes there have been others.

….

"It's imperative that those other individuals out there come forward," he said on Tuesday. "Your contact with us will remain strictly confidential."

The Roman Catholic Diocese of Toledo announced that Father Zacharias was put on administrative leave effective immediately upon hearing word of his arrest. This means he cannot exercise public ministry, administer sacraments, or present himself as a priest. Administrative leave is a precautionary measure while an allegation is being investigated.

Bishop Daniel Thomas responded in a statement:

"I am profoundly shocked and grieved to learn of these charges against one of our priests," he said. "The Church cannot and will not tolerate any such behavior and takes any sexual abuse or misconduct on the part of a cleric with the utmost seriousness. As we await the outcome of the criminal investigation, our prayers go out to anyone affected by this situation."

The diocese indicated that these are the first allegations raised against Father Zacharias.

Father Zacharias was ordained in 2002, according to the diocese.

He is most recently the pastor of St. Michael the Archangel in Findlay since 2017. The parish serves about 3,300 households, and is affiliated with St. Michael the Archangel School, which covers preschool through eighth grade.

The diocese identified his previous assignments as St. Catherine of Siena Parish in Toledo as a seminarian between 1999 and 2000; St. Peter Parish in Mansfield, Ohio as an associate pastor between 2002 and 2007; St. Mary of the Assumption Parish in Van Wert as pastor between 2007 and 2011; St. Joseph and St. Ann Parishes in Fremont as pastor between 2011 and 2017; and St. Michael the Archangel in Findlay since 2017.

Investigators allege in court records that he began to groom two male victims, currently ages 32 and 26, while he was a seminarian and they were students at St. Catherine of Siena. One met Father Zacharias in the sixth grade, the other in the first grade, according to the complaint.

Each described to agents drug addictions that began in their teen years, and alleged that the priest would help fund their drug habits by paying them for oral sex. This began while they were underage and, in the case of one of the victims, continued until as recently as July.

The complaint indicates that these exchanges occurred at times in parish rectories, including Father Zacharias' diocese-owned residence in Findlay.

The complaint also indicates that in the case of the victim with whom he was in touch as recently as July, Father Zacharias would request and at times pay for videos in which he performed sex acts on the victim and in which he confessed to grooming the victim. The complaint references multiple text messages between the victim and the priest.

….

Father Zacharias was one of several ordinands who spoke with The Blade in 2002, reflecting on their vocations amid seismic revelations of widespread clergy sexual abuse in the Catholic Church as reported by the Boston Globe.

Then-Deacon Zacharias said that his cohort of priests would bring with them an understanding of sexuality as a part of who they are.

"In the past I don't want to say they denied it, but it seems as though they were told, 'You're going to be a priest, you're going to be celibate,'" he told The Blade then. By contrast, he said contemporary seminarians were taught to have healthy and appropriate relationships.

Findlay Mayor Christina Muryn responded to the news in a statement on Tuesday.

"I am distraught by the news of the arrest of Father Michael Zacharias," she said. "These allegations are not taken lightly, and the Findlay Police Department and our community at large will support the full and thorough investigation by the FBI. Such abuse of power, and perversion of sexuality is unacceptable and cannot be tolerated by any organization, individual, or society."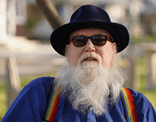 Bruce Gerencser, 64, lives in rural Northwest Ohio with his wife of 43 years. He and his wife have six grown children and thirteen grandchildren. Bruce pastored Evangelical churches for twenty-five years in Ohio, Texas, and Michigan. Bruce left the ministry in 2005, and in 2008 he left Christianity. Bruce is now a humanist and an atheist.
You can email Bruce via the Contact Form.
Your comments are welcome and appreciated. All first-time comments are moderated. Please read the commenting rules before commenting.