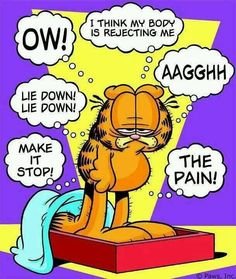 Regular readers know that I live with chronic, unrelenting pain. There's never a day that pain is not my close, personal friend. The last time I can remember a pain-free day was somewhere in the mid-1990s (I was diagnosed with fibromyalgia in 1997). Every day, like the sun coming up in the morning, I have pain. Some days are less painful, other days are more painful, and then there are what I call the please let me die days where the pain, no matter what narcotics I take, is off the charts. From the top of my head to the bottom of my feet, I hurt. New pains come and go, often returning months or years later. Some pains move in and stay, just like an adult child who says, "I just need to live here until I get back on my feet." This is my life. I accept it as it is, doing what I can, and embracing what I can't.
Friends and family often have a hard time figuring out how to interact with me. Some avoid me — out of sight out of mind, I suppose. Some stand on the periphery of my life watching as chronic pain and illness destroy the man they love. Some dare to venture a little closer, perhaps even offering to help, but I often push them away, not wanting to burden them with my problems. They have a life, I tell them, no need to be burdened with a dying old man.
The last two years have been record-setting, and not in a good way either. Not only do I continue to struggle with fibromyalgia and osteoarthritis, but after I had my gall bladder removed in August, I am dealing with bile reflux and gastritis (bile is pooling in my stomach, not draining down my intestine as it should). I have lost 105 pounds in twelve months, don't feel like eating, and now I am having a problem with super lower blood pressure (and this is after stopping ALL of my blood pressure medications). And then there are my low blood cell counts that no doctor, so far, has been able to figure out.
I know family and friends love me and want to be "there" for me, wherever "there" is. Some of the readers of this blog — dear folks who have over the years become my friends — offer up their love and support and I deeply appreciate their kindness and compassion. I know, as people watch the spectacle of my life, they are frustrated and discouraged, knowing that this may not have a good outcome. I resigned myself to this fact a long time ago. If not today, it will be some other day, sooner rather than later, that will be my last. Like you, I want to live until I die. While I may have moments when I contemplate suicide, most days I try to live the best life possible.
Several years ago, I read a wikihow.com article titled How to Understand Someone With Chronic Pain. I thought the points in the article might be helpful for my family and friends and for others who are intimately connected to someone with chronic pain. Here are some of the points and a highlight quote from each. I encourage you to read the entire article.
Remember that being sick does not mean that the sufferer is no longer a human being.
Chronic pain sufferers spend the majority of their day in considerable pain. If one visits or lives with a chronic pain sufferer, the chronic pain sufferer may be unable to enjoy things they used to enjoy. The chronic pain sufferer remains aware, and desires to do what they used to perform. The chronic pain sufferer feels as if they are stuck inside a body in which they have little or no control. They still want to enjoy work, family, friends and leisure activities, however much pain puts that enjoyment out of reach.
Learn the code.
Chronic pain sufferers will often talk differently from people free of constant pain. A numeric pain scale is used as a quantitative measure for identification of intensity for pain so the health care providers can measure effects of treatments. The measure describes pain on a scale from 1 to 10; the 1 is "no pain at all, feel wonderful" and 10 is the "worst pain ever felt." Do not assume the chronic pain sufferer is not experiencing pain when they say that they are fine. The chronic pain sufferer attempts to hide the pain due to lack of understanding in others.
Recognize the difference between "happiness" and "healthy."
When you have the flu, you probably have felt miserable. Chronic pain sufferers have experienced pain from 6 months to many years. Pain has caused them to adopt coping mechanisms that are not necessarily reflecting the real level of pain they feel.
Listen.
The previous two steps made it clear that chronic pain sufferers can speak in code or make their pain seem lighter than the reality. The next best thing that you can do is to listen to them properly, and to make it clear that you both want to hear what they have to say and that you really have heard it. Use your listening skills to decode what they're hiding or minimizing.
Understand and respect the chronic pain sufferer's physical limitations.
Being able to stand up for ten minutes doesn't necessarily mean that the sufferer can stand up for twenty minutes, or an hour, or give you a repeat performance whenever. Just because the person managed to stand up for thirty minutes yesterday doesn't imply that they will be able to do the same today…With chronic pain however, it is confusing to both the sufferer and the onlooker, and their ability to cope with movement can be like a yo-yo. The sufferer may not know, from day-to-day, how they are going to feel when they wake up, and each day has to be taken as it comes.
Leave your "pep talk" for your kids and your gym buddies.
Realizing that chronic pain is variable, keep in mind that a pep talk can be aggravating and demoralizing for the chronic pain sufferer. As already noted, it's quite possible (for many, it's common) that one day they're able to walk to the park and back, while the next day they'll have trouble getting to the next room. Therefore, it's vital that you don't fall into the trap of saying: "But you did it before!" or "Oh, come on, I know you can do this!"
Never use throwaway lines.
Assuming you know best by making such statements as "Ah well, that's life, you'll just have to deal with it", or "You'll get over it eventually. Until then, you'll just have to do your best", or worst of all, "Well, you look well enough," etc., are lines that might make you feel done and dusted with the topic but they are both a form of distancing yourself from the person and making the sufferer feel worse and out of hope.
Check your own patience.
If you're impatient and want them to "just get on with it," you risk laying a guilt trip on the person who is suffering from pain and undermining their determination to cope. They probably have the will to comply with your requests to go out and about with them but have neither the strength nor the coping capacity as a result of the pain.
Be sensitive when suggesting medicines or alternative treatments.
Some may not appreciate suggestions, and it's not because they don't want to get well. They may have heard of it or tried it already or some may not be ready to cope with new treatment that can create an additional burden on their already over-burdened lives. Treatments that haven't worked carry the emotional pain of failure, which in and of itself can make the person feel even lower.
Don't be put off if the chronic pain sufferer seems touchy.
If that's the appearance, it's probably because they are. It's not how they try to be. As a matter of fact, they try very hard to be normal. Just try to understand. They have been going through a lot. Chronic pain is hard to understand unless you have had it. It wreaks havoc on the body and the mind. It is exhausting and exasperating. Almost all the time, they do their best to cope with this, and live their lives to the best of their ability. Just accept them as they are.
Be helpful.
The chronic pain sufferer depends a great deal on people who are not sick to support them at home or visit them when they're too sick to go out. Sometimes they need help with shopping, cooking, or cleaning. Others may need help with their kids. They may need help getting to the doctor, or to the store. You can be their link to the "normality" of life.
Is there anything you would add to this list? Please leave your astute observations in the comment section.
Bruce Gerencser, 66, lives in rural Northwest Ohio with his wife of 45 years. He and his wife have six grown children and thirteen grandchildren. Bruce pastored Evangelical churches for twenty-five years in Ohio, Texas, and Michigan. Bruce left the ministry in 2005, and in 2008 he left Christianity. Bruce is now a humanist and an atheist.
Connect with me on social media:
Your comments are welcome and appreciated. All first-time comments are moderated. Please read the commenting rules before commenting.
You can email Bruce via the Contact Form.