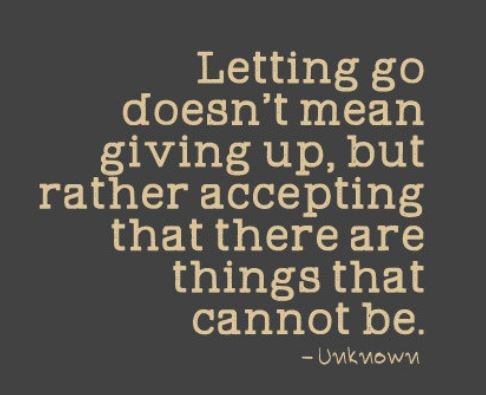 Several years ago, I watched a sports documentary about a boxer who had brain damage from his last fight. No matter what doctors did, his condition continued to deteriorate. Finally, doctors told his wife that they had done all they could do. Both the boxer and his wife would have to accept that he was not going to get better. In fact, his health would likely get worse. The wife said, "I refuse to accept this. Surely, there is something else that can be done. A new drug, treatment, or therapy, surely there is something that can be done."
While I understand the wife's unwillingness to accept that her husband was never going to recover, her statement reflects a common misconception about life and the tragedies that come our way. Things don't always get better. Sometimes, there's nothing more that can be done. Sometimes, there's not an answer or a cure.
I have been criticized, often behind my back, for the stoic attitude I have about my health. Since 1997, when I was first diagnosed with Fibromyalgia, I've seen numerous doctors, had more blood tests than I can count, and have had repeated scans, procedures, and surgeries.
My orthopedic doctor told me my osteoarthritis is like numerous wildfires burning out of control. Put one fire out and others pop up. He gathered up my x-rays and MRI scans and we looked at them. He was quite blunt, telling me that I have arthritis in EVERY joint, and that some of the damage is severe. Knees, shoulders, feet, hands, and back, all have arthritis that is causing joint damage. The why is unknown. Some days, the pain from the arthritis is severe, some days it is tolerable. Added to this is the muscle pain I have from Fibromyalgia. Every day is a pain day, with some days worse than others. I haven't had a pain-free day in twenty-five years.
We talked about options. He was quite frank with me, saying that because the arthritis is so pervasive that I was not a good candidate for surgery. Even with my knees and shoulders, scoping them could actually make things worse, resulting in more pain. I like this doctor because he doesn't bullshit me. His advice? Live with it. Unless I want to have total joint replacements, surgeries that have a huge risk of complications for someone like me who has a compromised immune system, I must learn to live with the pain, debility, and the ever-so-slow loss of function. All that he and other doctors can do for me is help manage the pain and try to improve my quality of life.
And I am fine with this. As I told the doctor, sucks to be me, but it is what it is. Unlike the boxer's wife, I know there is nothing more that can be done. All the whining, complaining, praying, wishing, and hoping won't change the fact that I have a body that is failing. All I can do is make the most of what life I have left.
Bruce Gerencser, 66, lives in rural Northwest Ohio with his wife of 45 years. He and his wife have six grown children and thirteen grandchildren. Bruce pastored Evangelical churches for twenty-five years in Ohio, Texas, and Michigan. Bruce left the ministry in 2005, and in 2008 he left Christianity. Bruce is now a humanist and an atheist.
Connect with me on social media:
Your comments are welcome and appreciated. All first-time comments are moderated. Please read the commenting rules before commenting.
You can email Bruce via the Contact Form.