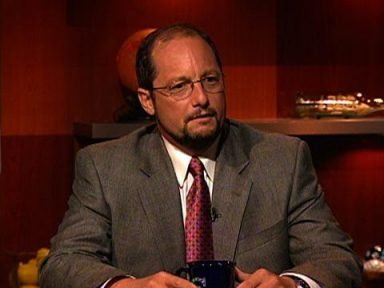 Jim Elliff, the director of Christian Communicators Worldwide, thinks Christians should avoid Bart Ehrman because he could cause them to doubt or lose their faith.  For those of you who are not familiar with Evangelical-turned-agnostic New Testament theologian Bart Ehrman, his credentials are as follows:
Bart D. Ehrman is the James A. Gray Distinguished Professor at the University of North Carolina at Chapel Hill. He began his teaching career at Rutgers University, and joined the faculty in the Department of Religious Studies at UNC in 1988, where he has served as both the Director of Graduate Studies and the Chair of the Department.

Professor Ehrman completed his M.Div. and Ph.D. degrees at Princeton Seminary, where his 1985 doctoral dissertation was awarded magna cum laude. An expert on the New Testament and the history of Early Christianity, has written or edited [over] thirty books, numerous scholarly articles, and dozens of book reviews. In addition to works of scholarship, Professor Ehrman has written several textbooks for undergraduate students and trade books for general audiences. Five of his books have been on the New York Times Bestseller list: Misquoting Jesus; God's Problem; Jesus Interrupted; Forged; and How Jesus Became God. His books have been translated into twenty-seven languages.
His books include:
God's Problem: How the Bible Fails to Answer Our Most Important Question — Why We Suffer
How Jesus Became God: The Exaltation of a Jewish Preacher From Galilee
Misquoting Jesus: The Story Behind Who Changed the Bible and Why
Jesus, Interrupted: Revealing the Hidden Contradictions in the Bible (And Why We Don't Know About Them)
Heaven and Hell: A History of the Afterlife
How Jesus Became God: The Exaltation of a Jewish Preacher from Galilee
Jesus Before the Gospels: How the Earliest Christians Remembered, Changed, & Invented Their Stories of the Savior
How Jesus Became God: The Exaltation of a Jewish Preacher from Galilee
Forged: Writing in the Name of God – Why the Bible's Authors Are Not Who We Think They Are
The Lost Christianities: The Battles for Scripture and the Faiths We Never Knew
Ehrman is a royal pain in the ass for Evangelical pastors and theologians. His books are well written and quite devastating to many of the tenets of Evangelicalism — especially Biblical inerrancy and infallibility. His books are accessible, making it easy for the average Joe-the-plumber reader to understand the history and nature of the Bible. In other words, Ehrman has successfully bridged the ivory tower/pew divide. I heartily recommend his books.
Years ago, Ehrman participated in a debate with Craig Evans at a Midwestern Baptist Theological Seminary. Midwestern is a Southern Baptist institution. By all accounts, Ehrman decidedly won the debate.
Speaking of this debate, Jim Elliff, a man I knew from my days as a Reformed Baptist, thinks debating Bart Ehrman is a bad idea. Here's why:
First, because Ehrman is a false teacher and we are forbidden to give such men a forum to express their views.

The Bible doesn't treat false teachers kindly. It is one thing to talk with a skeptic who is asking questions to know the truth, or who is confronting you in public, but it is quite another thing to invite and pay a false teacher to come to your turf in order to present his views in an open forum.

Inviting a false teacher to present his errant views in order to persuade students and the public is like allowing a gunman to shoot randomly out into an audience of military personnel because it is assumed the troops have body armor. For one thing, body armor cannot shield against all shots, and for another, there are many people attending who have no armor at all. At last week's debate, for instance, there were many people from the public who were not even believers. Some young people also attended, and some seminary students who are not yet prepared for the effects of doubt-producing verbiage…

Second, because the minority position almost always gains some followers regardless who wins the debate.

When you have a sizable crowd it almost goes without saying that someone will be convinced of the false views of the false teacher. You may sense an overwhelming approval of the debate by many who love the give and take, but fail to take note of the quiet student or outsider to the seminary now stricken with doubt about the Scriptures. Ehrman's presentation might be all that is needed to move him over the line…

Third, because debates are not always won on the basis of truth alone.

We don't need to comment much here, because you understand how this works. Ehrman clearly won the debate by the account of several attending. He simply won it by his cleverness and expertise at debating. His opponent, the believer, was well able to defeat him with the truth, but missed his opportunities in several places, giving credence to the idea that he was a better writer and lecturer than debater. In fact, this is the second time Ehrman won a debate at the same seminary, but against a different Christian opponent. What does that do for our witness? Though I have no question in my mind that our position on the reliability of Scripture is the right one and can withstand Ehrman's arguments soundly, our side was out-debated.

Fourth, because many of the listeners will not have the opportunity to sort out confusing aspects of the debate with professors or knowledgeable persons…

Fifth, because doubt is insidious.

One seminary student who has now graduated told me that he occasionally had huge doubts about Scripture and God. They were not there often, perhaps only for a few difficult days or weeks once every year or two, but they were so strong that he found himself almost smothered by them when they came. This was a leading student, chosen as one of the best preachers of the seminary. Doubt is insidious. Like a drop of ink added to gallons of water, it can ruin everything. It is the fly in the perfume. We are naïve to think that, being free from doubts ourselves, others do not deal with them regularly.

When a man like Ehrman speaks, doubt-producing statements may be forever lodged in people's minds, causing trouble when least expected. It only takes a tiny amount of doubt for some people to be destroyed. A weak person might believe his doubts rather than believe his beliefs…..
Where, oh where, do I begin?
There is no need for me to go through a lengthy refutation of Elliff's post. His position is quite simple:
Bart Ehrman is a false teacher
Christians are not to listen to false teachers
False teachers like Ehrman cause Christians to doubt
Doubt causes people to lose their faith
Doubt must be avoided at all costs, so information that is contrary to the approved narrative must be avoided
Consider this. The doubting students that Elliff is so concerned about have gone to Evangelical (Southern Baptist) churches their entire lives and have at least four years of college education, most likely at Evangelical institutions. After a lifetime of training, four years of college, and after uncounted sermons and Sunday school lessons, the students still aren't prepared to withstand hearing ONE debate featuring a non-Christian?
I have one word for this: pathetic.
Elliff lives in a world where the only truth is his truth– though he calls his truth "God's" truth. Even though most everyone admits Ehrman handily won the debate, according to Elliff he won by deceptive means. Since there is only one version of the truth, Ehrman had to win by other means.
The money quote is this:
Ehrman clearly won the debate by the account of several attending. He simply won it by his cleverness and expertise at debating. His opponent, the believer, was well able to defeat him with the truth, but missed his opportunities in several places, giving credence to the idea that he was a better writer and lecturer than debater.
Elliff seems to have forgotten his Bible. If I remember right, the Holy Spirit indwells every follower of Jesus. When believers are called on to give a defense of their faith, the Holy Spirit gives the believers the words to say. Evidently, the Holy Spirit didn't come through for Evans.
Elliff lives in an alternate universe where saying the Bible says _________ is the satisfactory answer to every question. It's the equivalent of a child wanting to know why, and their mother telling them, because I said so. That's the world Evangelicals like Jim Elliff live in. Any facts that don't fit the approved orthodox narrative are rejected out of hand. Even when the facts are overwhelming, great lengths are taken to explain away the contrary evidence. Young-earth creationists such as Ken Ham and Kent Hovind (Dr. Dino) are perfect examples of this.
I left Christianity because I no longer believed the Christian narrative to be true. It was my desire to know the truth that ultimately resulted in my deconversion. If Christian seminary students, most of whom are studying for the ministry, cannot be confronted with contrary evidence for fear of losing their faith, I would suggest it is not a faith worth having.
Doubt should not be discouraged. Evangelicals should be encouraged to question, investigate, and test the beliefs which their pastors (and college professors) and churches say are true. A faith that will withstand the onslaught of the modern/postmodern world must be able to answer the questions the modern/postmodern world presents. Perhaps, that is the real issue. The Christian faith has run out of answers. All that is left is warmed-over dogma from years gone by, irrelevant and no longer satisfying for the needs of humanity.
It really is all about the Bible; on this point both skeptics and Evangelicals can agree.
Bruce Gerencser, 66, lives in rural Northwest Ohio with his wife of 45 years. He and his wife have six grown children and thirteen grandchildren. Bruce pastored Evangelical churches for twenty-five years in Ohio, Texas, and Michigan. Bruce left the ministry in 2005, and in 2008 he left Christianity. Bruce is now a humanist and an atheist.
Connect with me on social media:
Your comments are welcome and appreciated. All first-time comments are moderated. Please read the commenting rules before commenting.
You can email Bruce via the Contact Form.