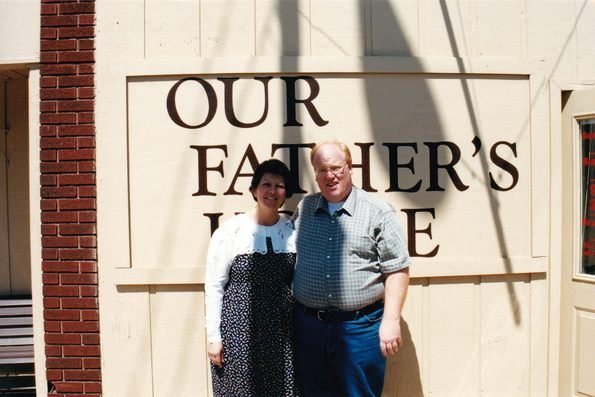 After resigning from Olive Branch Christian Union Church in Fayette, Ohio in 1995, I rented the old library building in nearby West Unity and started Grace Baptist Church — later renamed Our Father's House. I remained the pastor of this church for seven years.
While I became more ecumenical and progressive politically during this time, I remained a fire-breathing moral crusader. West Unity was the last dry (no alcohol sales) community in Ohio. When the American Legion, directly across the street from the church, put an initiative on the local ballot to allow alcohol sales, I decided to make it my personal mission to defeat the measure. I sent out letters to churches, wrote letters to the editors of local newspapers, and went door to door handing out flyers — all in the hope of soundly defeating the ballot issue. Teetotaling Evangelicals, including a handful of church members, rallied around my cause, and sure enough, the issue was defeated. What a great victory for Pastor Bruce and the true Christians who defeated Satan and his army of boozers. It didn't take me long, however, to learn that I had won the battle but lost the war. In winning, I lost the respect of many people in the community — primarily non-Evangelicals. While Evangelical God-lovers praised my name, liberal Christians, local business owners, bankers, and the like were no longer friendly towards me.
In the late 1990s, a criminal concern out of Chicago opened a massage parlor 10 miles west of our church at Exit One on the Ohio Turnpike. This was the first adult oriented business to ever operate in Williams County. When I learned of its existence, I quickly set out to close it down. I rallied pastors and business owners to my cause, along with my usual shtick of writing letters to local newspapers. The Bryan Times refused to print my letter because I alleged, without evidence, that prostitution was indeed taking place at the business. Other newspapers published my letters.
I also wrote letters to local law enforcement, along with local and state politicians. I drew a clear line in the stand: close this business in the name of God and morality. Little did I know that I was involving myself in an issue that I knew nothing about. I wrongly assumed that law enforcement — namely the Williams County Sheriff's Department — was sitting on its ass, doing nothing to remove this "vile" establishment from our County.
One day, the phone rang at the church. It was the Sheriff calling for the Bruce, the moral crusader. Boy, was he upset at me. He wanted me to know that I was ruining a joint sting operation between the Sheriff's office and the Ohio Bureau of Criminal Investigation. When I told the Sheriff that I had no intention of gumming up his operation, he calmed down a bit and politely asked to me end my crusade. And if I did so, I would be invited to the go with them when they raided the massage parlor.
Several weeks later, law enforcement gathered at a motel across the street from the parlor to prepare for the raid. There I was, a definite outsider, little more than someone who got a consolation prize for not fucking things up for them. The raid proved to be quite anti-climatic — pun intended. There were no customers in the massage parlor, just two well-worn Asian women in their late 40s. Seized in the raid were credit cards, condoms, cash, and food stamps. Yes, food stamps. Evidently, the massage parlor took food stamps as payment for services rendered. The parlor employees were later prosecuted on solicitation charges, but, if I remember correctly, served no jail time. This would be the last moral crusade for me. Lessons learned.
My opinions about adult businesses, sex workers, and "morality" changed dramatically over the next two decades. Bruce, the moral crusader died an ignoble death that day at Exit One on the Ohio Turnpike. Instead of focusing on the business itself, I began to think about the women and how the Chicago men they worked for likely coerced them and other women into working at the massage parlor. While I now support legal, consensual sex work, I still wonder about the women arrested during the raid. What kind of life did they have up to that point? What kind of life did they have after their arrests? Did I make life better for them? Or did I just make a bunch of white Evangelical Christians feel morally superior to these women? I suspect I know the answer to these questions.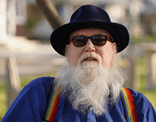 Bruce Gerencser, 65, lives in rural Northwest Ohio with his wife of 44 years. He and his wife have six grown children and thirteen grandchildren. Bruce pastored Evangelical churches for twenty-five years in Ohio, Texas, and Michigan. Bruce left the ministry in 2005, and in 2008 he left Christianity. Bruce is now a humanist and an atheist.
Connect with me on social media:
You can email Bruce via the Contact Form.
Your comments are welcome and appreciated. All first-time comments are moderated. Please read the commenting rules before commenting.