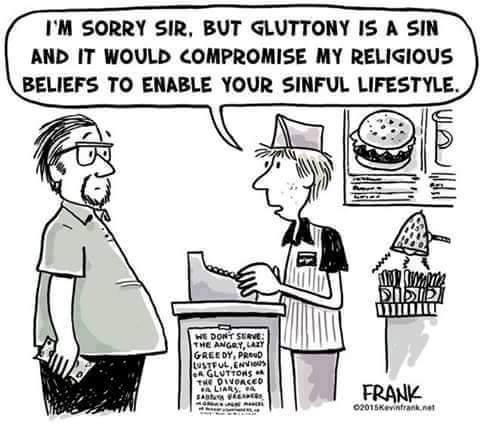 Repost from 2015. Edited, updated, and corrected.
(I use the word "sin" in this post because I think Christians who read this blog will better understand what I am talking about. Please see Let's Talk About Sin, Guilt, and Human Behavior for a better explanation of my view on "sin.")
Sin.
According to the Bible, sin is transgression of the law.
Let the debate begin:
Which law?
Old Testament?
New Testament?
Both?
Christianity teaches that sin separates us from God.
Sin is what sent Jesus to the cross.
We are all sinners.
Born that way.
We sin because we are sinners.
Sin will ultimately land us in Hell unless we trust in Jesus for the forgiveness of our sins.
Sin is the problem and Jesus is the solution.
Our hearts are black, but Jesus can make them white as snow through the blood he shed on the cross.
Without sin, I wonder: would Christianity exist?
For those of us who are not Christians, sin takes on a different meaning.
Since there is no God to offend and no God to give an account to, sin does not carry the force that it does with Christians.
The list of sins, according to the Bible, according to the pastor, and according to each Christian, is quite long.
Every person has his or her own sin list, and no two lists are the same.
As an unbeliever, my sin list is quite short.
And it gets shorter every day.
Since I reject the Bible as an objective standard of right and wrong, how do I determine my morals and ethics?
Do I need a God, religion, church, or pastor to tell me what my morals and ethics should be?
Do I need a supposedly supernatural text, the Bible, to tell me what my morals and ethics should be?
According to the Bible, the entirety of the law can be summed up in two commands:
Love God
Love your neighbor as yourself
My morals and ethics are based on the premise that I should love my neighbor as myself.
I should treat people like I would want to be treated.
I should not do things that would harm other people.
I should value my relationships with family and my fellow human beings to such a degree that I live in such a way that my actions cause them no harm.
God does not enter the picture. My only concern is the relationships I have with others. When I live in a selfish, unloving, unkind, unjust manner then I am "sinning" against my fellow human beings.
My sin does not bring the judgment of God, but it does hurt the relationships I have with others. My sin causes personal loss and pain.
If what I do does not hurt others, if it does not damage my relationships with others, then it is not "sin."
This makes life much simpler for me.
I am still a "sinner," but I am much less a "sinner" since I abandoned the Christian faith.
Losing God, the Bible, and the complex, never-ending sin list has allowed me to realize, for the first time in many, many years, that it is okay to be human.
After living a lifetime of denying who I am, I can now be free to be Bruce. I am still finding out who I really am.
So much of my life was labeled as sin. Every thought, every word, every deed, every day . . . sin.
I suspect I will always have a Christian sin hangover. A lifetime of being beaten over the head with an angry God, a dying Savior, and a divine rule book has left a lot of deep wounds and scars.
Bruce Gerencser, 63, lives in rural Northwest Ohio with his wife of 42 years. He and his wife have six grown children and thirteen awesome grandchildren. Bruce pastored Evangelical churches for twenty-five years in Ohio, Texas, and Michigan. Bruce left the ministry in 2005, and in 2008 he left Christianity. Bruce is now a humanist and an atheist. For more information about Bruce, please read the About page.
Are you on Social Media?
Follow Bruce on Facebook and Twitter.
Thank you for reading this post. Please share your thoughts in the comment section. If you are a first-time commenter, please read the commenting policy before wowing readers with your words. All first-time comments are moderated. If you would like to contact Bruce directly, please use the contact form to do so. Donations are always appreciated. Donations on a monthly basis can be made through Patreon. One-time donations can be made through PayPal.