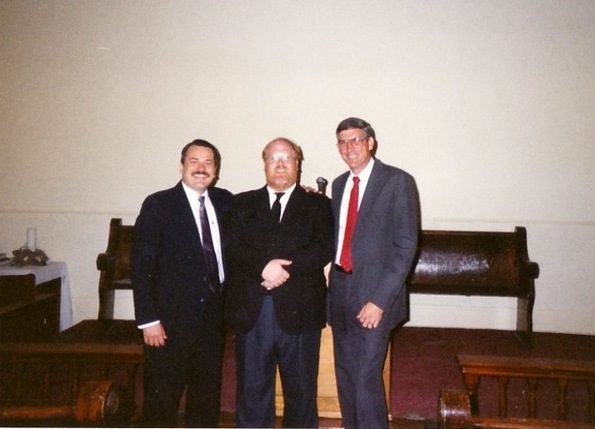 Our family arrived in Elmendorf, Texas the first week of March, 1994. I had resigned from Somerset Baptist Church in Mt. Perry, Ohio, and after closing down the church and Christian school, I packed up my family and moved us to Elmendorf so I could become co-pastor of Community Baptist Church.
Community Baptist Church was a Sovereign Grace (Calvinistic) Independent Baptist church started in the 1980s by Pat Horner. The church worshiped at a ramshackle former Southern Baptist church building on Labus Road outside of Elmendorf. The church property included several acres of land that housed a double-wide mobile home in which Pat Horner and his family lived, an old mobile home where Joe Buitron, the groundskeeper/handyman, and his family lived, and a brand-new 14×70 mobile home the church purchased for my family.
This enclave of mobile homes was called The Compound. Each mobile home was close enough to the other two that the occupants could easily see what was going on at each mobile home. When we moved to Texas, we did not watch TV. I remember how judgmental I felt when I saw the glare of a TV in the bedroom window of Pat Horner's home, late on almost every Saturday night. I thought then, why is he watching TV? Shouldn't he be praying and preparing for the Lord's Day as I am?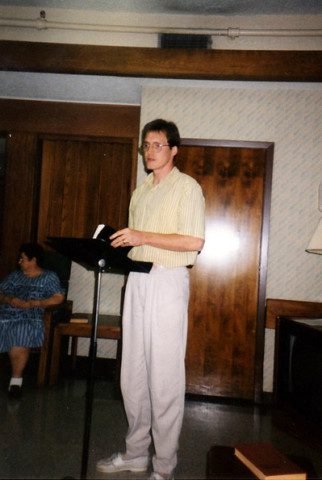 The church was quite welcoming, and we were excited to be there. Community Baptist was a vibrant congregation, filled with young adults and their children. There was an air of excitement in the church, a hunger for the preaching and teaching of God's Word. I spent many a Sunday evening after service talking theology with the men of the church. They had questions, and I was delighted to dispense to them what knowledge I had about the Calvinistic interpretation of the Bible.
There was quite a bit of movement in and out of the church membership. Not long before I became co-pastor of the church, two men from Kalamazoo, Michigan moved to Elmendorf so they could be part of the church. Their names were Craig Mussulman and Tim Conway. Conway is now the Calvinistic Fundamentalist pastor of Grace Community Church in San Antonio, Texas. Mussulman is an elder at Grace Community.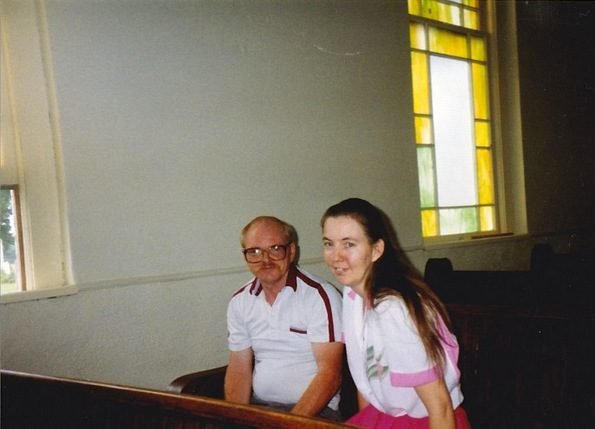 When we moved to Elmendorf, a family from Ohio moved with us. Larry and Linda Johnson were members of Somerset Baptist Church, and when we decided to move, they packed up their belongings and moved to Elmendorf a week or so later. Larry and Linda had three children and Larry was a heating and air conditioning contractor.
The Gerencsers' first act as co-pastor and family was to officially join the Community Baptist Church. Community had strict membership requirements. The church's Covenant had this to say about church membership:
. . . In recognizing the church's authority to receive me into, and dismiss me from, its membership, I purpose when seeking to remove myself from her membership to seek the counsel, the approval, and the blessing of the church in seeking to join myself to another church of like faith and practice . . .

. . . If, however, the church does not agree with my reasons for leaving, I recognize that the church may release me from its membership disagreeing with me and expressing their displeasure of my actions but, at the same time, allowing me the liberty of conscience to leave . . .

. . . Finally, in the event of sin on my part with regard to any biblical matter, I recognize the church's biblical right to take disciplinary action toward me, which seeks my restoration . . .
As I would later learn, church members were routinely disciplined for violating membership requirements.
One requirement stood out above all others. Since people had to have the church's permission to join the church, according to Horner and church elders, they also had to have the church's permission to leave. Members could not just leave and go somewhere else. If they did not ask for the church's permission to leave, Horner would call a meeting and discipline the errant church member. I would suffer this same fate when I resigned and moved back to Ohio.
A week or so after we joined the church, the Johnson family arrived in Elmendorf, and as we did, they joined the church. However, before the Johnsons joined the church, Horner and I had our first conflict. Before potential members could join the church, they had to meet with Horner so he could grill them about their salvation experience and what they believed. Larry Johnson met with Horner, and afterward Horner came to me and said he doubted Larry was a "real" Christian. The reason? Larry talked too much about God and not enough about Jesus.
I was able to convince Horner that Larry was a "real" Christian and he permitted the Johnsons to join the church. I was quite sad when the Johnson family, convinced by Horner that I was a bad man filled with pride, later turned against me.
Every year, in March, Community Baptist Church held a week-long Bible conference. I preached several times during the 1993 conference and I was scheduled to preach several times during the 1994 conference.
The conferences were housed in a large tent that held several hundred people. Calvinistic Baptist pastors from around the state of Texas would come to the Bible conference, and pastors from as far away as Ohio and Louisiana would preach. The women of the church would provide meals each day for everyone in attendance. The food, music, and preaching were outstanding.
The 1994 conference took place a week or so after we moved to Elmendorf. After we settled into our new mobile home, I began helping with conference preparations. Along with John Sytsma, a wealthy owner of a nearby ostrich farm, I set up the sound system for the conference. Our "work" would fuel the second conflict I had with Pat Horner.
On the first morning of the conference, the sound kept cutting in and out. John and I could not figure out why this was happening. During lunch, Horner angrily lit into me about the sound problem, and he let me know that I better get it fixed. I had never seen the angry side of Horner before, but I would see a lot more of it before I left the church. Horner must have realized that his angry display was inappropriate because he came to me later in the day and apologized. This would be the first and last time Horner apologized to me for anything. John Sytsma later left the church and is now an elder at Tim Conway's congregation, Grace Community Church in San Antonio.
Over the next seven months, Pat Horner and I would have skirmishes that became increasingly combative and angry. I do not blame Horner for this. Each of us was temperamental and we both had aggressive type-A personalities. We were both in charge of the same real estate, and this led to frequent conflict. Sometimes, I would win these battles, but most of the time Horner was the victor.
We argued about everything from my dog getting under the church and chewing the phone line to whether or not it was okay to shoot the neighbor's feral pig. Horner threatened to shoot my dog if it ever did any like that again, and he wanted to shoot the pig, but I was able to convince him that it was wrong to do so.
We argued over the church budget and the church bulletin. I was of the opinion that the church needed to know everything about its finances. Horner took the position, How much do they need to know? I won this battle, and the congregation was provided with a complete statement of income and expenses every month. This exposed the slush fund Horner had used for years to give money to preachers and families in the church. I am in no way suggesting he was dishonest. Our disagreement was over whether the church should know about the fund.
Since I was quite proficient when it came to computers and desktop publishing, I took on the responsibility of the church bulletin. Horner was a micro-manager, and he refused to let me print the bulletin until he reviewed it first. Every week, I would get the bulletin back with things circled he felt needed to be corrected. His micromanaging quickly got under my skin, even though, in retrospect, some of his corrections were justified,
Our conflict over the bulletin turned into open warfare, and it took an English major in the church to settle it. Horner was a Texan and I hailed from the rural Midwest. Our speech and writing patterns were very different from each other. Let me give you an example: I would say "the barn needs to be painted." Horner would object and say, no, "the barn needs painting." We frequently butted heads over things such as this. Finally, Rhonda Galaviz, wife of Mexican missionary Andres Galaviz, told Horner and me that my usage was technically correct and it was considered a colloquialism from the Midwest. While this settled the proper English debate, Horner would continue to have a problem with the way I did the bulletin. Not long after that incident, I gave the bulletin job to someone else.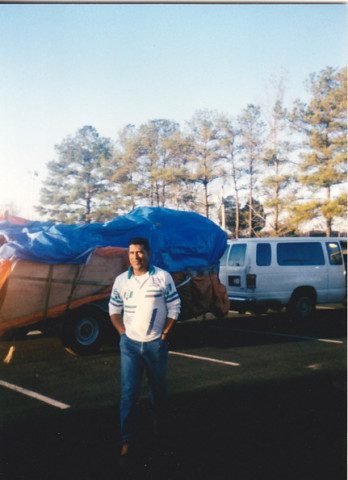 Joe Buitron and his family lived on The Compound directly across the gravel road from our mobile home. Joe took care of the grounds and fixed whatever needed fixing. He was a jack-of-all-trades. There was nothing Joe couldn't fix or repair. Joe worked long hours, especially when we began building a new church facility. The church paid him $200 a week and allowed him and his family to live in a small mobile home on church property. Joe was grossly underpaid, and making ends meet was a constant struggle. I finally brought his financial struggles to Horner and the elders, and after a bit of shaming, they gave Joe a pay raise.
The Buitrons were in need of a washer (and maybe a dryer). This need was brought before the church so they could "pray" about it. The praying went on for weeks, yet God had not yet directed the church to buy this hardworking family of six a washer. Finally, I had enough of all the praying, and I bought a washer for the Buitrons. I never understood the whole praying thing when it was in my power or the church's power to take care of a need. To this day, I wonder if some church members thought I played "God."
In my next post in this series, I will discuss how my conflicts with Horner came to a head, and why left Community Baptist Church.
Part One — Part Two — Part Three — Part Four — Part Five
Bruce Gerencser, 66, lives in rural Northwest Ohio with his wife of 45 years. He and his wife have six grown children and thirteen grandchildren. Bruce pastored Evangelical churches for twenty-five years in Ohio, Texas, and Michigan. Bruce left the ministry in 2005, and in 2008 he left Christianity. Bruce is now a humanist and an atheist.
Connect with me on social media:
Your comments are welcome and appreciated. All first-time comments are moderated. Please read the commenting rules before commenting.
You can email Bruce via the Contact Form.