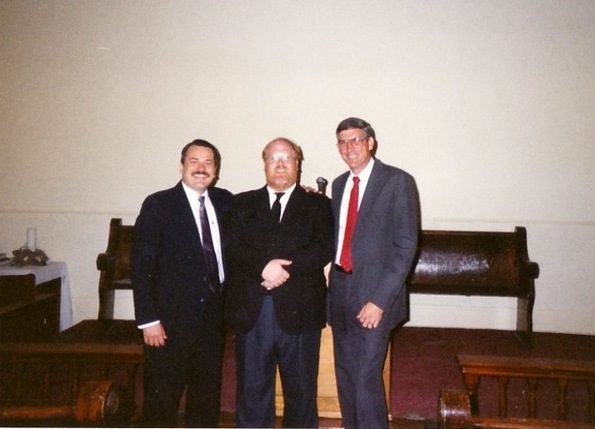 This series details my experiences as co-pastor of Community Baptist Church in Elmendorf Texas. In March 1994, I left a pastorate of eleven years and moved to Texas so I could co-pastor a thriving, growing Sovereign Grace Baptist church. The church was founded by Pat Horner. Horner and I became acquainted through a newsletter I published — The Sovereign Grace Reporter. In March 1993, I packed up my family — five children in the backseat and Polly, seven months pregnant, in the front — and drove to Texas to preach at Community's annual Bible Conference. Polly and I were enthralled with the church and its growing, motivated, young membership. Later in the year, Horner called and asked me if I would be willing to come and work with him. After talking it over with Polly (and God), I decided that God wanted me to remain the pastor of Somerset Baptist Church. A few weeks later, in what can only be described as a deeply emotional experience, I change my mind about working with Horner. I telephoned Horner and told him that I believed that God was now telling me to come to Texas. Several weeks later, we drove to Texas to meet with the church membership. They overwhelmingly were in favor of me becoming one of their pastors. Little did I know that less than a year later I would be packing up my family and, with a broken heart, moving back to Ohio.
Community Baptist Church believed that since the church had to approve entrance into their membership, no one could leave the church without their permission. Leaving without church approval was viewed as a betrayal of the covenantal relationship between members. People who left the church or stopped attending were routinely disciplined (Matthew 18:15-20), resulting in ex-communication. The church believed that excommunicated members were to be considered publicans and heathens — thus the title of this series. The only way disciplined members could remove this "mark" (Titus 3:10,11,Romans 16:17, and 2 Thessalonians 3:14,15) was to humbly come before the church, admit their sin, and plead for reinstatement.
Horner was a former Independent Fundamentalist Baptist (IFB) preacher, a fact that he, to this day, likes to hide. The reason this is important is that while Horner disavowed IFB theology when he embraced the five points of Calvinism, he continued to believe that God-honoring churches were to be ruled by pastors (elders). While Community had a plurality of elders, it was quite clear that Horner was the elder above all others. Looking back on my decision to co-pastor Community, I now know that I grossly overestimated the ability of both Horner and myself to work with each other. Both of us had spent our careers as men who controlled every aspect of the churches we pastored. We may have had elders and deacons who were supposedly equal in power and authority, but these officeholders were little more than façades that covered up ego-driven, authoritarian rule. While I did not remain such a pastor, it is, to this day, hard for me to think about how controlling I was. I know that authoritarianism robs people of self-determination and self-worth. Lording over people and treating them as subjects in one's own little kingdom causes great psychological harm. I suppose, then, me facing church discipline at the hands of Horner was some sort of karmic justice. The monster that I had fed and used to control "sinful" church members finally devoured its creator. All I can do now is to use my experiences as a platform to help others who have been emotionally eviscerated by pastors and churches who believe that God has given them absolute control over the lives of others. While I am hesitant to say such beliefs and practices are cultic — who wants to admit they were a cultist? — any fair-minded person would conclude that they are.
During my time at Community, I participated in several public disciplinary meetings, including one in which I was in charge of the proceedings. Errant members were disciplined for all sorts of "sins," but most of them were excommunicated because they stopped attending church. Since these dropouts did not notify the church (Horner) about leaving, they were, by church vote (almost always a rubber stamp to Horner's request) removed from the membership. In many instances, other local Calvinistic churches refused to accept as members those who had been excommunicated. The only way for excommunicated members to join a new church was for them to return to Community and confess their "sin" before the congregation. Once duly humbled, these wayward members would then be granted a release from their membership. They were then free to join up with a new church. This applied, of course, only to sound Calvinistic Baptist churches. Members leaving to join up with non-Calvinistic churches were not granted releases. Horner believed that Calvinism was the true gospel, and that non-Calvinistic churches were heretical and taught a false gospel. This thinking permeated the church. I was asked on several occasions if I believed that Arminians (Methodists, Free Will Baptists, Nazarenes, Pentecostals, et al.) were Christians. I did my best to sidestep such questions, knowing that saying yes would cause church conflict. One leader in the church would later remark after I left that he knew I was never a "real" Calvinist. This man did not like me emphasizing God's love. He preferred Jonathan Edwards' brooding, violent, sin-hating God.
As I mentioned above, I was in charge of one of the disciplinary meetings. Horner had gone to Mexico for a few weeks to do missionary work, so it was up to me to make sure that the authoritarian machine was firing on all eight cylinders. During this time, I began to have problems with Wayne Hendricks — a man who had been ordained by the church and was supposed to be helping me at the church I planted in Floresville. Hendricks (married to Horner's sister-in-law, I believe) was unhappy with Horner and with me, revealing, at least in my mind, at the time, that he had a "rebellious" heart. This man was disloyal and refused to submit to pastoral authority, so I determined that the best course of action was to strip him of his ordination. After several conference calls with Horner, in which he agreed with my assessment, I brought the matter before the church and Hendricks was defrocked. He would later humble himself before "God" and have his ordination reinstated. (The very threat of discipline was often enough to get church members to change their behavior.)
In early October 1994, after all the events described in Part Three of this series, Horner decided to bring me before the church for the purposes of discipline and possible ex-communication. Several days before this meeting a few church members pleaded with me to make things right with Horner. They knew that ex-communicating me had nothing to do with sin. This was all about two arrogant, self-righteous, bull-headed men who couldn't get along with each other, yet I was the one who had to make things right. They knew that this was a power struggle over who would control the church, a power struggle I knew I couldn't win. And it is for this reason I decided not to attend the disciplinary meeting.
I knew that some church members preferred me over Horner. Many of them found my congenial, at times humorous, preaching appealing. I knew that if I decided to stay in San Antonio and start a new church, that some people would join with me. And it is for this reason that I chose not to stay and start a new church. I can say with a little bit of pride that, over the course of 25 years in the ministry, I never experienced or fomented a church split. Members would come and go, but I never had a large group of people leave at one time with the express purpose of starting a new church. While causing a split at Community would have been in some ways gratifying — a poking of my fingers in the eyes of Pat Horner — I knew that church splits rarely grew into successful, growing congregations.
It took Polly and me a few days to pack our belongings in a U-Haul truck. Several church members helped us load our worldly goods on the truck, and a few others stopped by to plead with us to attend the disciplinary meeting scheduled for Saturday. Some of them were quite emotional, weeping as they begged me not to go. I told all of them that nothing good would come from the disciplinary meeting. Horner had his mind made up. Either Bruce Gerencser was going to submit himself to the will of Almighty Pat or he was going to kick his ass out of the church. I refused to submit myself to Horner's slander of my character, knowing that he had spent days making sure that key church members would vote his way. As anyone who has ever been a member of a Baptist Church knows, there are cliques and power groups within the church. Identifying these groups and appealing to them is the best way for a pastor to get what he wants. I had practiced this very method in the churches that I pastored. Since Horner had all his ducks in a row, it was futile for me to defend myself. As Kenny Rogers sang (The Gambler), You've got to know when to hold 'em / Know when to fold 'em / Know when to walk away / And know when to run. I knew that I did not have a winning hand, so I folded and moved back to Ohio.
Around 6 o'clock on an early October Saturday night, the Gerencser family tearfully drove out the long lane from their church-provided home to Labus Road. As we drove by the church, we passed a parking lot filled with cars. The meeting called for the purpose of dealing with the "Bruce Gerencser problem" was underway, and as I predicted, the church excommunicated me. To this day they consider me a publican and a heathen. My later loss of faith is proof to many of them that the decision they made on that October night in 1994 was right. Ironically, the church did not excommunicate Polly or our children. The church (Pat) determined that they were under my control and unable to think for themselves. This, of course, is exactly how I viewed the church. Under the control of Pat Horner, they pretty much did what he told them to do. My excommunication was a done deal the moment I stood up to Horner, and he then determined that he would smack me down like a defiant teenager.
After returning to Ohio, I exchanged several nasty letters with Horner, the type you would expect from a couple who had gone through an acrimonious divorce. In later years, after a lot of reflection and soul-searching, I made several attempts to reconcile with Horner, hoping that in doing so it would put an end to all the gossip and lies that were being spread by not only him, but other leaders in the church. Horner would have none of it, saying that the problem I had was with the church, not him. After trying several times to smoke the proverbial peace pipe, I gave up, believing, at the time, that the record would be set straight when we got to Heaven. Since I now know that there is no Heaven or God to adjudicate our disagreement, and Horner is unwilling to admit his part in my decision to resign from the church, all I am left with is this series of blog posts. People will believe what they want to believe. All I can do is tell my side of the story.
Horner left Community four years after I did, starting several churches and leaving them. Best I can tell, he is a missionary in India, perhaps Nepal. Pastors Tim Conway and José Maldonado, both former members of Community Baptist Church, have in recent years publicly "exposed" Bruce Gerencser for who he really is. (Please read Jose Maldonado Says I Never Was a Christian and Gone but Not Forgotten: 22 Years Later San Antonio Calvinists Still Preaching Against Bruce Gerencser.) Evidently, in their eyes, my current atheism is a threat, and like their former fearless leader, Pat Horner, they want to do what they can to eliminate my influence on others. Sadly, for them anyway, their attempts to do so have miserably failed. This series of posts has been read by tens of thousands of people. In recent years, I have received letters from people who were also disciplined by Horner and Community Baptist Church. While all of these people are still Christians, they appreciated my willingness to shine the light on the horrific disciplinary practices used by many Calvinistic pastors and churches. An untold number of good people have been psychologically harmed by hammer-wielding pastors out to bludgeon them into submission.
While my time at Community Baptist left psychological scars that remain to this day, I do believe that being excommunicated helped make me into the man I am today. When I arrived at Community, I was on a path that was sure to harm not only myself and my family, but also those who lovingly called me pastor. With Pat Horner and Community Baptist Church, I was able to experience firsthand the logical conclusions of my authoritarianism and Calvinistic beliefs. I can only imagine what I might have become had I continued on this path. Thankfully, being filleted and hung out to dry forced me to take a hard look at my life and beliefs. My excommunication was my first step towards leaving Evangelicalism. I would late realize how damaging authoritarianism was, not only to me and my family, but also to the churches I pastored. While I remained, to a large degree Evangelical, my view of people and my interaction with them greatly changed. I owe Pat Horner and Community Baptist Church a great debt of gratitude for helping me become a better man, ultimately leading me to renounce my Christian faith and embrace atheism. While they most likely view my de-conversion as a sure sign that I never was a Christian, I am grateful that Horner and the church were instrumental in forcing me to take a hard look at the kind of man I was and how my beliefs were harmful to others. My only regret is that the same did not happen for Horner. He remains unapologetically a hard-core Fundamentalist Sovereign Grace Baptist preacher. The damage that he has personally caused is great (and some more painful stories are best left untold). Perhaps, members of his family or former congregants will dare to tell their stories, and maybe then Horner will have his own come-to-Jesus reckoning. I have done my best to be honest and open about the time I spent at Community Baptist Church. I willingly admit my culpability in the problems between Pat and me. Peel away all the theology and what is left is a story about two thirty-something Type-A, authoritarian men who could not or would not find common ground to work with each other. Their failure to do so is a story that has repeated itself numerous times in countless churches. Despite appeals to the Bible and God, one truth remains: people are people. Pastors such as Horner and I can easily be driven by personal wants, needs, and desires. In our case, both of us wanted to be the king of the hill, and as anyone who has ever played the game knows, there can only be one king.
In 2018, Community Baptist Church celebrated its thirty-fifth anniversary. Community published a book, edited by Lynne Tagawa, detailing their history. I will conclude this series with a review of this book, along with a few comments about a video released by the church at the same time.
Part One — Part Two — Part Three — Part Four — Part Five
Bruce Gerencser, 66, lives in rural Northwest Ohio with his wife of 45 years. He and his wife have six grown children and thirteen grandchildren. Bruce pastored Evangelical churches for twenty-five years in Ohio, Texas, and Michigan. Bruce left the ministry in 2005, and in 2008 he left Christianity. Bruce is now a humanist and an atheist.
Connect with me on social media:
Your comments are welcome and appreciated. All first-time comments are moderated. Please read the commenting rules before commenting.
You can email Bruce via the Contact Form.