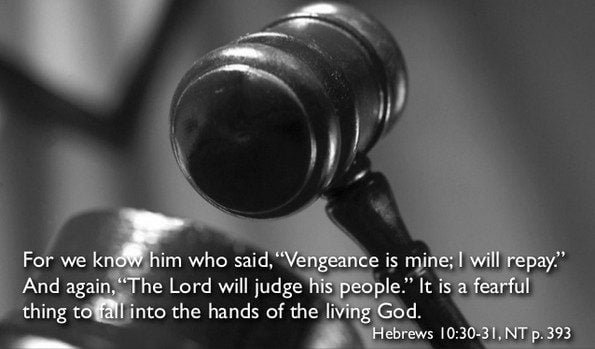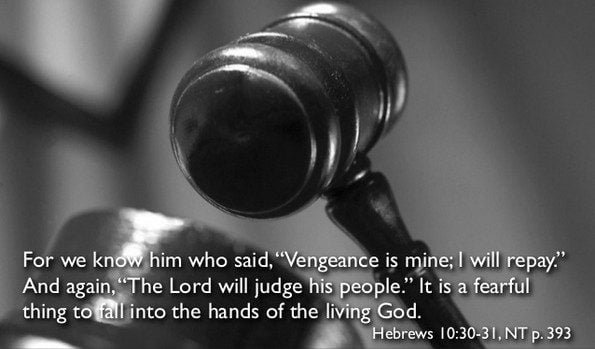 Fear is a tool used by Evangelical preachers to manipulate and control church attendees. While many Evangelical churches are taking more of a relational approach that focuses on feel-good how-to sermons, hellfire-and-brimstone churches can still be found in virtually every American community. These kinds of churches are known for sin-hating, devil-chasing "hard" preaching. The men — women need not apply — who pastor such churches take pride in the fact that their toe-stomping sermons cause sinners and saints alike to fear God. And in some instances, not only do church attendees fear the Almighty, but they also fear the preacher.
There are two methods commonly used by preachers to cause people to fear God. First, there are various Bible verses that promote fear of God. The book of Hebrews says that it is a fearful thing to fall into the hands of the living God. In the book of Ecclesiastes, Solomon said that the whole duty of man is to fear God and keep his commandments. The Bible also says that people should fear he who has the keys of life and death, "he" being, of course, God. Then there are also various Bible stories that remind people of what might happen if they disobey God. Preachers remind congregants that disobeying God shows that they have a lack of fear. Church members who are not regular attendees or faithful tithers are told that their disobedience reveals a heart that does not fear God. No matter the sin, according to Evangelical preachers, the root cause is a lack of fear of God. If people feared God they would do all that God commands them to do. Of course, far too many Evangelical preachers confuse their personal convictions and way of life with the laws, commands, and precepts found in the Bible. I have written several posts in the past about the long list of rules and regulations that can be found in many Independent Fundamentalist Baptist (IFB) churches. (Please see An Independent Baptist Hate List and The Official Independent Baptist Rulebook) These rules and regulations are little more than personal interpretations of various Bible verses. There are no verses in the Bible that prohibit many of the things that Evangelical preachers preach against, but this does not keep them from conflating personal beliefs with the teachings of the Bible. While many Evangelical churches have softened their stance on many social issues, plenty of churches still preach against "sins" such as alcohol drinking, drug use, gambling, mixed bathing, movie attendance, swearing, immodest clothing, long hair on men, pants on women, rock 'n roll music, dancing, petting, and premarital sex. Preachers scour their Bibles looking for verses and stories that can be used to prop up their peculiar social and moral codes. Again, the main purpose is to put the fear of God into people so they will not do the things that preachers and churches consider sin.
The second method that Evangelical preachers use to promote the fear of God is the telling of personal stories that are meant to remind people of what happens when people ignore God and live in ways that show a lack of fear. Remember, people show that they rightly fear God by obeying God and the teachings of the Bible. People who attend church, yet ignore God's commands, are treading on thin ice, and if they do not repent, God could bring judgment down upon their heads. Preachers often tell stories about former church members who ignored their preaching and stern admonitions, only to find themselves being punished or even killed by God. Years ago, I listened to a preaching tape by Calvinistic Southern Baptist evangelist Rolfe Barnard. His sermon was titled, God kills people. Will he have to kill you? The purpose of Barnard's sermon was to provoke church members to explicitly obey the commands of God. Threatening people with death was certainly a good way to get their attention. Of course, despite all the fear-mongering, most church members remain passive attendees who throw a few shekels in the offering plate and say, great show for a buck.
Evangelists are often the best storytellers. These merchandisers of fear and judgment use unverifiable stories about people in other churches who did not fear God. With thundering voices and apocalyptic pronouncements, these men of God tell stories about people who angered God. This God made them sick, took away their jobs, killed their children, or caused them to suffer any of a number of other reversals of fortune. Instead of seeing such things as shit happens, evangelists see these things as signs of God chastising his children.
I vividly remember a revival meeting with Don Hardman in the late 1980s when the evangelist left the pulpit and came down to where the church teenagers were sitting. With a raised voice, Hardman pointed his finger at each teenager, telling them that GOD sees everything they do. He then recited a list of the typical "sins" committed by rambunctious, hormone-raging young people. By the time he was done, I could see that the teenagers were fearful. I thought, at the time, that God was using Hardman to ferret out sin and rebellion against God. I now know that the church teenagers did not fear God as much as they feared Don Hardman. Or perhaps they feared being found out. Either way, come invitation time, numerous teenagers came to the altar to pray. I suspect very little changed for these teenagers, but by coming to the altar to pray, they showed, outwardly at least, that they had received God's and Evangelist Hardman's message.
Many Evangelical preachers save their best fear-mongering stories for unsaved church attendees. This kind of story is used to show unsaved people what could happen to them if they put off getting saved. Every Evangelical preacher knows of people who heard the gospel and had an opportunity to be saved, yet put off their decision to another day. And before they could be saved, some sort of tragic accident happened that led to their death. Once dead, these sinners no longer had an opportunity to make things right with God. They should have feared God and taken him up on his offer of eternal salvation, but because they didn't, they are now burning in Hell.
I wish I could say that I did not use such manipulative stories and means to get people saved, but I did. I justified it, at the time, by reminding myself that the Apostle Paul became all things to all men so that by all means he could save some. What is the harm of a psychologically manipulative story if the end result is sinners saved from the fiery pit of Hell? I employed all sorts of justifications for my use of heart-wrenching, tear-inducing stories of human tragedy, suffering, and death. Believing that I somehow had to get people's attention, I used these stories to force people to see the brevity of life and the importance of putting their faith in Jesus Christ. Over the years, hundreds and hundreds of people came forward at invitation time, knelt at the altar, and asked Jesus to save them. Nearby, at the same altar, would be saved church members who were also doing business with God — confessing secret and not-so-secret sins.
Putting the fear of God into people is good for business. Without it, I suspect many people would not bother to attend church. Without fear and threats of judgment, most people would choose to sleep in on Sundays and enjoy a leisurely brunch before they turn on the game. I know I would have. One of the greatest joys that came with becoming an atheist was that I no longer feared God. Since God doesn't exist, I no longer have a need to quake in my boots at the very mention of his name. Of course, Evangelicals are fond of reminding me that there is coming a day when Bruce Gerencser WILL fear God, but I am confident that when that day comes, the fear-inducing God will be AWOL. This God is little more than a tool used by preachers and churches to keep asses the pews and money in the offering plates. Remove fear from the equation, and I suspect there will be a lot more Baptists at the lake on Sunday morning.
Did you attend a church where the preacher regularly made use of fear-inducing sermon illustrations? Was his fear-mongering successful? Please share your thoughts in the comment section.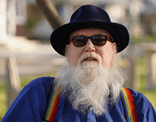 Bruce Gerencser, 65, lives in rural Northwest Ohio with his wife of 44 years. He and his wife have six grown children and thirteen grandchildren. Bruce pastored Evangelical churches for twenty-five years in Ohio, Texas, and Michigan. Bruce left the ministry in 2005, and in 2008 he left Christianity. Bruce is now a humanist and an atheist.
Connect with me on social media:
You can email Bruce via the Contact Form.
Your comments are welcome and appreciated. All first-time comments are moderated. Please read the commenting rules before commenting.