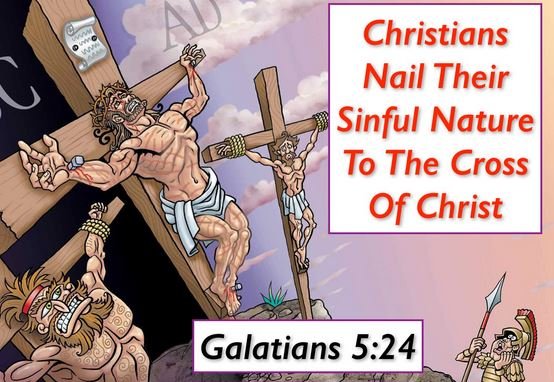 Christians will tell you that the good works they do are all because of Jesus. Several years ago, an Evangelical woman named Pam left several comments detailing her battles with perfectionism. It was only when she learned to let go and let God that she could find victory over her perfectionist tendencies. According to Pam, the flesh is the problem, and the only way Christians can live fulfilled, happy lives is to die to self and allow Jesus to have absolute control. It was Jesus himself who said to those who would be his disciples, let a man deny himself, take up his cross, and follow me. It was the apostle Paul who said that without Christ, he could do nothing. Paul reminded Christians that they must deny the flesh and give themselves over, without reservation, to Jesus. In First John, Christians are reminded that if they love the world and the things in the world, then the love of the father is not in them. In fact, the writer of First John tells Christians that if they sin, they are children of the devil.
Now, everyone knows Christians sin. It's obvious, right? We know that Christians live lives that are, for the most part, indistinguishable from the unwashed, uncircumcised Philistines of the world. How, then, do Christians square what the Bible says about how they should live their lives with how they actually live?
Christians believe that humans are either bipartite or tripartite beings — body and soul or body, soul, and spirit. This dualistic understanding of human nature allows Christians to rationalize and reconcile conflicting teachings in the Bible about human nature and God's demands. It's the body that sins. It's the flesh that Satan can take control of, resulting in Christians committing all sorts of sinful acts. The Bible teaches that Christians are to walk in the spirit and not the flesh. Over and over, the Bible reinforces the belief that Christians, indwelt by the Holy Spirit, are dualistic creatures that will spend their lives on earth in constant battle with competing desires, needs, and influences.
For 2,000 years, Christians have been practicing some sort of self-flagellation meant to crucify the flesh, rendering them dead to sin and alive to Christ. Over the years, I heard countless illustrations (and gave many myself) about the battle between the spirit and the flesh. I remember one pastor saying that this battle is like having two dogs — spirit dog and flesh dog. The strength of these dogs is determined by which dog we feed. If Christians want to live victoriously, then they must feed the spirit dog. Feeding the flesh dog leads to lives of sin, carnality, and the chastisement of God. This cosmic battle between good and evil can be illustrated in many different ways. What most Christians don't know is that this dualistic understanding of human nature comes from Gnosticism, a system of belief judged heretical centuries ago. In fact, if you listen carefully to what Christians say, you will quickly conclude that in 2021 Gnosticism is alive and well.
In Romans 7, the apostle Paul talks about this battle:
Wherefore, my brethren, ye also are become dead to the law by the body of Christ; that ye should be married to another, even to him who is raised from the dead, that we should bring forth fruit unto God. For when we were in the flesh, the motions of sins, which were by the law, did work in our members to bring forth fruit unto death. But now we are delivered from the law, that being dead wherein we were held; that we should serve in newness of spirit, and not in the oldness of the letter. What shall we say then? Is the law sin? God forbid. Nay, I had not known sin, but by the law: for I had not known lust, except the law had said, Thou shalt not covet. But sin, taking occasion by the commandment, wrought in me all manner of concupiscence. For without the law sin was dead. For I was alive without the law once: but when the commandment came, sin revived, and I died. And the commandment, which was ordained to life, I found to be unto death. For sin, taking occasion by the commandment, deceived me, and by it slew me. Wherefore the law is holy, and the commandment holy, and just, and good. Was then that which is good made death unto me? God forbid. But sin, that it might appear sin, working death in me by that which is good; that sin by the commandment might become exceeding sinful. For we know that the law is spiritual: but I am carnal, sold under sin. For that which I do I allow not: for what I would, that do I not; but what I hate, that do I. If then I do that which I would not, I consent unto the law that it is good. Now then it is no more I that do it, but sin that dwelleth in me. For I know that in me (that is, in my flesh,) dwelleth no good thing: for to will is present with me; but how to perform that which is good I find not. For the good that I would I do not: but the evil which I would not, that I do. Now if I do that I would not, it is no more I that do it, but sin that dwelleth in me. I find then a law, that, when I would do good, evil is present with me. For I delight in the law of God after the inward man: But I see another law in my members, warring against the law of my mind, and bringing me into captivity to the law of sin which is in my members. O wretched man that I am! who shall deliver me from the body of this death? I thank God through Jesus Christ our Lord. So then with the mind I myself serve the law of God; but with the flesh the law of sin.
From these verses and others, Christians conclude that their flesh (body) is sinful and that the good deeds they do are not their own works, but the works of God who uses them for his own purposes. This is why Christian zealots can ignore the commenting rules for this blog, and post comment after comment filled with Bible verses, sermons, and other acts of Evangelical masturbation. You see, it's not them saying/writing these words, it is Jesus. They are just conduits through which Jesus speaks to poor deluded atheists and other unbelievers. In many ways, these zombies for Jesus are not much different from Madam Zelda, who channels dead loved ones so she can give messages to those they have left behind. Evangelicals must daily crucify their flesh. The use of the word crucify reminds them to the degree they must be willing to go to be used by Jesus. Jesus was willing to be brutally, viciously beaten, ultimately dying on the cross, so that atonement could be made for human sin. Wanting to be like Jesus, Evangelicals physically and psychologically flagellate themselves, hoping by their acts of self-denial that Jesus will find them worthy and use them for his purpose and glory.
Lost on Evangelicals is the fact that their very acts of self-denial are they themselves doing works. They are the ones dying to self. They are the ones crucifying the flesh. They are the ones taking up their crosses and following Jesus. No matter how far along the Christian experience you want to go, eventually, human action will be found. This is why I have argued that Christianity, at its heart, is not a religion of faith/grace. It's all about works, and it always has been. If God is the same yesterday, today, and forever, then he cannot and will not change. The Old Testament is clear, God had a prescribed way his chosen people were required to live, under the penalties of judgment, death, and eternal damnation if they did not. In the Gospels, Jesus made it very clear in the Sermon on the Mount that if people wanted to be his disciples, they would have to live a certain way. Paul continued this works-based thinking in his epistles when he contrasts the works of the flesh and the works of the spirit. James says that faith without works is dead, and the writer of First John spends five chapters listing the works that must be in the lives of those who say they are followers of Jesus. Even salvation is a work. For sinners to be saved, they must accept the gospel message, repent of their sins, and believe in Jesus Christ. They must put their faith and trust in Jesus alone. No one becomes a Christian by sitting at home and just waiting for it to happen. The new birth — being born from above — requires an act of volition. Christians will go to great lengths to explain why these acts of the will are really God's doing, but the fact remains that it is unbelievers who are making conscious choices to either accept or reject Jesus Christ.
Dualism, of course, is a theological construct that is used to explain the contradictory teachings of the Bible. There is no possible way to reconcile Jesus, Paul, James, and John without resorting to some sort of dualistic magic. Those of us who are atheists have an entirely different view of human nature. We recognize that our lives are affected by biology, environment, personal choices and decisions, and being at the wrong/right place at the wrong/place right time (to name a few). We also know that luck plays a big part in who and what we are.
My life is an admixture of good and bad works and good and bad decisions, with a healthy dose of neither good or bad thrown in. As a Christian, I ascribed the good that I did to Jesus and the bad that I did to Satan and/or the flesh. As an atheist, I accept full responsibility for what I do, and when I do good things, I rightly accept the praise and approbation of others. After all, it is I, not God or some other person, who did the good work. While I may deflect the praise of others through humility, realizing that others often play a big part in the good things that I do, I now know that is okay for me to say (and for others to say) good job, Bruce. I also know that when I do bad things, I need to look no further than me, myself, and I. While my wonderful, loving, awesome, super, fabulous, beautiful wife of 42 years can irritate the hell out of me, if I respond to her in anger or impatience, I have no one to blame but myself. I am in control of my actions, words, and, to some degree, my destiny. As I am wont to do, I can look back over my life and see how the various decisions I have made have affected where I am today. While I know the reasons for my health problems are many, some of which are beyond my control, I also know that the choices my parents made and choices that I have made play a part. Who among us hasn't said, I wish I had done __________. I believe it was George Foreman that said that his obituary will one day read that he died of one too many cheeseburgers. Foreman understood the connection between choices and consequences. Our lives are complex mixtures of many factors, all of which are rooted in naturalism and materialism. I need not look far to find the reasons and answers for who and what I have become. Voltaire was right when he said, "Each player must accept the cards life deals him or her. But once they are in hand, he or she alone must decide how to play the cards in order to win the game." Believing that a deity is the master of my universe and the controller of my rudder complicates things, so cutting him out of my life allows me not only to make my own decisions but also accept responsibility for what good or bad comes as a result of the choices that I've made. While I still have moments when I wish there were someone to blame — say, the devil or the flesh — I know that when I look in the mirror, I see the one person who is responsible for how Bruce Gerencser lives his life. To quote an oft-used line, the buck stops here.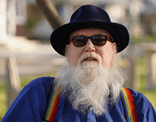 Bruce Gerencser, 65, lives in rural Northwest Ohio with his wife of 44 years. He and his wife have six grown children and thirteen grandchildren. Bruce pastored Evangelical churches for twenty-five years in Ohio, Texas, and Michigan. Bruce left the ministry in 2005, and in 2008 he left Christianity. Bruce is now a humanist and an atheist.
Connect with me on social media:
You can email Bruce via the Contact Form.
Your comments are welcome and appreciated. All first-time comments are moderated. Please read the commenting rules before commenting.