The Black Collar Crime Series relies on public news stories and publicly available information for its content. If any incorrect information is found, please contact Bruce Gerencser. Nothing in this post should be construed as an accusation of guilt. Those accused of crimes are innocent until proven guilty.
Young earth creationist, felon, and owner of Dinosaur Adventure Land, Kent "Dr. Dino" Hovind, was arrested last Friday on a domestic assault charge.
AL.com reports:
Kent Hovind, the Alabama evangelist and owner of Conecuh County's Dinosaur Adventure Land, was arrested last Friday on a domestic violence charge after his wife claimed the pastor bodyslammed her, according to court records filed Thursday.

Hovind, who is known as "Dr. Dino" and has nearly 185,000 subscribers to his YouTube channel, allegedly injured his wife, Cindi Lincoln, by bodyslamming her, sending her to the emergency room in late 2020, according to an order of protection Lincoln filed July 19 against Hovind.

"He wants to shut me up," Lincoln wrote in explaining why she fears the evangelist. "He is dependent upon public opinion for his livelyhood [sic.] …. [I] fear he will kill me to shut me up."

Lincoln also claimed Hovind sent his "right-hand man" to her rental property to threaten her and that he trashed the property the next day.

Hovind was arrested July 30 on third-degree domestic violence, records showed, and he was released from the Conecuh County Jail after posting $1,000 bond.

On his YouTube channel, Hovind proclaimed his innocence, saying he was "squeaky clean."

"We're going to come out squeaky clean," he said. "There's nothing to be concerned about."

Hovind spent nine years in federal prison on financial-related offenses, including structuring bank withdrawals and failing to file tax returns.
Religion News Service reports:
News of the arrest and the request for a protective order was first posted by Robert Baty, a blogger who has been critical of Hovind.

Hovind has long been a controversial figure.

In 2006, he was sentenced to 10 years in prison for tax fraud after failing to report hundreds of thousands of dollars in income and failing to pay taxes on wages for employees at the Creation Science and Dinosaur Adventure Land in Florida. Hovind has claimed that everything he owns belongs to God and that therefore he owes no taxes.

Hovind's first wife was also sentenced to prison time on tax charges. The couple has since divorced.

Hovind continues to maintain his innocence in the tax fraud case.

After his release from prison, Hovind moved to Conecuh County, Alabama, where he set up a new Dinosaur Adventure Land, a Christian campground that promotes creationism. The campground's logo features a brontosaurus looking up at three crosses on a hilltop.

Dinosaur Adventure Land is run by Creation Science Evangelism Ministries Inc., a nonprofit where Hovind serves as president. The charity collected $560,638 in revenue during the fiscal year 2018, according to documents filed with the IRS.

….

In a video posted after his July arrest, Hovind asked supporters to pray God would protect the ministry from outside threats.

"Lord, build a hedge of protection around us as we're being attacked," he prayed.

In 2020, Hovind sued the federal government and a number of government officials over his past conviction and the seizure of property belonging to his past ministry in Florida. That lawsuit was recently dismissed. An appeal is planned.
Hovind attended (and graduated) from the same college I did in the 1970s, Midwestern Baptist College in Pontiac, Michigan.
According to Hemant Mehta, Hovind was sentenced in September 2021 to thirty days in jail for domestic violence. I was unable to find any news sites reporting this story.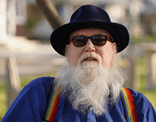 Bruce Gerencser, 65, lives in rural Northwest Ohio with his wife of 44 years. He and his wife have six grown children and thirteen grandchildren. Bruce pastored Evangelical churches for twenty-five years in Ohio, Texas, and Michigan. Bruce left the ministry in 2005, and in 2008 he left Christianity. Bruce is now a humanist and an atheist.
Connect with me on social media:
You can email Bruce via the Contact Form.
Your comments are welcome and appreciated. All first-time comments are moderated. Please read the commenting rules before commenting.