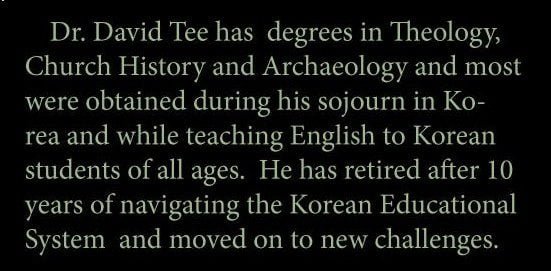 "Dr." David Tee/Theologyarcheology, aliases for Evangelical preacher David Thiessen, first commented on this blog on October 30, 2020. Tee responded to a post I published in 2016 about his anti-science views. In addition, I posted some of his comments from another site where he refused to say where he got his doctorate. He responded:
I do not expect unbelievers to understand or handle anything God says or what I say properly and with the way they would like to be treated. Also, I do not remember saying those things or even posting here. As far as I am concerned unless there is verifiable evidence that I wrote those words, I am sure someone else wrote them

If I did write them then I am sorry they sounded so brash BUT I do not respond to people who demand that I must jump through their hopes in order to be heard. You do not like my words on MY website that is your choice but at least be honest, open minded, and have a little bit of character when you address them.
And so it began.
Over the past year, Tee has posted numerous inflammatory, hostile, and ugly comments, some of which I have deleted. He has called me weak, a quitter, and a liar. He has gone out of his way to disparage me, attack my character, and inflict emotional pain. After pleas from my wife and other readers to ban Tee, I finally did so. Tee knows he is banned, yet he continues to comment, knowing I will have to read his comments before deleting or editing them to make him look like the asshole he is. Usually, I can block such people at the server level to prevent them from accessing this site. Unfortunately, Tee either uses a VPN or other software that gives him a new IP address every time he visits this site. This renders any block on my end impossible.
My friend Ben Berwick, who blogs at Meerkat Musings, has had numerous run-ins when Tee. Ben is much more patient and longsuffering than I am. Tee is known for defending sexual predators such as Ravi Zacharias and Bill Cosby, even attacking their victims. Several days ago, Tee wrote a post titled, Does Age Make a Difference? In this post, Tee, a supposed follower of a God-man who said "suffer the little children to come unto me," says that children who have been raped and subsequently become pregnant MUST be forced to carry their zygote/fetus/baby to term. Tee categorically rejects any grounds for abortion, even in cases of rape and incest.
In a post titled Pregnancy and Abortion, Ben took Tee to task for his views on children, rape, and abortion. In typical fashion, Tee posted this comment:
I am not rebutting. I do not need to , your false information is exposed very clearly. Plus, you forget, I do not post according to your rules or regulations. I post according to God's.

You have no real authority nor do you have any real support for your views. They are all on you and very subjective. Also, I am not going to be drawn into an internet fight. You have said your piece, I have said mine and that is where it will end.
Typical Tee. I even gave this so-called man of God an opportunity to write a post for this site:
By all means, David, make a rational defense of the inerrancy and preservation of the Bible (they go together) — not by quoting Bible verses, but by making sound intellectual arguments. Shit, David, I'll even post your defense on this site.

Of course, I know you won't take me up on my generous offer. The inerrancy and inspiration of the Bible can't be rationally defended.
Tee immediately accepted my offer, saying:
Okay. It will have to wait till next week though as I am noy [sic] home. Had to travel for my father-in-laws [sic] funeral
Eighteen days later, no post from Tee.
I have written about Tee several times:
David Tee Says I Am Envious and Jealous of Evangelical Churches
David Tee Says I'm a Quitter and Have Nothing to Offer People
Evangelical Zealot "Dr." David Tee is Infatuated with Bruce Gerencser
Evangelicals Fantasize About Bruce Gerencser
Christians Say the Darnedest Things: The Bible Records the "Exact" Words of Jesus
NO COMMENT: When Science and the Bible Conflict, Bible Right, Science Wrong
Christians Say the Darnedest Things: Secular Scientists are Con Men
It is clear, at least to me, that my writing gets under Tee's skin. He has written several posts about me:
They Think They Have the Truth
Yesterday, Tee wrote another post featuring yours truly, complaining about how I and other people on this site have treated him. So here's a guy who personally attacks me (and others on this site) and shits on my doorstep, and he whines about how he's treated. Really? Here's what Tee had to say (note that he refuses to spell out my name):
What BG has done in this post provides evidence that those who turn away from Christ or have never believed, have nothing better to offer anyone than what Christ offers.

We use our website name a lot when posting on other people's forums simply because it is the one that comes up when we make our comments. We do not think anything of it as people can come here and talk to us if they want to get more information. But here is the post as it is short and provides an example of how believers are treated by those who claim to have a better way:

Thank you for reading and commenting on this blog. Today, we reached 35,000 comments. I planned to make a big deal over who left comment number 35,000. Unfortunately, that commenter was "Dr." David Tee/David Thiessen/Theologyarcheology. Dammit, bad karma or God sending me a message, right? 😂Tee is banned from this site, but I do edit his comments and show them as deleted. Hopefully, he will have stopped commenting before we reach 40,000.

We italicized the keywords. If BG was better than Christians and had a better way to live, he certainly does not show it in this special event for him. It wouldn't matter who made the 35,000 post, he would celebrate the person and his achievement as planned.

But since it was us, he scrapped those plans and instead did some terrible things to our posts in that and other articles we commented on. Here are a couple of examples:

Nah, nah baby. When will you respect others and play by the rules? You know, like you demand with the Bible. Had to get the plunger for this comment, but it's gone.

and

"Dr." David Tee/David Thiessen/TheologyArcheology, demand a dick measuring contest between me and Bruce Gerencser, the John Holmes of atheism. I know this is a fight between a brad and railroad spike, but I want to be "nailed." just like the dead Jesus.

Obviously, that person has a lot of hatred for us and Christ. He doesn't operate out of any other emotion or feeling. Oh, and he has said we are banned from his website. All we did was tell him that he quit and he had no right to criticize believers who were still running the race.

It is amazing to see how quitters think they are better than those who are still trying to do what Jesus said and leave this earth with their faith intact. They are the ones missing out, not those who struggle against the temptations, the abuse, the criticism, and other roadblocks placed in their way.

Those of us who do continue, do not feel superior to those that quit or do not believe. That is something the latter two groups read into the attitude of those who believe.

We do not understand why BG is so upset. It was not like he advertised the fact that he was getting close to this milestone. Nor did we do anything to beat anyone else out of receiving that nice honor. We did not even know anything about it.

So why be so upset that he has to treat someone in this sinful manner. We do not care if he likes us or not but BG needs to stop saying his way and his decision is better than those who humble themselves and decided to follow Christ and his teaching.

He has proven that it is not. Leaving your faith is not a smart move to make. Especially with everything you are giving up. You may win temporal peace and no attacks from evil but those are minor when it is compared to what God can do to you.

This kind of treatment is par for the course for us over the years. It has not just come from unbelievers and those who have turned away from being a Christian. We get it from Christians as well. We are still wondering why we got banned from Worthy forums.

….

We do not hate BG and are saddened by two things: #1. he walked away from the faith and #2. he is very ill. He could have been used greatly by God but he took his eyes off of Jesus and was destroyed by evil.

….
Note that Tee feigns care for me, about my declining health. Yet, one of his comments I edited (which he quoted above) originally said:
So do I win a prize? How about $1 for every comment preceding mine 🙂 At least you read the comments. When will your last day on earth be?
Tee has subtly made death threats before, couching them in Bible verbiage. Why didn't he quote his original comments? Simple. They would paint him in an unflattering light. Why doesn't he follow this site's commenting policy? Did he miss the Bible lessons on respecting others?
I make no apologies for my responses to David Tee. (Please see I Make No Apologies for Being a Curmudgeon.) He's an asshole for Jesus, a hateful man who relishes attacking my character and inflicting emotional pain. I will continue to delete and/or humorously and profanely edit every comment Tee tries to post to this site. When people search for Theology Archeology, TheologyArcheology, and "Dr." David Tee, Google returns results for this site and Ben Berwick's. Thoughtful, caring, kind, compassionate Christians will then know exactly what kind of man former Christian Missionary Alliance preacher David Thiessen really is. As a pastor, if I had a congregant who behaved as Tee behaves on the Internet, we would have disciplined him and excommunicated him from the church. Such people give Christianity a bad name. In my book, anyone who defends sexual predators is no Christian at all. (Tee believes in decisional regeneration. Say the right words, believe the right things, and you are saved — good works optional.) Tee may have mouthed the sinner's prayer long ago in an Evangelical church, but somewhere along the way, he lost what Christianity is all about: loving God and loving your fellow man.
Update
David Tee's response to this post. Please see the comments below for excerpts from his post and my brief response.
What do you think about "Dr." David Tee's latest post? Please leave your pithy thoughts in the comment section.
Bruce Gerencser, 66, lives in rural Northwest Ohio with his wife of 45 years. He and his wife have six grown children and thirteen grandchildren. Bruce pastored Evangelical churches for twenty-five years in Ohio, Texas, and Michigan. Bruce left the ministry in 2005, and in 2008 he left Christianity. Bruce is now a humanist and an atheist.
Connect with me on social media:
Your comments are welcome and appreciated. All first-time comments are moderated. Please read the commenting rules before commenting.
You can email Bruce via the Contact Form.