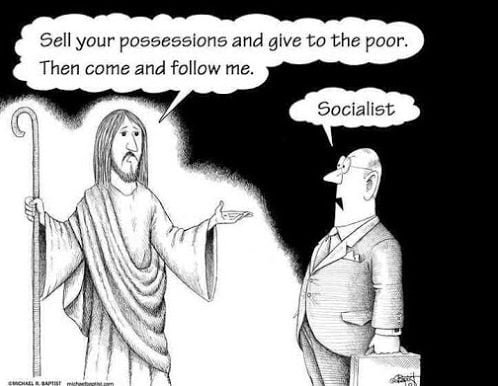 Socialism is a cancer that ultimately destroys every society where it's allowed to fully matasticize [sic]. It's appalling to see so many young people fooled by its thinly-veiled deceptions. And one of the biggest reasons why Socialism is evil is because it's immoral. And it's especially evil in this regard because it's so deceptive.
Socialism's ideologues prey on people's sense of fairness and compassion when it's quite the opposite in practice. Here are just a few of the many reasons why Socialism is immoral.
Socialism is a false anti-Christ religion. I've said this before but it bears repeating here: Socialism is an anti-Christ religion that replaces dependence upon God with dependence upon the State. And this was the intent of its founders.
….
This anti-Christ aspect of Socialism has been proven in history, as Christianity and other religions are suppressed, or outlawed, wherever Socialist regimes are allowed to flourish.
Socialism advocates theft.  Under the pretense of being "fair," Socialism says its okay to redistribute wealth. But it's fundamentally immoral to steal from people, even if you voted to steal from people (Democratic Socialism).
….
By preaching equal outcome instead of equal opportunity, Socialism justifies stealing from the wealthy under the pretense that some rich people exploit the poor.
….
While we all have equal value to God, and are loved equally by Him, we were not created equal in abilities, gifts, or outcomes.
….
Socialism is prejudicial. For instance, Socialists condemn wealthy people for being rich because they assume that they got rich by exploiting the poor (one of Karl Marx's main arguments). With the Postmodern Neo-Marxist Social Justice movement, they've just switched class with race or gender. So, now, people are no longer judged by the content of their character but by the color of their skin.  This is not only racist, it's definitive prejudice, which is immoral.
This doesn't mean that we shouldn't care for the poor or marginalized, we just don't do so by stealing from other people. That would be immoral in any world.
Socialism advocates coveting your neighbors goods. This sin is similar to the last one. Socialism says it's good to covet your neighbor's possessions simply because it's unfair that they have more than you. But God calls this idolatry.
Socialism forces compliance rather than incentivising doing the right thing. Forcing people to do the "right thing" is the opposite of the teaching of Christ who told us to serve others out of love.
While government can create laws that incentivize charity and compassion from those with financial means, whenever the State forces it on them it's going down the road toward tyranny. And I think we've seen the disastrous effects that the welfare state has had on the poor. It has not helped them but made them dependent upon the State, which is a form of slavery, and that's immoral.
Socialism is intolerant to those with different views. This is rather ironic since Socialists often view themselves as tolerant, but no one is more intolerant than the radical left. The "Woke" movement is a cold and pitiless religion, they're the 21st century witch hunters—an unforgiving cult that shames and ostracizes, even erases, anyone who does not live up to their woke standard.
….
Socialism foments division. Socialism thrives by pitting one group against another, making them either the "oppressed" and the "oppressors." But there is no class, race, or gender division in the Kingdom of God
….
God shows no partiality, and it's immoral for us to do so.
Socialists often advocate violence to advance their cause. This isn't true with all Socialists, but it's most definitely true with the fathers of Socialism (Marx, Lenin, Mao, etc.)
We do see this justification with the neo-Marxist BLM organization and the "anti-fascist" fascists who call themselves Antifa.
Socialism creates dependence instead of freedom.
….
In contrast, Jesus died for us to live in freedom.
….
Beloved, don't be fooled by this deceptively immoral ideology. Let's educate ourselves and our children with the truth that makes us free. And the truth is, while there are corrupt people who do immoral things under Capitalism, Socialism is immoral by design.
— Mel Wild, In My Father's House, Why Socialism is Immoral, September 14, 2021
Bruce Gerencser, 66, lives in rural Northwest Ohio with his wife of 45 years. He and his wife have six grown children and thirteen grandchildren. Bruce pastored Evangelical churches for twenty-five years in Ohio, Texas, and Michigan. Bruce left the ministry in 2005, and in 2008 he left Christianity. Bruce is now a humanist and an atheist.
Connect with me on social media:
Your comments are welcome and appreciated. All first-time comments are moderated. Please read the commenting rules before commenting.
You can email Bruce via the Contact Form.