The Black Collar Crime Series relies on public news stories and publicly available information for its content. If any incorrect information is found, please contact Bruce Gerencser. Nothing in this post should be construed as an accusation of guilt. Those accused of crimes are innocent until proven guilty.
Anthony Strickland, pastor of Freedom Center in Bono, Arkansas (no web presence), stands accused of raping and assaulting two women.
In June 2019, Strickland was charged with felony rape and second-degree battery.
The Arkansas Democrat Gazette reported at the time:
Jonesboro police said a Memphis hospital contacted the department last week after a 43-year-old woman came in with several injuries. She told police that 53-year-old Anthony Lee Strickland had attacked her, the affidavit said.

She said Strickland was intoxicated, and she gave investigators a "detailed account" of him hitting her at least two times in the face before raping her, according to the affidavit.

Officials said officers found three guns in Strickland's car seat when they arrested him during a Wednesday traffic stop.

Authorities charged the Jonesboro resident with felony rape and second-degree battery.

Strickland is a pastor at the Freedom Center, a congregation he started in 2003, according to police and business records filed with the Arkansas secretary of state.

Phone numbers and social media accounts listed under the church's name appeared to be deactivated on Friday.

Strickland was free on a $125,000 bond that he posted Thursday evening, according to the Craighead County sheriff's office.

A judge set a no-contact order with his alleged victim and required Strickland wear an ankle location monitor.
According to the Jonesboro Sun:
The rape charge was dropped in July 2019 by then-Prosecuting Attorney Scott Ellington, and Strickland pleaded guilty to second-degree domestic battery and was sentenced to 60 months of probation.
Today, October 8, 2021, KAIT-8 reported:
A former Craighead County pastor faces up to 60 years in prison following his arrest for rape.

Jonesboro police arrested 55-year-old Anthony Lee Strickland of Bono on Oct. 6 on suspicion of rape and second-degree sexual assault.

According to the probable cause affidavit, the two victims claimed Strickland sexually assaulted them at his home.

On Friday, Craighead County District Court Judge Tommy Fowler found probable cause to arrest Strickland and set his bond at $150,000. The judge also ordered he have no contact with the victims.
According to the Jonesboro Sun, Strickland has now been officially charged with rape:
A former pastor has been charged with rape and second-degree sexual assault in a case involving a then-11- to 13-year-old girl and her 11-year-old sister.

District Judge Tommy Fowler found probable cause to charge Anthony Lee Strickland, 55, of Bono on Friday. Fowler set Strickland's bond at $150,000.

According to the probable cause affidavit, the older girl, now 18, told her parents that when she stayed over about five to seven years ago with Strickland, who was a friend of the parents for 20 years and pastor of their church, he watched a movie with her. She said Strickland began rubbing her privates and asked her if it felt good.

The victim said she was able to get away and run downstairs.

After the victim's mother was made aware of what happened with the older daughter, she sat down with her other children and asked them to tell her and her husband if anyone had touched them inappropriately and not be afraid to tell them.

The older girl briefly told her siblings what happened to her, and her 11-year-old sister broke down crying and said, "Momma, he did that to me, too," the affidavit states.

The younger girl said Strickland began rubbing her private parts and she attempted to yell and scream. She said Strickland covered her mouth and said "shhhh."

She said Strickland digitally penetrated her. She told him she needed to go to the bathroom and ran and got into bed with her brother.
According to news reports, Strickland no longer pastors Freedom Center.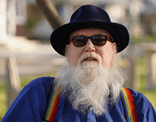 Bruce Gerencser, 64, lives in rural Northwest Ohio with his wife of 43 years. He and his wife have six grown children and thirteen grandchildren. Bruce pastored Evangelical churches for twenty-five years in Ohio, Texas, and Michigan. Bruce left the ministry in 2005, and in 2008 he left Christianity. Bruce is now a humanist and an atheist.
You can contact Bruce via email, Facebook, Twitter, or YouTube.
Your comments are welcome and appreciated. All first-time comments are moderated. Please read the commenting rules before commenting.