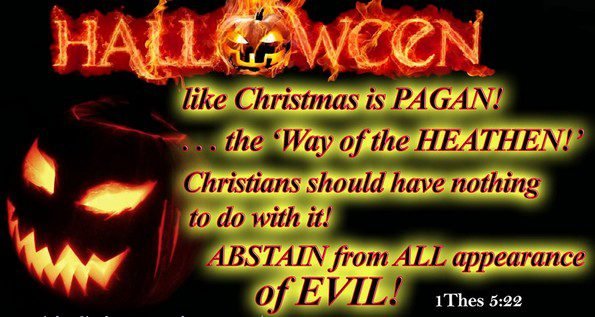 A story from the past.
From 1995-2002, I pastored Our Father's House, a nondenominational church in West Unity, Ohio. One Sunday, the following discussion took place between an old woman in the church and one of my younger children.
Old Woman: So, how much candy did you get trick-or-treating?
Child gives Old Woman an embarrassed look.
Child: I didn't go trick-or-treating.
Old Woman: Really? Why not?
Child: Our Dad doesn't believe in Halloween.
Old Woman: Hmm, that's interesting You mean you have never gone trick-or-treating?
Child: No.
Any of my six children could have answered the old woman's questions.  None of them was allowed to go trick-or-treating. Not one time.  And they knew not to ask. Ever.
As a true-blue, bought by the blood, sanctified, sold-out, consecrated, committed follower of Jesus, I believed Halloween was a Satanic holiday, and Christians, if they were right with God, should never, ever practice Halloween. For a few years, I took the same approach with Christmas. We didn't put up a tree or decorations, nor did we exchange gifts. We spent Christmas Day at a Columbus, Ohio rescue mission serving meals to the homeless. (We did go to Polly's parents' home for Christmas Eve.)
I firmly believed Halloween was a thoroughly pagan and Satanic holiday. I could not, in good conscience, allow my children to participate in a holiday I considered an act of Satan worship. One year, when my oldest son was in elementary school and before we started sending him to a Christian school, I kept him home from school because of the Halloween celebration his class was having.
Both Polly and I have many fond memories of trick-or-treating when we were children, but I thought our parents were ignorant of the real origin of Halloween, and this is why they let us go trick-or-treating. As I look back on it now, I suspect Polly thought I was crazy about Halloween. I  recently asked her if she really believed like I did about Halloween. She said, uh, No. 🙂 Why, then, didn't she say anything? Simple. She was a dutiful wife of an Evangelical pastor, a woman who was taught that her husband was the head of the home and had the final say on everything; and "everything" included Halloween and trick-or-treating.
My view on Halloween was similar to the view of Karl Payne who wrote the following at World Net Daily:
As a child growing up in a small town in Nebraska, Halloween was not viewed as a sinister day promoting demonism, spiritism, occultism, Satanism, hedonism, witches, zombies or an invitation to walk on the dark side with demons. It was a day to collect as much candy as possible. The routine was simple. I put on a clown suit that had been passed down through my brothers, grabbed an empty pillow case and filled it up with candy as quickly as possible as I systematically worked my way through the neighborhood. At a halfway mark, I stopped back at home, emptied my pillow case on the front room floor to be sorted later and headed back out to refill the bag a second time. The goal was to have more candy than any of my brothers by the end of the evening, and then see how much I could eat before my mom began rationing my daily consumption.

Times were innocent in the '50s and early part of the '60s. We never worried about razors in apples or poisoned pixie sticks. We walked for blocks without a fear or concern for our safety. Tricks, at the worst, were limited to throwing eggs or toilet paper and knocking over a pumpkin or two. And if that happened, it only occurred selectively because many of our parents knew each other, and getting caught could mean a scolding from your neighbor and then a spanking from your dad when you got home.

To make the observation that things have changed culturally in the 21st century from the post-war innocence experienced by many in this country is an understatement. Today we exist in the midst of the loss of innocence and the joy of age-appropriate discovery. Hedonism, in a context of amoral and ethical relativism, is celebrated and force fed from the womb to tomb through a media that more represents an ideological water cannon than a responsible public trust. The secularization of this once great country is complete. The only real question now is how far it will fall in its depravity before, if or when people in the public square turn their gaze up rather than in.

Today Halloween for many is a horror show providing an excuse for people to glorify the deviance and decadence they watch ad nauseam in movie theaters and on public and cable television screens seven days of the week. Everything is a game that can be reset and started over at the click of a mouse. It's just harmless entertainment that can be enjoyed or ignored. If you don't like it, don't turn it on. Who are you to dictate what is right or wrong for others?

Why am I concerned about the way Halloween, the media and our current culture encourage the celebration and trivialization of spiritism, occultism, Satanism, hedonism, witches, zombies and walking on the dark side with demons? Because the supernatural world is real, and no one is immune to it regardless of their education or worldview. God is real. Angels are real. Satan is real. Demons are real. Real gladiators and real Christians died in the Colosseum and circus even though many Roman leaders and citizens just considered their destruction an evening of entertainment.

I have worked for over 30 years with men and women who have been demonized. I wrote a book entitled "Spiritual Warfare: Christians, Demonization and Deliverance," published by WND Books, addressing the subject as clearly as I was capable of doing. Why? Because real people and real families are being attacked by real demons, and their conditions are largely ignored, often because the subject has been redefined or trivialized, even within religious circles.

I have witnessed the reality of demonic bondage hundreds and hundreds of times. I have also witnessed individuals being set free through deliverance from demonic bondage hundreds and hundreds of times. Christian missionaries who live in the midst of this reality have thanked me many times for writing this book. Religious academics as well as atheistic secularists are more inclined to ridicule or ignore the subject. Curious.

Ultimately, bondage and deliverance both represent choices. In my book I have attempted to outline how a Christian can move from bondage to deliverance in a clear, step-by-step fashion. The New Testament addresses the subject forthrightly, so why should we run from it?

It should not come as a surprise that a secular culture would either ignore this subject or make a celebration out of it. 1 Corinthians 2:14 clearly states that spiritual truth and supernatural realities, be it God or the devil, represent nonsense to a natural man. But it should come as a disgraceful surprise that some professing Christians are so fearful of this subject that they would prefer to cast their lot on this subject with the naturalist or secularists rather than with the Lord Jesus Christ, the Apostles and the New Testament they study. Apparently, it is preferable to leave real human beings made in the image of God in bondage than face the possible ridicule of those whose ultimate loyalties are to time rather than eternity, to the creation rather than the Creator.

Naturalists redefining the subject do not change the reality of the subject. A holiday celebrating the subject, promoting it as nothing more than a day to collect candy, celebrate the dark side, or mock God, does not change the reality of the subject…
(Please see Jack Chick's tract, The Devil's Night to get a bird's eye view of how some Christians view Halloween.)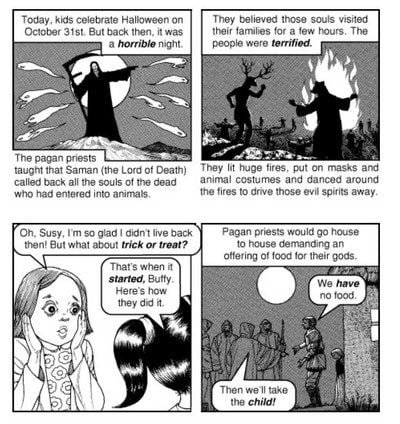 It was not until I left the ministry that I learned the REAL story behind Halloween and it's pagan and religious roots. As with many things, I regret not allowing my children to go trick-or-treating. I regret not allowing them to enjoy the fun of Halloween or the wonder of a family Christmas.  I know there is nothing I can do about the past. I now immensely enjoy watching my grandchildren practice the evil, wicked, pagan, Satanic holiday of Halloween. I encourage them to sin with gusto . . . and bring Grandpa some candy when they are done making a sacrifice to Satan. Besides, my grandchildren have nothing to fear from Satan. My oldest grandson is a super-hero. Or he was until he became a grown-up teenager.
Someone will be sure to ask if I did alternative Halloween activities like Fall Festival Day, Trunk-or-Treat, or other alternatives to Halloween. I did not. I never believed in the replacement theory: that if we took something away from our children we had to replace it with something better or spiritual (The Evangelical Replacement Doctrine and The Replacement Doctrine: How Evangelicals Attempt to Co-opt the "World").  I believed Christians were put on this earth to be a light in the darkness and we didn't need replacements for things that were sinful.
How about you? Did you practice Halloween? Did your Fundamentalist parents allow you to go trick-or-treating? If they did, how did they deal with the origin of Halloween?
Bruce Gerencser, 66, lives in rural Northwest Ohio with his wife of 45 years. He and his wife have six grown children and thirteen grandchildren. Bruce pastored Evangelical churches for twenty-five years in Ohio, Texas, and Michigan. Bruce left the ministry in 2005, and in 2008 he left Christianity. Bruce is now a humanist and an atheist.
Connect with me on social media:
Your comments are welcome and appreciated. All first-time comments are moderated. Please read the commenting rules before commenting.
You can email Bruce via the Contact Form.