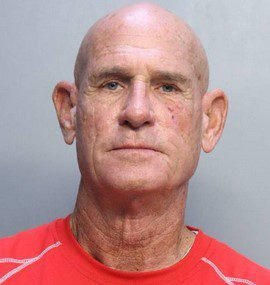 The Black Collar Crime Series relies on public news stories and publicly available information for its content. If any incorrect information is found, please contact Bruce Gerencser. Nothing in this post should be construed as an accusation of guilt. Those accused of crimes are innocent until proven guilty.
Ricky Torcise, a youth pastor at New Beginnings Christian Fellowship of Homestead, Florida, stands accused of sexually molesting a 17-year-old male church teenager.
Detectives fear Rick Torcise, of the Redlands, could have groomed and abused other teenagers. A 17-year-old boy reported he met him as a church youth leader, Torcise gave him a job, groomed him for months, and sexually abused him on Oct. 16.

Torcise, 67, a well-known entrepreneur, is a title trustee of New Beginnings Christian Fellowship of Homestead, Inc., and a youth leader there. He was also the manager of Florida Legends Baseball.

"This is a person that the community trusts, this is a person that parents trust to guide their children," said Detective Argemis Colome, a spokesman for the Miami-Dade Police Department. "We're asking anybody that may have had any interaction with this individual … this is the time to give us a call."

Attorney John Priovolos is representing the teenage boy who answered detectives' questions about Torcise's abuse. Priovolos said sexual predators target the vulnerable and sometimes have enablers.

"We believe that there may be other victims, and if so, they must know that they are not alone," Priovolos said in a longer statement on Thursday.
According to Miami-Dade Police investigators, 67-year-old Ricky Torcise is a youth leader at the church where the 17-year-old victim attends in Homestead. Torcise is also his employer, according to the arrest report.

The crime reportedly happened at Torcise's home in Southwest Miami-Dade.

The teenage victim stated that he was fondled multiple times by Torcise for a period of four months. He also told police the fondling escalated to sex acts, according to the report.

….

In Bond court, Circuit Judge Mindy Glazer ordered Torcise to have no contact with the victim.

"That is no contact with the child, either directly or indirectly or in person, in writing, by telephone or through 3rd parties and no contact with the victim through social media or electronic means. You must stay at least 500 feet away from the victim's home and do not engage in any criminal activity and do no possess or use any drugs. Do not use of possess a gun or firearm."

Glazer added another requirement.

"No contact with any child under the age of 18 and with regard to any contact with any children who may be yours you are to have no unsupervised contact with them."

Torcise was arrested earlier this week and charged with a felony count of sexual act with a child.
The Miami Herald adds:
A South Dade businessman and elder leader at a Homestead church has been arrested on allegations he molested an underage teen boy. Rick Torcise, 67, whose family has long been prominent in the Homestead area, was charged this week with engaging in a sexual act with a child. State records list him as a trustee for New Beginnings Christian Fellowship of Homestead. According to an arrest report, the 17-year-old victim told police that Torcise was a leader of the church's youth group, and fondled him on multiple occasions between June and October. The report said that on Oct. 16, Torcise performed a sex act on the teen and asked that the teen do likewise. The teen said he complied "out of fear," the report said.

Torcise's charge, which is punishable by life in prison, does not normally allow for an automatic bond. Still, for reasons that weren't immediately clear, Torscise was allowed to post a $10,000 bond. He left a Miami-Dade jail late Thursday night.

….

John Priovolos, an attorney for the victim and his family, said Torcise has been a longtime youth leader who leads Bible studies and church trips, primarily with young teenage boys. The victim was one of various boys who'd been hired to work on Torcise's South Miami-Dade farm, Priovolos said. "People like Torcise prey on the vulnerable. This time, he got more than he bargained for. My client was not too weak. He is strong, and I am proud to represent him," Priovolos said. "We will not stop until Torcise and anyone who was aware of his despicable conduct is brought to justice. We believe that there may be other victims, and if so, they must know that they are not alone.
Bruce Gerencser, 66, lives in rural Northwest Ohio with his wife of 45 years. He and his wife have six grown children and thirteen grandchildren. Bruce pastored Evangelical churches for twenty-five years in Ohio, Texas, and Michigan. Bruce left the ministry in 2005, and in 2008 he left Christianity. Bruce is now a humanist and an atheist.
Connect with me on social media:
Your comments are welcome and appreciated. All first-time comments are moderated. Please read the commenting rules before commenting.
You can email Bruce via the Contact Form.