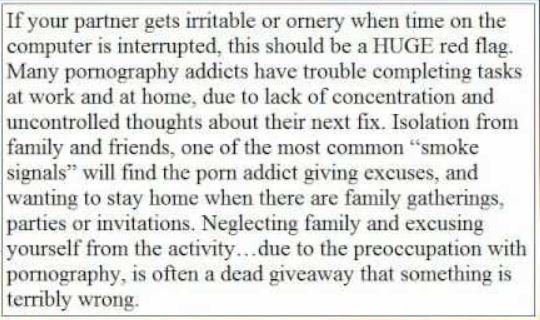 Does this describe you? Then you are a porn addict!
Just when I think Evangelicals have run out of ways to blame women for the sexual weaknesses of men, I stumble across yet another "blame the woman" article. In an article titled What Women Don't Understand About Men Who Struggle With Pornography, Jennifer LeClaire, senior editor at Charisma Magazine, interviewed social researcher Shaunti Feldhahn and Craig Gross, the founder of xxxchurch.com:
Charisma News: What do women not understand?

Feldhahn: In general, women are largely unaware of what men are confronted with every day in this culture. Because we are wired differently, we don't realize that when a man sees a woman who is dressing to overtly draw attention to a good figure, it creates an instant sexual stimulation and temptation in his brain. Even if he doesn't want that to happen!

And many men make rigorous choices every day to look away, and take those thoughts captive. They fight down the temptation to look, and to let their thoughts go in sexual directions. But other men have gotten pretty weary of the struggle and have made poor choices. And they feel shame that they are trapped, are hiding it and don't know how to get free.

Charisma News: Why will a woman's ability to understand help solve the problem of porn?

Feldhahn: In my research over the years I've seen that if a husband is struggling with just being visual in this culture, or is actually struggling with porn in some way it is almost impossible for him to get free of it if his wife doesn't understand or if she doesn't see why he would even have this temptation, and isn't supportive of him as her husband. If she's condemning and furious instead, it certainly may be an understandable reaction — but it definitely won't incentivize him to open up. And a man needs to open up, to get help.

Gross: We tell women that everything from everyday visual temptation all the way to hard-core porn use will only become more of a problem when it is hidden. Men have to be willing to be vulnerable and open. We have to be willing to bring stuff into the light in order to work on it.

Some men do talk about it with other guys. But in this book, we share with women that the only way a man is going to be willing to talk about it with his wife, is if it's safe. And it is only going to feel safe if she can talk about it with him, without freaking out. But right now many men assume their wives will freak out, so they stay silent. So they stay trapped. I'm not blaming women for this, mind you. The guy should be willing to open up to other guys. But all too often, his wife is the only person he shares his heart with. So in practice, this becomes the one area that he doesn't talk about with anyone.

Feldhahn: I've heard many a man say he wouldn't dare to talk about this with his wife . . . but only because "she wouldn't understand." I haven't found a single man who has said he doesn't want his wife to understand. Most men said if she could somehow understand, he would actually love to know that she was on his team. That he could talk to her. That this stuff didn't have to be hidden anymore. Honestly, that is huge.

Gross: Think about the vast difference it would make if men didn't need to fight this battle on their own, in the dark. If they could talk about it with their wives. Getting women up to speed on this and enlisting them as partners is critical…
Once again, it's up to wives to help their husbands find "victory" over porn. Few within the Evangelical community bother to ask if "porn addiction" is even a thing. Hint: it's not. As with any human behavior, people can obsess over someone or something, and it becomes some sort of addiction. However, most men (and women) are able to look at porn without any deleterious effect. Evangelical men are told viewing porn is a "sin," a vile, filthy habit that can only be broken through the mighty power of Jesus. Perhaps, Evangelicalism is the problem. Instead of laying guilt and fear of judgment on the heads of men, how about telling them that it is healthy and normal to view adult pornography? (When I use the word porn, I am referring to adult pornography that is recorded by consenting adults. I am a libertarian when it comes to sexuality. What consenting adults do in private is of no concern of mine, nor should it be the concern of the government.)  At the very least, couples should have frank, open discussions about pornography and sexual expectations.
Marriage is a contract between two people. Each party must agree to the sexual parameters of the marriage. For example, a wife might say, I have no problem with you watching porn, but don't expect me to be a sexual gymnastics performer. A husband might say, if you want to watch Magic Mike down at Chippendale's, that's fine. Just don't expect me to bust a move like Magic Mike. All that matters is consent and agreement.
Puritanical morality continues to drive the debate over pornography and behaviors traditionally labeled sexual sins. As a result, both men and women often feel guilt and fear when engaging in behaviors the Bible and Pastor Bubaloo call sins. This leads to an unhealthy view of sex and marriage and often leads to mistrust in a marriage.
Bruce Gerencser, 66, lives in rural Northwest Ohio with his wife of 45 years. He and his wife have six grown children and thirteen grandchildren. Bruce pastored Evangelical churches for twenty-five years in Ohio, Texas, and Michigan. Bruce left the ministry in 2005, and in 2008 he left Christianity. Bruce is now a humanist and an atheist.
Connect with me on social media:
Your comments are welcome and appreciated. All first-time comments are moderated. Please read the commenting rules before commenting.
You can email Bruce via the Contact Form.