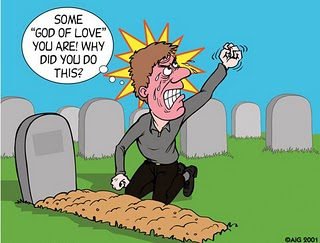 Several years ago, a young father drowned after attempting to "save his three daughters from a rip current off the North Carolina coast." According to several friends of the man, he was a devoted follower of Jesus Christ:
"Rick was just a loving father, you could see that when he was with his children, a loving husband, just a wonderful Christian man."

Becky Mason

"Loved his family, loved pretty much anybody he was around and was not afraid to be concerned about people's problems, or about their faith because he was a committed Christian man."

Dr. Dean Baird
Atheists and Christians alike agree that this tragic story is heartbreaking. I can only imagine how I might feel if one of my children or grandchildren died in similar circumstances. This man, by all accounts, behaved heroically in his attempt to save his daughters from drowning. Yet, his bravery cost him his life.
I write about stories such as this because I think it is vitally important to point out to Christians that their God is not who they say he is. In the midst of great suffering and loss, Christians turn to faith to give them strength and hope. That is all well and good. Religion certainly offers something that atheism cannot: comfort. That Christians feel comforted in difficult times doesn't, however, mean that their God is real. It is people, not God, who comfort, encourage, and help those in need. Both atheists and Christians alike can and do comfort and help others — no God needed.
What I hope Christians will do, as they suffer pain, heartache, and loss, is ask the question, Where is God? In the story that is the focus of this post, the following questions beg for answers:
Why didn't God miraculously save the three girls from the rip current?
Why didn't God keep their father from drowning?
What possible reason could God give for killing the father and leaving the girls orphans?
Why is it when tragedies such as this happen, Christians turn to God, yet never ask him WHY? Conditioned by preaching that tells them God's ways are not our ways and God has a purpose and a plan for everything, Christians rarely take the big step of reason and ask WHY? How is it possible to square the notion that God is loving and kind and always does what's best for Christians with stories such as this?
My heart aches for those grieving over the loss of their loved ones and friends. I vividly remember the day our home phone rang and on the other end was someone telling us that Polly's sister was killed in a motorcycle accident. (Please see If One Soul Gets Saved It's Worth It All.) Polly and I were still Christians at the time, and I can still "feel" the emotions of the moment as Christians tried to make sense of a senseless death. Some people prayed, while others quoted Bible verses. Many of us wept, while others put on a strong face, not wanting to appear weak. And yet, not one of us dared to say to God, WHY? The reason for this, of course, is that asking WHY is viewed as having a lack of faith, a ploy by Satan to draw Christians away from Jesus, the author and finisher of their faith. Christians must always believe that God is good all the time, never doing anything that is not for their betterment.
Here's what I know: the day Christians dare to ask WHY? is the day they have taken their first steps away from Christianity. Reality tells us that believing there is a personal God who loves and cares for us and always does what is in our best interest is a lie. A well-intentioned lie, perhaps, but a lie nonetheless.
The only rational explanation for life on planet earth is that shit happens. Life has its wonderful moments, but it also has moments that leave us reeling, suffering great heartache and loss. While we should do what we can to maximize the wonderful moments and minimize the bad shit that happens, the fact is things are going to happen that take us by surprise, often leaving tragedy, heartache, and loss in their wake. This is life. We can either embrace life as it is or we can run to deaf, blind, and dumb gods when life turns ugly. For me, I choose to embrace reality, knowing that just around the corner I could find myself neck-deep in shit.
The Bible says in Proverbs 27:1, Boast not thyself of to morrow; for thou knowest not what a day may bring forth. The Bible also says in James 4:14, Whereas ye know not what shall be on the morrow. For what is your life? It is even a vapour, that appeareth for a little time, and then vanisheth away. These verses aptly describe how all of us should view life. None of us knows what tomorrow will bring. This could be the last blog post I ever write. Pain, suffering, loss, and death lurk in the shadows, ever ready to pounce when given the opportunity. This is why it is important for us to embrace each and every day as if it might be our last. This is hard to do. We humans are optimistic, thinking that the sun will rise in the morning and another day will be ours. However, as this story aptly illustrates, there is coming a day when each of us will meet our end. No matter how sure we are about the future, all that we really have is today.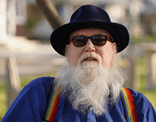 Bruce Gerencser, 65, lives in rural Northwest Ohio with his wife of 44 years. He and his wife have six grown children and thirteen grandchildren. Bruce pastored Evangelical churches for twenty-five years in Ohio, Texas, and Michigan. Bruce left the ministry in 2005, and in 2008 he left Christianity. Bruce is now a humanist and an atheist.
Connect with me on social media:
You can email Bruce via the Contact Form.
Your comments are welcome and appreciated. All first-time comments are moderated. Please read the commenting rules before commenting.