Jodi Heckert and his daughter appeared in a June 14, 2014, Slate Magazine article titled "Striking Portraits of Fathers and the Daughters Whose Virginity They've Pledged to Protect." (While Heckert's daughter is now an adult, I have decided to not publish her name.) The story features the photography of David Magnusson. As a photographer, I found Magnusson's work to be stunning (and creepily disturbing), but I do wonder, based on several of his quotes in the article, if Magnusson really understands the American purity culture. For those of us who were once a part of the patriarchy movement, David Magnusson's photographs are reminders of the many girls who are smothered by their God-fearing, hymen-worshiping "protective" fathers. Heckert, pictured above with his 13-year-old daughter, is one such father. In August of 2015, Heckert was found guilty of attempted child molestation and sentenced to ten years in prison.
Arizona Department of Corrections Inmate Search
Here's what Ayperi Karabuda Ecer had to say about Magnusson's photographs:
David Magnusson's focus is not on the individuals, it is on the relationship. The strength, the tenderness, the domination, and all the contradictions springing from adult men seeking promises which will guide young girls' intimate lives and their infinite need for love and protection.

Each shoot takes up to an hour. That is no longer a "moment"; it is a long time to maintain intensity. Yet some of the fathers and daughters spend the hour physically clinging to each other.

The light is what makes this project visually coherent. All photographs are organized to be shot an hour and a half before dawn. Yes, it is beautiful. Many of the fathers refer to light in their interviews. One of them quotes Psalm 40: "I was plucked from a miry pit and sat into a marvellous light", another thinks that "as Christians we're supposed to be the light in the world."

David Magnusson's lighting appeals to those who pose but its airy subtlety also adds a surreal tone which contrasts with the solid convictions of the photographed. The setting seems to be from a fairy tale but we are confused by the cast.

David Magnusson knows that what is missing in a frame is as important as what is present. As fathers and daughters intensely try to embody the presence of God, one wonders what fears and hopes lie behind their mutual determination? Who are the men that inspire such fright and such need for protection? What past scars do the fathers want to redeem? Will these girls ever be able to love anyone more than their own progenitor? How much do our own demons suggest interpretations?

Purity is a personal visual project that offers a stage for intense emotions and questions.

As with all images, these carry different meanings depending on where and by whom they will be viewed. Ideally they need to be accompanied by the interviews and a balanced introduction.

But as with so many other images they will also be encountered divorced from initial purpose and control in an unpredictable journey.

Purity is a project about contradictions, love and domination, beauty and fear, relying on the very singular complexities of the photographic process.
Please take the time to view Magnusson's photographs, and when finished please let me know what you think in the comment section.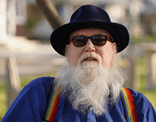 Bruce Gerencser, 65, lives in rural Northwest Ohio with his wife of 44 years. He and his wife have six grown children and thirteen grandchildren. Bruce pastored Evangelical churches for twenty-five years in Ohio, Texas, and Michigan. Bruce left the ministry in 2005, and in 2008 he left Christianity. Bruce is now a humanist and an atheist.
Connect with me on social media:
You can email Bruce via the Contact Form.
Your comments are welcome and appreciated. All first-time comments are moderated. Please read the commenting rules before commenting.