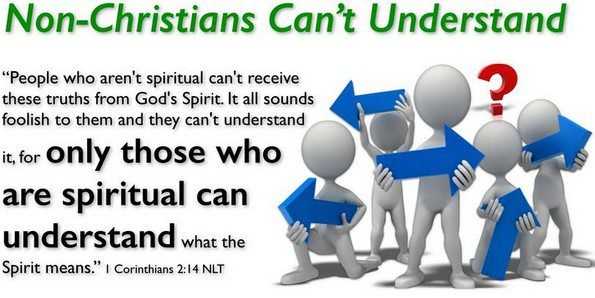 Evangelical number one says to an unbeliever, you need to read the Bible. Within its pages you will find the good news of the gospel. Through this message, you will find the forgiveness of sins and life eternal — that is, if God decrees it to be so and you haven't committed the unpardonable sin.
Evangelical number two says to an unbeliever, the natural (non-Christian) people cannot understand the things of God (the Bible) because they are spiritually discerned. Since non-Christians are dead in trespasses and sins and the Holy Spirit does not live inside them, they cannot understand the Bible. Unless God gives non-Christians ears to hear and eyes to see, they are unable to discern and comprehend the only supernatural book ever written, the Protestant Christian Bible.
Confused? How about I let Leslie, a Fundamentalist Christian blogger, explain this to all of us unregenerate, unsaved enemies of God:
Have you ever tried to talk to someone about the Gospel, just to have them declare that the Bible is simply another book? Where do you go with this?
….
But the question (and answer) that impacted me most was this one: What do you do when an unbeliever says the Bible is just like any other book and full of errors and contradictions?

This does seem to be a very relevant question in this day and age, does it not? The authority of scripture has been so undermined that few people believe the Bible to be the very Word of God anymore.

Dr. John) MacArthur gave a two-part answer to this question that I found incredibly encouraging. I am conveying his general thoughts (not his word for word answer) and then sharing some of my thoughts about what he said.

First, we need to stop expecting them to believe the Bible is the Word of God. Of course, they don't. And Scripture tells us that they can't until God unveils their eyes and shines His light on their hearts.

You may be thinking– Wait! You mean it's not up to us to shine the light on to their hearts?

We can present it. We can share it. We can try to persuade them. But only God can give the light of His knowledge to a searching heart.
….
Unbelievers can't understand until God opens their eyes. It's impossible.

Secondly, if someone is challenging us about the Bible, he suggested that we ask them one simple question: Have you read the Bible?

If they say no, then suggest to them that this is a very strong statement to make about a book they've never read. If they decide to do their own study at that point, then let the Bible speak for itself.

Isn't that a wonderful thought?

Hebrews 4:12 confirms this: For the word of God is living and powerful, and sharper than any two-edged sword, piercing even to the division of soul and spirit, and of joints and marrow, and is a discerner of the thoughts and intents of the heart.

The Bible will speak for itself to the unregenerate, seeking heart. God may use us to help someone to find salvation but He doesn't need us.
According to Leslie, non-Christians cannot understand the Bible. No matter how much they read the Good Book, unless God gives them understanding, its meaning will remain beyond their ability to comprehend and understand. Yet, Leslie gives a completely different answer (to be fair, she is parroting Fundamentalist John MacArthur) when saying how Christians should handle non-Christians who say the Bible is filled with contradictions. Have you read the Bible? she suggests saying to atheists and unbelievers. Leslie assumes most non-Christians haven't read the Bible, not knowing that many unbelievers know the Bible quite well and have likely read and studied it more than most Evangelicals. That doesn't matter of course. Why? Remember, non-Christians have no capacity to understand the Bible. But wait, didn't Leslie say they should read it? Now you are catching on . . . around and around the mulberry bush we go.
What Leslie, John MacArthur, and a cast of millions believe is that to understand the Bible non-Christians need some sort of Gnostic superpower. Without this supernatural ability to see and understand what the words of the Bible mean, it becomes just another book gathering dust on the bookshelf. So what about people such as myself, Robert M. Price, Dan Barker, John Loftus, and Bart Ehrman? All of us spent years reading and studying the Bible, allowing God to teach us the "real" meanings of its words. Yet, now that we no longer believe, does this mean that POOF! — all our knowledge has disappeared? I wonder if Evangelicals understand how ludicrous and silly it sounds when they suggest that non-Christians can't understand the Bible. The Bible — truth be told — is not that complicated. Having read it from cover to cover numerous times, I know what it says. After studying it for thousands of hours and preaching over 4,000 sermons, I think I can safely say I know the Bible (from an Evangelical perspective). I think I am more than ready to test out of this class and move on to hard books such as George R.R. Martin's Games of Thrones.
Leslie quotes Hebrews 4:12:
For the word of God is living and powerful, and sharper than any two-edged sword, piercing even to the division of soul and spirit, and of joints and marrow, and is a discerner of the thoughts and intents of the heart.
Based on this verse, Leslie concludes that the Bible has some sort of magic power, a living book that is able to divine human thought and intent. I wonder, is this just for Christians? I just went to the bookshelf and retrieved my trusty Cambridge, leather-bound King James Version of the Holy Bible. After removing several inches of dust, I held my Bible on the side of my head and waited for it speak. Tell me, oh Bible, what am I thinking? What are my intentions? I waited and waited, yet nothing happened. Hmm . . . I wonder, am I doing it wrong? Then it dawned on me . . . Leslie is misinterpreting the Bible. Up from the recesses of my sin-addled mind came the memory of how this verse is often misinterpreted by Evangelical parishioners and pastors alike.
Hebrews 4:13 says (remember context, context, context):
Neither is there any creature that is not manifest in his sight: but all things are naked and opened unto the eyes of him with whom we have to do.
You see, the word of God is a HE, a HE that sees all things. This word of God is not the Bible, it is likely JESUS (see John 1). It is Jesus (or the Holy Spirit) who discerns the thoughts and intents of the heart. The Bible? It is a book that is no different from any other book. Written by numerous men — many of them unknown — over hundreds of years, the Bible is a compilation of religious, historical, and poetic writings. It is not, in any way, some sort of magical book that contains messages that can only be unlocked by those who have the special Evangelical decoder ring. Containing sixty-six books, the Bible is littered with contradictions and internal inconsistencies. All the Evangelical parlor tricks in the world can't harmonize its words. Numerous Gods, numerous salvation plans, and numerous contradictory interpretations await those who dare to read its pages. Evangelicals such as Leslie will deny what I have written, oblivious to the true nature of the Biblical text. Filled with faith, God's chosen ones thumb their noses at academics who dare suggest that the Bible is not what Evangelicals claim it is. In the aforementioned quote, Leslie told her readers to ask those who say the Bible has contradictions if they have ever read it. Yes, Leslie, we have. Perhaps the real question is whether Leslie has read any books by authors such as Bart Ehrman, Robert M. Price, or John Loftus, or a host of other non-believing scholars. These men were all, at one time, Evangelicals. Now they are atheists. I wonder if Leslie has studied the history of Christianity or how the Bible came to be? My money is on Leslie — if she has done any study at all — not having read any books by authors outside of the narrow Fundamentalist constraints of the Evangelical box.
Often, when Evangelicals say they have studied these issues, what they really mean is that they have read apologetic books written by Evangelical authors. Warned of the dangers that await those who read authors such as Bart Ehrman, Evangelicals only read books that are on the Approved Evangelical Authors list. And here's what many non-Christians don't know. Most Evangelicals NEVER read theologically oriented books. In fact, most of them rarely read the Bible. How then do Evangelicals come to know what they believe? Simple. Every Sunday at 11:00 AM they report to Bible Knowledge Class 101, also known as Sunday Morning worship. While Evangelicals are encouraged to bring their Bibles to church so they can follow along as their pastors teach them the Bible, once the service is over, these Bibles will be returned to storage, only to retrieved the following Sunday. When Evangelicals are asked about what THEY believe, most often what they reply with is what their pastor believes. He is the arbiter and purveyor of what is true. And like lambs to the slaughter, church members follow along. Yet, according to Leslie, these illiterate Evangelicals know more about the Bible than Evangelicals-turned-atheists who spent a lifetime parsing the Greek and divining every word of its text. Only in the Christian church does this kind of thinking exist. Imagine someone saying that only a person who lived at Hogwarts could "really" understand the Harry Potter books. Why non-Hogwarts-living Potterite readers would laugh at such a thought. As with all literature, anyone willing to read and study the Bible can understand its teachings.
Bruce Gerencser, 66, lives in rural Northwest Ohio with his wife of 45 years. He and his wife have six grown children and thirteen grandchildren. Bruce pastored Evangelical churches for twenty-five years in Ohio, Texas, and Michigan. Bruce left the ministry in 2005, and in 2008 he left Christianity. Bruce is now a humanist and an atheist.
Connect with me on social media:
Your comments are welcome and appreciated. All first-time comments are moderated. Please read the commenting rules before commenting.
You can email Bruce via the Contact Form.