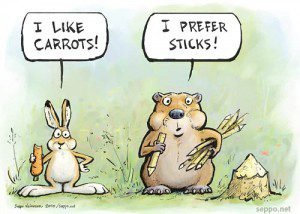 The four tools most often used by Evangelical preachers to keep people in the pews are:
The threat of God's judgment
The threat of Hell
The promise of forgiveness
The promise of life after death
As with Jonathan Edwards in his famous sermon, Sinners in the Hands of an Angry God, Evangelical preachers warn parishioners of the judgment to come and the Hell that awaits anyone who does not repent of their sins and become a follower of Jesus.
Here's what Edwards had to say:
…The God that holds you over the pit of hell, much as one holds a spider, or some loathsome insect over the fire, abhors you, and is dreadfully provoked: his wrath towards you burns like fire; he looks upon you as worthy of nothing else, but to be cast into the fire; he is of purer eyes than to bear to have you in his sight; you are ten thousand times more abominable in his eyes, than the most hateful venomous serpent is in ours. You have offended him infinitely more than ever a stubborn rebel did his prince; and yet it is nothing but his hand that holds you from falling into the fire every moment. It is to be ascribed to nothing else, that you did not go to hell the last night; that you was suffered to awake again in this world, after you closed your eyes to sleep. And there is no other reason to be given, why you have not dropped into hell since you arose in the morning, but that God's hand has held you up. There is no other reason to be given why you have not gone to hell, since you have sat here in the house of God, provoking his pure eyes by your sinful wicked manner of attending his solemn worship. Yea, there is nothing else that is to be given as a reason why you do not this very moment drop down into hell.

O sinner! Consider the fearful danger you are in: it is a great furnace of wrath, a wide and bottomless pit, full of the fire of wrath, that you are held over in the hand of that God, whose wrath is provoked and incensed as much against you, as against many of the damned in hell. You hang by a slender thread, with the flames of divine wrath flashing about it, and ready every moment to singe it, and burn it asunder; and you have no interest in any Mediator, and nothing to lay hold of to save yourself, nothing to keep off the flames of wrath, nothing of your own, nothing that you ever have done, nothing that you can do, to induce God to spare you one moment…
While few Evangelical preachers can turn a word and speak as eloquently as Edwards, their message is still the same: judgment and Hell await those who do not repent of their sins and follow after Jesus.
Preachers often use what I call the carrot and stick approach. Every person has a choice to make about where they spend eternity. While Calvinists and Arminians argue endlessly over whether we really are free to choose, saving faith does require an act of volition. Every person must choose between Heaven and Hell. Become a follower of Jesus and Heaven, the carrot awaits when you die. Reject Jesus, his salvific work on the cross, and his death-defying resurrection from the dead, then Hell, the stick, awaits you when you die.
Evangelical preachers impress on those under the sound of their voice that it is important to make a decision for Christ NOW! The Bible says in the last part of II Corinthians 6:2:
…behold now is the accepted time; behold now is the day of salvation.
According to Evangelical preachers, none of us has the promise of tomorrow. Proverbs 27:1 states:
Boast not thyself of to morrow; for thou knowest not what a day may bring forth.
Evangelical preachers are like Larry the Cable Guy. Git 'er Done! Today, right now, don't delay.
Some preachers spice up their sermons with illustrations of people who died suddenly or who died after hearing and rejecting the preacher's warning about God's judgment and Hell. These stories, true or not, are meant to elicit an immediate response. When I was a preacher, my goal was to press every person who heard my sermon to make a decision. I was of the opinion that there was no such thing as a neutral position. Once a person heard the gospel, heard my sermon, they had a choice to make. Heaven or Hell, which will it be?
A regular reader of this blog sent me a Franklin Graham quote that I think will help illustrate what I am trying to say in this post:
"Death is serious, eternal business. Once our physical hearts beat for the last time, we will instantly find ourselves either in the presence of the Lord Jesus Christ in all His splendor, or in the pit of Hell away from His presence."
There's the carrot and the stick. Heaven or Hell; choose now while your heart is still beating. The moment your heart stops beating, your eternal destiny is settled.
Think for a moment about what Graham said here about the heart stopping. So, if a person's heart stops, his eternal destiny is settled? What if his heart is restarted using a defibrillator? Does this mean his eternal destiny is not really settled and he gets another chance to decide, heaven or Hell? For those people who have heart transplants, does that mean that they need to decide again?
The bigger problem with Graham's statement is that it is bad theology. According to orthodox Christian theology, when people die, they do not go to heaven or Hell. Instead, they go to the grave and will remain there until the resurrection of the dead. Grandma is not up in Heaven running around, nor is she peering over the portals of Heaven watching her grandchildren play. Neither is Christopher Hitchens in Hell, being tormented day and night for daring to mock the thrice-holy God. They are dead, lying in the grave, awaiting the second coming of Jesus and the resurrection of the dead.
After the resurrection of the dead, the final judgment will take place and every person will be sent to his or her final reward. And even here, many Evangelical preachers, including Graham, get it wrong. Christians will not spend eternity in Heaven. Instead, they will spend it in the Kingdom of God. Hitchens and the rest of us reprobates? We will not spend eternity in Hell. Instead, we will spend it in the Lake of Fire.
Revelation 20:11-15 makes this quite clear:
And I saw a great white throne, and him that sat on it, from whose face the earth and the heaven fled away; and there was found no place for them. And I saw the dead, small and great, stand before God; and the books were opened: and another book was opened, which is the book of life: and the dead were judged out of those things which were written in the books, according to their works. And the sea gave up the dead which were in it; and death and hell delivered up the dead which were in them: and they were judged every man according to their works. And death and hell were cast into the lake of fire. This is the second death. And whosoever was not found written in the book of life was cast into the lake of fire.
and Revelation 21:1-8:
And I saw a new heaven and a new earth: for the first heaven and the first earth were passed away; and there was no more sea. And I John saw the holy city, new Jerusalem, coming down from God out of heaven, prepared as a bride adorned for her husband. And I heard a great voice out of heaven saying, Behold, the tabernacle of God is with men, and he will dwell with them, and they shall be his people, and God himself shall be with them, and be their God. And God shall wipe away all tears from their eyes; and there shall be no more death, neither sorrow, nor crying, neither shall there be any more pain: for the former things are passed away. And he that sat upon the throne said, Behold, I make all things new. And he said unto me, Write: for these words are true and faithful. And he said unto me, It is done. I am Alpha and Omega, the beginning and the end. I will give unto him that is athirst of the fountain of the water of life freely. He that overcometh shall inherit all things; and I will be his God, and he shall be my son. But the fearful, and unbelieving, and the abominable, and murderers, and whoremongers, and sorcerers, and idolaters, and all liars, shall have their part in the lake which burneth with fire and brimstone: which is the second death.
And here is an even more interesting point. Isn't our eternal destiny settled by repenting of our sins and following after Jesus? These texts state that everyone is judged according to their works, that it is works that determine whether Grandma, Hitchens, or anyone else goes to Heaven or Hell.
I wish Evangelical preachers would get together and figure out exactly where it is we are all going when we die. I wish they would determine if it is really up to we to decide? With so much confusion and lack of theological precision, how are poor, lost atheists such as us supposed to determine in what hotel to make my final reservation?
The purpose of this post is to show how confusing and contradictory Evangelical preachers and their theology can be. If they are not precise and clear, can mere untrained, unwashed Philistines such as us have any hope of finding THE Way, Truth, and Life?
Bruce Gerencser, 66, lives in rural Northwest Ohio with his wife of 45 years. He and his wife have six grown children and thirteen grandchildren. Bruce pastored Evangelical churches for twenty-five years in Ohio, Texas, and Michigan. Bruce left the ministry in 2005, and in 2008 he left Christianity. Bruce is now a humanist and an atheist.
Connect with me on social media:
Your comments are welcome and appreciated. All first-time comments are moderated. Please read the commenting rules before commenting.
You can email Bruce via the Contact Form.