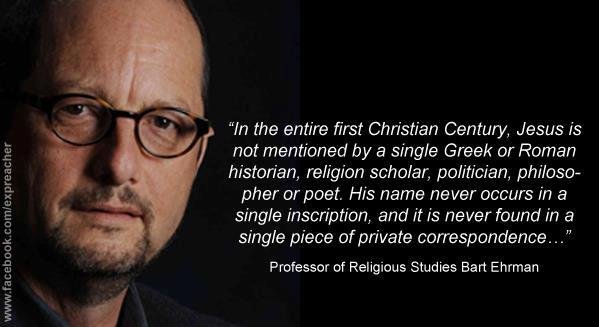 The 2019 population of the Jerusalem was 936,000, according to Wikipedia. In 1948, the population of Jerusalem was 87,000. According to Wikipedia, the first-century population of Jerusalem was around 80,000, though this population would swell during Passover and other religious observances. When I lived in Yuma, Arizona, I observed a similar swelling of the population when the snowbirds arrived to spend winter in Yuma. Whatever the population of Jerusalem was during the three-year public ministry of Jesus, there were plenty of people who observed his works. Surely, there were thousands of eyewitnesses who could have written something about Jesus's miracles, and his death, resurrection, ascension back to Heaven. Surely, there were eyewitnesses who could have written something about the acts of the Apostles and the early church. Why then, is there little or no historical record for the life and work of Jesus or the early followers of Jesus? God striking church members dead or causing the followers of Jesus to speak in unknown tongues surely were notable events, yet there is no record of them outside of the Bible. Why is this?
According to the Bible, the events leading up to the death of Jesus, his crucifixion, and his resurrection from the dead, took place during Passover. After the post-resurrection ministry of Jesus, Jesus ascended back to Heaven, and on the Day of Pentecost, while the followers of Jesus were gathered in an upper room, they were filled (baptized) with the Holy Spirit. (Acts 2)
Acts 2:1-6 states:
And when the day of Pentecost was fully come, they were all with one accord in one place. And suddenly there came a sound from heaven as of a rushing mighty wind, and it filled all the house where they were sitting. And there appeared unto them cloven tongues like as of fire, and it sat upon each of them. And they were all filled with the Holy Ghost, and began to speak with other tongues, as the Spirit gave them utterance. And there were dwelling at Jerusalem Jews, devout men, out of every nation under heaven. Now when this was noised abroad, the multitude came together, and were confounded, because that every man heard them speak in his own language.
This miracle of speaking with other tongues caused quite a stir and, as a result, on one day:
Then they that gladly received his word were baptized: and the same day there were added unto them about three thousand souls. (Acts 2:41)
In fact, according to Acts 2:47:
And the Lord added to the church daily such as should be saved.
Every day people were being saved, baptized, and added to the church, or so says the author of the book of Acts.
In Acts 3,4 we find Peter and John going to the Temple to preach the gospel. While they faced great adversity from the Sadducees over their preaching that through Jesus people could be resurrected from the dead, Acts 4:4 states:
…many of them which heard the word believed; and the number of the men was about five thousand.
So, in a short amount of time, the Acts narrative moves from 120 followers of Jesus being gathered in an upper room to 3,000 people being saved, baptized, and added to the church, to 5,000 men believing the preaching of the gospel. Yet, outside of the New Testament, which was written decades after the events recorded in Acts 1-4, there is no historical mention of a large number of people becoming followers of Jesus. There is no mention of 3,000 people being publicly baptized on one day. There is no mention of a large gathering of Jesus's followers in the outer court of the Temple.
In fact, there is no non-Biblical historical record for any of the astounding events recorded in the Gospels and Acts. Suppose a well-known man died in the community you live. You saw him die. With your own eyes, you saw his dead, embalmed body. Yet, three days later, this same man came back to life and was sitting with his family and friends at the local Applebee's. Do you think such a miraculous event would make the front page of the newspaper? Do you think it would be trending on Twitter? Do you think everyone in your community would quickly know about the dead man brought back to life? Yet, when it comes to Jesus the miracle worker, a man who purportedly raised people from the dead, cast demons out of people, gave sight to the blind, restored the hearing of the deaf, walked on water, and walked through walls, there is no non-Biblical historical record of any of his works.
According to the Bible, Jesus was well-known in Jerusalem. When he came riding into Jerusalem on a colt (or an ass, you decide) people lined the streets and cheered him. This same man, a short time later, was arrested, publicly humiliated, nailed to a cross like a common thief, and buried in a borrowed grave. Three days later — however you count three days — (please see I Wish Christians Would be Honest About Jesus' Three Day Weekend) this same well-known Jesus resurrected from the grave and appeared to over 500 people. Pretty newsworthy stuff, right? Yet, outside of the Bible, there is no historical record of these events.
Even more astounding, according to Matthew 27, at the moment Jesus died:
And, behold, the veil of the temple was rent in twain from the top to the bottom; and the earth did quake, and the rocks rent; And the graves were opened; and many bodies of the saints which slept arose, And came out of the graves after his resurrection, and went into the holy city, and appeared unto many.
At the very moment Jesus died, the veil of the Temple, a curtain that was likely 30 feet wide, 60 feet high, and four inches thick, (using 18 inches as the measurement for a cubit) was torn in half. And according to the Gospel of Mark, there was an eclipse at the moment of, or right before Jesus died. Ponder for a moment such astounding events, yet, outside of the Bible, there is no record of them ever occurring.
If that is not astounding enough, consider that the Bible says when Jesus died the graves of the saints were open and out popped resurrected followers of Jesus. These resurrected saints went into Jerusalem and appeared to many people. Yet, not only is there no non-Biblical historical report of this happening, none of the other gospel writers or Paul mention it. Surely, dead relatives and dead fellow believers resurrecting from the dead and walking about the city of Jerusalem would be important to 1st century Christians, yet outside of Matthew, no one mentions it.
Yes, later Christian authors, working from the text of the Bible and stories passed down to them, speak of these events being true, but why are there no Roman or Jewish historical writings that mention these astounding events?
I am well aware of the various arguments that can be made, but I don't buy them. It seems far more likely that these miraculous, astounding events never happened. Yes, Josephus possibly said:
About this time there lived Jesus, a wise man, if indeed one ought to call him a man. For he was one who performed surprising deeds and was a teacher of such people as accept the truth gladly. He won over many Jews and many of the Greeks. He was the Messiah. And when, upon the accusation of the principal men among us, Pilate had condemned him to a cross, those who had first come to love him did not cease. He appeared to them spending a third day restored to life, for the prophets of God had foretold these things and a thousand other marvels about him. And the tribe of the Christians, so called after him, has still to this day not disappeared.
I say possibly because what Josephus actually said is a matter of great debate (the oldest manuscript of Josephus's writings is dated a thousand years after his death). Regardless of the authenticity of the aforementioned passage, Josephus does not mention, outside of the resurrection of Jesus from the dead, any of the miraculous events that occurred at the time of the death of Jesus. Why is this?
This is one of the reasons that I do not believe the central claims of Christianity are true. While this is not proof for there being no God, it does call into question the narrative that many Christians proclaim is pure, unadulterated truth.
Bruce Gerencser, 66, lives in rural Northwest Ohio with his wife of 45 years. He and his wife have six grown children and thirteen grandchildren. Bruce pastored Evangelical churches for twenty-five years in Ohio, Texas, and Michigan. Bruce left the ministry in 2005, and in 2008 he left Christianity. Bruce is now a humanist and an atheist.
Connect with me on social media:
Your comments are welcome and appreciated. All first-time comments are moderated. Please read the commenting rules before commenting.
You can email Bruce via the Contact Form.