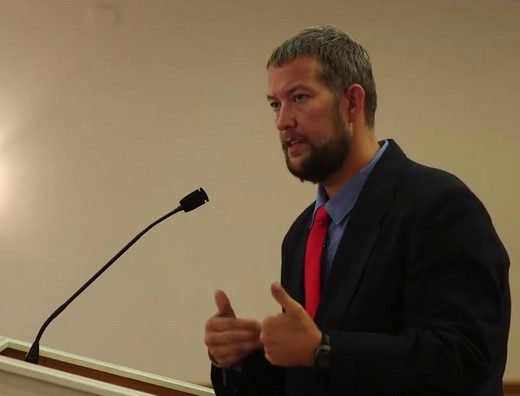 The Black Collar Crime Series relies on public news stories and publicly available information for its content. If any incorrect information is found, please contact Bruce Gerencser. Nothing in this post should be construed as an accusation of guilt. Those accused of crimes are innocent until proven guilty.
Jordan "JD" Hall, pastor of Fellowship Baptist Church in Sidney, Montana, and publisher of the Fundamentalist polemics site Protestia, was arrested on May 11, 2022, and charged with driving under the influence and carrying a concealed weapon while intoxicated.
Religion News Service reports:
A Montana Baptist pastor who has spent years warning that liberals were taking over the Southern Baptist Convention and evangelical churches, was arrested on DUI and weapons charges.

Jordan Daniel "J.D." Hall, pastor of Fellowship Baptist Church in Sidney, Montana, and publisher of the online Christian polemics site Protestia, was arrested on May 11 after a traffic stop. According to a copy of the initial offense report obtained by Religion News Service, Hall was charged at 11 p.m. with driving under the influence and carrying a concealed weapon while intoxicated. The DUI charge is a first offense, according to the report. A Sidney police officer observed Hall driving in a bike lane and pulled him over.

Hall allegedly had slurred speech, stumbled and had poor balance, according to a copy of the complaint filed against him, which was also posted online. During the stop, police also allegedly found a concealed handgun. The pastor performed poorly on a field sobriety test, according to the police report, but a breathalyzer did not find evidence of alcohol in his system.

The Montana pastor is best known for his role as a writer for online site Pulpit&Pen, where Hall criticized what he saw as liberal and worldly influences affecting the evangelical church and especially the Southern Baptist Convention. Among the site's targets were Bible teacher Beth Moore, former Southern Baptist ethicist Russell Moore (no relation), former SBC President J.D. Greear and Tennessee preacher and Trump supporter Greg Locke.

….

In 2014, Hall announced plans to back away from his involvement in SBC conflicts, following the death of the teenage son of one of the church leaders he criticized. Hall and other critics had ridiculed the 15-year-old online, in what radio talk show host Todd Starnes called "theological thuggery."

"In one sense, I am reaping what I sowed. When you live by the sword, you die by it," said Hall in in 2014, according to Christianity Today. He had also apologized for criticizing the teenager.

Hall had become active in SBC conflict in recent years — joining other critics who claim the nation's largest Protestant denomination has turned liberal — and had planned to attend the upcoming SBC annual meeting in Anaheim. The pastor claimed that "me and my boys will control the mics and rebuke is on the agenda."

The pastor recently filed for bankruptcy, claiming he could not afford to pay legal fees in a libel lawsuit, according to Montana news reports. A transgender activist has sued Hall for libel, claiming "an article about her damaged her reputation," the Longview News-Journal reported.   

Hall pled not guilty to the charges. He has also been assessed a $585 fine, according to the Daily Montanan, and has a court date set for mid-July. 

After Facebook banned the Pulpit&Pen, the site was renamed "Protestia." Hall also heads the Gideon Knox Group, which runs a church-based collection of media sites and other media ministries, including the Polemics Report, the Bible Thumping Wingnut podcast network, and an AM radio station. He also founded the Montana Daily Gazette, a conservative news site.
Fellowship Baptist released the following statement:
The following statement from Fellowship Baptist Church is made in response to the events of the evening of May 11th, 2022 involving Pastor Hall, and subsequent findings and decisions made by the church.

Pastor Hall tenured his resignation to the church Thursday after being charged with DUI on Wednesday evening. There was no alcohol in his system and he blew 0.0 on the administered breathalyzer. However, police insisted Pastor Hall failed the administered field sobriety test. Pastor Hall has suffered from documented vitamin D deficiency, which can result in poor coordination, slurred speech, word displacement, etc. This medical issue has been discussed openly for some time and has been the subject of our church's prayers. Nonetheless, Pastor Hall felt responsibility for bringing the stain of rumor upon the church and thus offered his resignation.

The deacons and elders met yesterday and rejected his resignation in consultation with three well-respected and Godly pastors of other churches, as it was unanimously determined that, as no alcohol was used and Pastor Hall's coordination/health issues have been well known, this unfortunate incident was not ministerially disqualifying. The deacons, elders, and consulted pastors were apprised of Pastor Hall's prescription medication, health issues, and spiritual, emotional, and physical state, and expressed great concern for his health and overworking.

The Church Council met soon after and likewise rejected Pastor Hall's resignation. The council determined Pastor Hall was exhausted, potentially addicted to working, and must rest, do nothing for 3 months, and change his phone number (to not be bothered by outsiders). Additionally, the Council determined that church elders will handle Pastor Hall's responsibilities along with a former church member (who had moved away) and lay pastor. Church leadership will place Pastor Hall's wife in charge of when after that period he is well enough to go back to work, in consultation with the elders.

Subsequently, the congregation was apprised of the situation in a special business meeting after services Sunday. In a unanimous vote, they likewise rejected Pastor Hall's resignation and voted to affirm the Church Council's findings.

Pastor Hall spoke to the congregation to say he would submit to their requests, would come or go at our pleasure, and agreed to remain in his office at our request. He cautioned us solemnly to be ready for what enemies of Christ would do with his situation and to brace themselves. The congregation spoke openly to assure Pastor Hall he should not be ashamed, that we do not care what the world thinks, as that we know the truth.

Please pray for Pastor Hall and his family during this incredibly stressful season.
Hall blames a severe Vitamin D deficiency for his DUI-like behavior. Even if this is true and it causes impaired behavior, Hall had no business driving an automobile.
Hall will use his arrest to fuel his belief that he is being persecuted by nefarious outside sources or Satan.
If I was making a Top 100 list of Christian Assholes, JD Hall would be Top 5.
Fundamentalist Pastor JD Hall Brags About Breaking the Law
Fundamentalist J.D. Hall "Apologizes" to LGBT Community
The Sounds of Fundamentalism: J.D. Hall and Fred Phelps, Two Peas in a Pod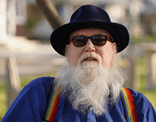 Bruce Gerencser, 65, lives in rural Northwest Ohio with his wife of 44 years. He and his wife have six grown children and thirteen grandchildren. Bruce pastored Evangelical churches for twenty-five years in Ohio, Texas, and Michigan. Bruce left the ministry in 2005, and in 2008 he left Christianity. Bruce is now a humanist and an atheist.
Connect with me on social media:
You can email Bruce via the Contact Form.
Your comments are welcome and appreciated. All first-time comments are moderated. Please read the commenting rules before commenting.