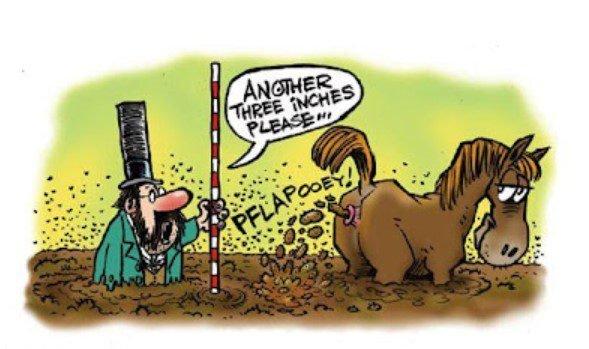 What follows is a load of horseshit from Joseph Mattera, an "internationally known author, consultant, and theologian whose mission is to influence leaders who influence culture. He is the founding pastor of Resurrection Church and leads several organizations, including The U.S. Coalition of Apostolic Leaders and Christ Covenant Coalition" . . . and a consummate shoveler of horseshit (and bullshit.) 🙂
At the writing of this article, there has been another horrific mass shooting, this time in Buffalo, New York. I am convinced that one of the primary reasons for this deluge of mass shootings over the past decade is the generational desensitization of human life in general, especially with the legalization of abortion.
After all, if a nation can legalize shedding the blood of the most innocent and vulnerable among us, this can subconsciously segue to the shedding of the blood of post-birth, fully formed adult humans. A nation's conscience and boundaries are established by what it allows through its laws and ethics.
….
According to a news report I saw on television, the shooter was allegedly a white supremacist who'd had a conversation with a black man the day before the shooting in the same parking lot of the supermarket where the shooting occurred. They had spoken about race. The black man interviewed said he had told the young man "there is only one race."
In response, the young white man said, "there are many races." This belief that there are many races goes along with the evolutionary perspective of Charles Darwin, who wrote On the Origin of Species by Means of Natural Selection, or the Preservation of Favoured Races in the Struggle for Life (1859), which purported that some species of humanity evolved more than others.
Future white supremacists like Adolf Hitler and abortion advocate/Planned Parenthood founder Margaret Sanger utilized this evolutionary theory of various races to justify discrimination against others. While Sanger attempted to use abortion as a legal way to exterminate the so-called "negro race," Hitler utilized gas chambers to preserve his view of a pure breed of humanity.
Biblically speaking, since all humans are made in the image of God, there is only one human race (Acts 17:26); therefore, the biblical position of the Imago Dei (image of God) is the most significant ideological position to hold against racism and all forms of human degradation, including abortion.
Regarding abortion, one of the seven sins God abhors is the shedding of innocent blood, because the (human) life is in the blood (Prov. 6:17; Lev. 17:14). Consequently, throughout church history Christ-followers have always fought for and advocated for the sacredness of human life, including humanity in its "pre-birth" and "post-birth" stages of development.
….
Hence, the equation goes like this: A culture with less regard for innocent unborn babies can equal less respect for all other humans. This results in more post-birth racism, crime, murder, rape and sexual harassment. Therefore, this erosion of societal mores makes it easier for people to objectify one another for their ends (like a mother terminating her pregnancy for economic reasons or to avoid embarrassment).
— Joseph Mattera, Charisma News, Racism, Abortion and the Implications of the 'Sanctity of Human Life', May 20, 2022
Bruce Gerencser, 66, lives in rural Northwest Ohio with his wife of 45 years. He and his wife have six grown children and thirteen grandchildren. Bruce pastored Evangelical churches for twenty-five years in Ohio, Texas, and Michigan. Bruce left the ministry in 2005, and in 2008 he left Christianity. Bruce is now a humanist and an atheist.
Connect with me on social media:
Your comments are welcome and appreciated. All first-time comments are moderated. Please read the commenting rules before commenting.
You can email Bruce via the Contact Form.