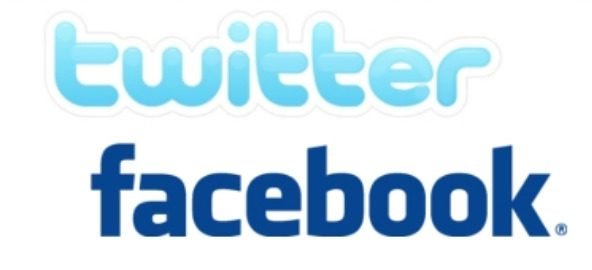 Several years ago, I posted a letter I wrote to the editor of the Defiance Crescent-News about black Defiance College football players kneeling for the National Anthem to social media.
Dear Editor,

I write to lend my support to the Defiance College football players who have knelt during the playing of the national anthem. I commend them for their courage, knowing that most local residents oppose their actions. Their continued protest has brought calls for discipline, including expulsion from school. I commend college administrators and coaches for not bowing to public pressure to silence protest. These students, along with their counterparts in professional sports, need to be heard. Their protests have nothing to do with respect for the military or flag.

What lies behind their kneeling is inequality, injustice, and racism. While these issues might seem to locals to be the problems of urban areas, the truth is that we denizens of rural Northwest Ohio have our own problems related to these things. I recently participated in a forum discussion on racism in Northwest Ohio. Having lived most of my sixty years of life in this area, I can say with great certainty that we are not immune from charges of racism and injustice. We may hide it better, covering it with white, middle-class Christian respectability, but it exists, nonetheless.

Years ago, my family and I walked into a church towards the end of the adult Sunday school class. Teaching the class was a matronly white woman — a pillar of the church. She was telling the class that her grandson was not getting playing time on the college football team because blacks got all the playing time. She reminded me of a retired white school teacher I knew when I lived in Southeast Ohio. At the time, we had a black foster daughter. I had just started a new church in the area, and we were looking for a house to rent. This school teacher had a house available, so we agreed to rent it. When it came time to pick up the keys, she told us she decided to rent to someone else. We later learned that she said she wasn't going to have a ni***r living in her house.

These stories are apt reminders of what lies underneath our country respectability. It is time we quit wrapping ourselves in the flag, pretending that racism, inequality, and injustice doesn't exist. Our flag and anthem represent many things, but for many Americans, they represent oppression and denial of human rights; and it is for these reasons, among others, that players kneel.

Bruce Gerencser

Ney, Ohio
Many white — we're not racists — locals have been in an uproar over the players not kneeling. In their minds, the players are disrespecting veterans and the flag — regurgitating Donald Trump's lie. Never mind that the players say their protest is about inequality, injustice, and racism — locals know better. The faux outrage has reached hysterical levels on social media — especially on two local Facebook groups.
As is my custom, not wanting to waste my time trying to change the hearts and minds of people who already think they know everything, I stayed out of the discussions. One discussion, however, was so egregious that I decided to say my piece. Here are several screenshots of my short interaction with a local lawyer. Enjoy!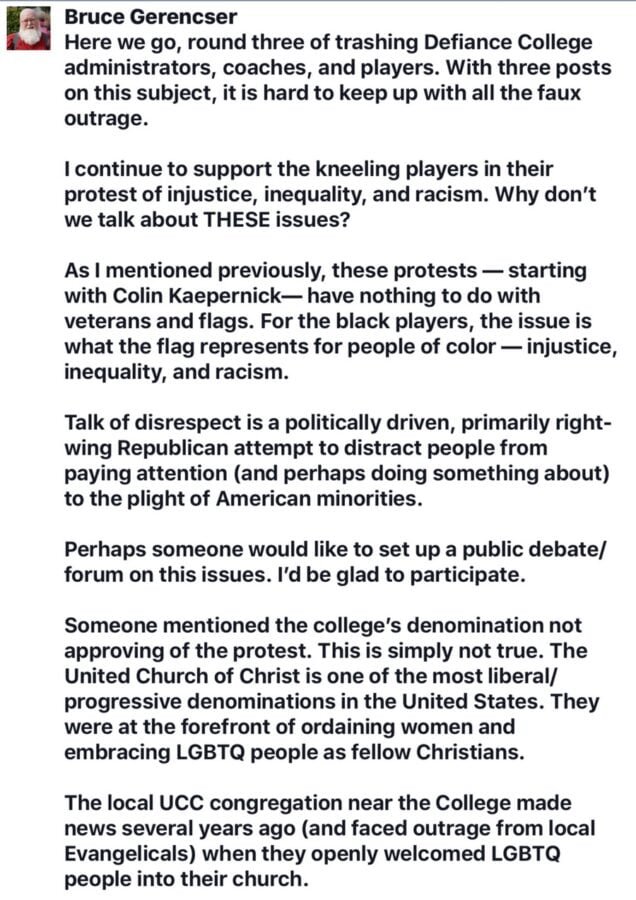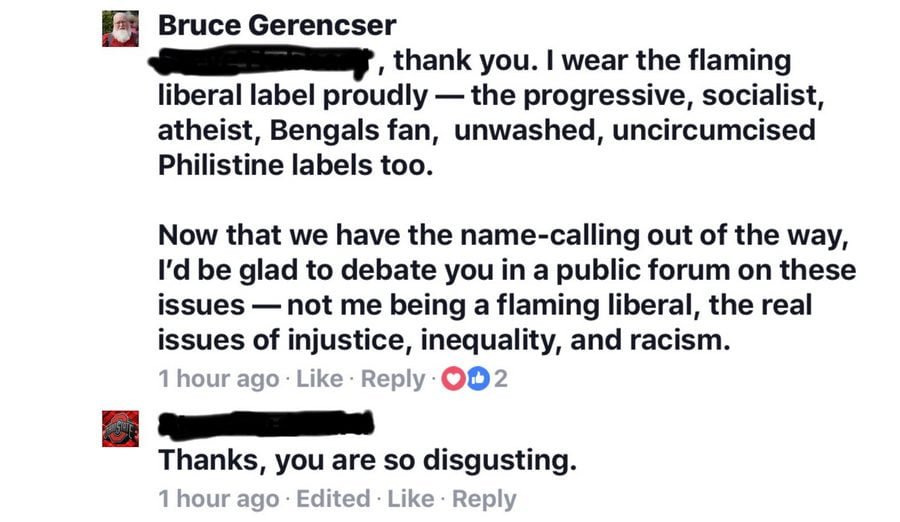 Just another day in rural, white, Christian, Trumpist northwest Ohio
Bruce Gerencser, 66, lives in rural Northwest Ohio with his wife of 45 years. He and his wife have six grown children and thirteen grandchildren. Bruce pastored Evangelical churches for twenty-five years in Ohio, Texas, and Michigan. Bruce left the ministry in 2005, and in 2008 he left Christianity. Bruce is now a humanist and an atheist.
Connect with me on social media:
Your comments are welcome and appreciated. All first-time comments are moderated. Please read the commenting rules before commenting.
You can email Bruce via the Contact Form.