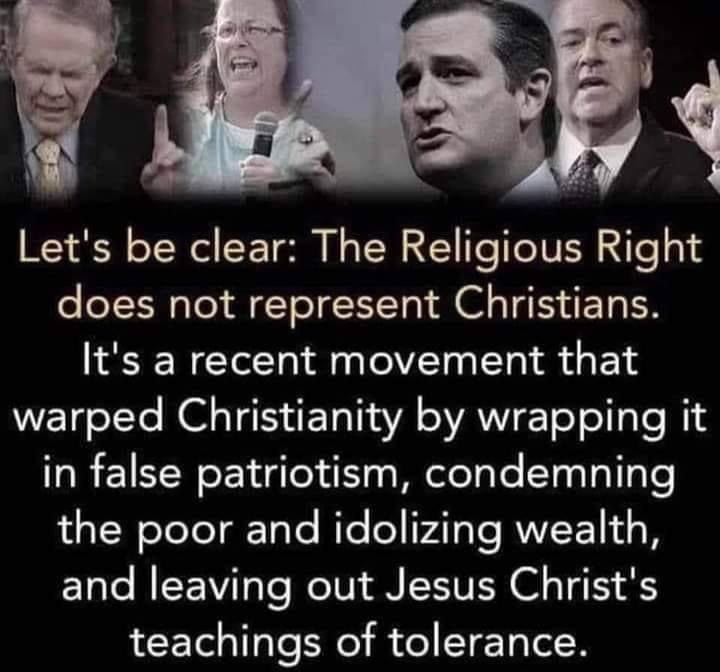 This meme is often posted by progressive or liberal Christians. They want people to know that Evangelicals, conservative Catholics, and Mormons — the religious right — don't represent Christians. They also want people to know that their brand/flavor/shade of Christianity is true Christianity or the religion of Jesus. Much like Evangelicals do today, progressive/liberal Christians appropriate the Jesus of the Bible for their own religious, political, economic, and social use.
Jesus was a practicing Jew, not a Christian. There's no Biblical evidence for the claim that Jesus was the founder of Christianity. If anything, the Apostle Paul (and to a lesser degree, James and John) was the originator of Christianity. Jesus left no writings, nothing that gives us a record of what he actually said and taught. The red words in the gospels are the words of unknown authors writing thirty-five to seventy-five years after the death of Jesus, not the actual words of Christ. The earliest manuscripts of the gospels date back to the second and third centuries, 120-150 years after the death of Jesus. All we have, then, are the words of unknown authors written decades after Jesus was executed by the Roman government.
Whatever Jesus might have said (or done) is lost to antiquity. Any claims to the contrary are wishful thinking. While I understand why various sects of Christians want to claim Jesus as their own, the fact remains that Jesus was not a Christian; that he likely would not recognize the Christianity of today. Nor would the Apostle Paul, James, Peter, John, or a host of other early church leaders. Every sect wants to trace its lineage back to AD 33. I have even seen church buildings with cornerstones that arrogantly say, BUILT AD 33. This is nothing more than ahistorical nonsense.
Christianity has been evolving since the first century. Every generation is confronted by its own version of Christianity; a version shaped, molded, and influenced by culture, social beliefs, and politics. Any sect/church/pastor that says their denomination or church or pastor practices first-century Christianity, and follows the teachings of Jesus, lacks understanding and self-awareness.
I was part of the Evangelical church for fifty years, and a pastor for twenty-five years. I am now sixty-five years old. The Evangelical Christianity of my youth is very different from the Evangelicalism of today. Better? Worse? Who's to say? The best response is "different." Religions change and evolve with time, regardless of where they fall on the Christianity spectrum. When Independent Fundamentalist Baptist (IFB) Christians say that they are practicing "old-fashioned' Christianity, what they really mean is that they are practicing white, American, 1950s, Fundamentalist Christianity. When Frank Viola and the house church proponents say they are practicing "first-century" Christianity, what they really mean is that they have extracted from church history a form of belief and practice that best fits their theological, social, political, and economic proclivities. In other words, they fashioned and crafted a religion in their own image. Liberal and progressive Christians do the same. Does anyone seriously believe Jesus, Paul, and the early church were pro-LGBTQ and egalitarian? Only by torturing the Biblical text can one conclude that First United Methodist Church of Jerusalem celebrated Pride Month or had female pastors.
Christianity would be better served if its adherents admit that their Christianities are human creations; that whatever Jesus said and practiced lies buried with his body somewhere outside of Jerusalem. Instead of countless internecine wars over who is the real Christian (the No True Scotsman fallacy), Christianity would be better served by focusing on practicing the teachings of Jesus in the Sermon on the Mount or devoting oneself to evidencing the fruit of the Spirit. Or better yet, how about practicing the two great commandments: loving God and loving others (including self)?
Bruce Gerencser, 66, lives in rural Northwest Ohio with his wife of 45 years. He and his wife have six grown children and thirteen grandchildren. Bruce pastored Evangelical churches for twenty-five years in Ohio, Texas, and Michigan. Bruce left the ministry in 2005, and in 2008 he left Christianity. Bruce is now a humanist and an atheist.
Connect with me on social media:
Your comments are welcome and appreciated. All first-time comments are moderated. Please read the commenting rules before commenting.
You can email Bruce via the Contact Form.