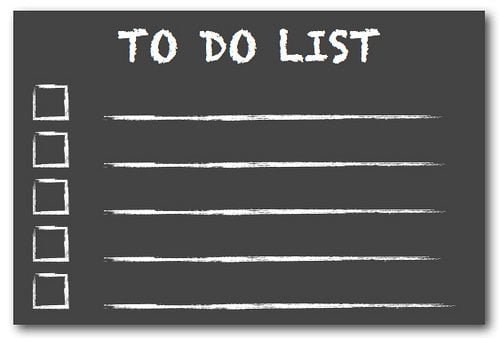 As a younger man, I pastored Evangelicals and worked secular jobs, mostly management-level employment. I was a general manager for Arthur Treacher's, Long John Silvers, and Charley's Steakery. I also was a grant manager and building code enforcement officer for the Village of Buckeye Lake. My last job (2004) was working for Allegro Medical, managing their Yuma office. While I worked blue-collar jobs, my skills were best suited for managerial positions. As a pastor and a manager, I was the man in charge. Blessed (or cursed) with a Type A personality and a driven, no-nonsense work ethic, I was well suited for the management world. By all accounts, I did my job well and my employers appreciated the work I did for them.
Over the years, I developed certain skills that helped me do my job. One skill was the use of a to-do list. Every day, I would make a list of the things I needed to do, and then I worked the list. Sometimes, I would keep this list in my mind, other times, I would write it down on a yellow pad. As I worked the list, I would mentally or physically draw a line through each completed task. Typically, my work day did not end until I completed the list.
Having an Obsessive Compulsive Personality Disorder (OCPD) certainly fueled my list-driven work ethic, as did my Fundamentalist Baptist religious beliefs. The Bible was a list of God's laws, precepts, and commands. The thrice holy creator of the universe expected me obey each and every one of his commands. After all, the Bible says that followers of Jesus are to be perfect, even as their Father in Heaven is perfect. I never had much use for Christians who treated the teachings of the Bible as optional.
Over the years, I employed hundreds of people. If asked, I suspect these former employees would say I was a driven, no-nonsense boss who expected them to show up every day and do their jobs. I had no tolerance for idleness or horsing around. I had zero tolerance for "excuses." Let me give you an example. When I started managing Charley's Steakery in Zanesville, Ohio for a Taiwanese immigrant, I inherited two assistant managers. I would have hired neither of them had it been up to me. It wasn't, so I had to try to work with them.
Jeff was an easygoing "praise Jesus" Evangelical Christian. One of the first things I had to deal with had to do with Jeff's religious beliefs. Keep in mind, I was an Evangelical pastor, at the time. However, I checked my religion at the door when I came to work. I didn't try to evangelize employees, nor did I invite them to church. If an employee asked about my church or religious beliefs, I would answer their questions, but when I was at work, I worked for my employer, not Jesus. I tried to model Christianity to my employees by my behavior, not my words.
When Jeff opened the store, he knew he had certain tasks that had to be done, every day, without exception. Yet, Jeff never seemed to get his work done. I would come in around 10:30 am and find the pre-opening tasks incomplete. Of course, I would get after Jeff for this, telling him that these tasks had to be done prior to opening. It was HIS job to make this happen.
No matter what I said, Jeff didn't do his job. Finally, I decided to figure out what was going on. Come to find out, Jeff was spending the first hour of his work day — are you ready for it? — praying and reading his Bible! He was shocked when I told him he couldn't do this; that I expected him to start working the moment he walked in the back door. He thought that I, as a pastor, would understand the importance of starting the day communing with God. Of course I did. I read the Bible and prayed every morning too. I did it, however, on my own time, before I came to work. (His excuse was that his home was too noisy for him to have devotions.)
Jeff was notorious for leaving work undone. Such a work ethic was foreign to me. My job. My responsibility. Get it done. No excuses. Ever. I expected Jeff (and my other manager) to account for the money every day. When I came to the store, they were using a communal till. No one was responsible for the money. I changed that by requiring new drawers every time a new employee was put on the register. I discouraged my managers from running the register, telling them that if they did and there was a problem with the money, I would hold them accountable for the missing money.
Every day, the opening manager was required to count the two cash drawers and the safe. There was an exact amount of money in the safe. The total amount had to be exact — no exceptions. And if it wasn't, the opening manager was expected to figure out why. No excuses. I expected the money to be correct, right down to the penny. This process was repeated at night. At the end of the night, I expected the manager to count the drawers, balance the safe, and make the deposit. The money had to balance, each and every time. If it didn't, I expected my managers to stay there until it did, and if they couldn't figure it out, I expected them to call me.
I was having a problem with drawers coming up short on the night shift (when I wasn't there). One drawer came up $50 short twice in a week. I determined that the cashier was stealing the money. I fired her. The next weekend, I was off work. Jeff was in charge. I came in on Monday morning to find a note taped on the safe that said, "Sorry, Bruce. The money is not right, and I couldn't figure it out." The safe was short $70. I recounted the safe and drawers several times. I removed the drawer mechanism from the register to make sure the money wasn't there (unlikely since this amount required multiple bills). I went to the bank and made sure the previous night's deposit amount was correct. It was. So, I was left with two possible explanations: either a customer was given too much change (unlikely since there were no $100 bills in the safe/deposit) or someone stole the money. I believed it was the latter, but I had no way of proving it.
When Jeff showed up for work, I took him aside and gave him the ass-chewing of his life. He knew it was his responsibility to make sure the money was right. He knew that he was required to call me if he couldn't figure out what happened. Worse, when I asked him who was on the register over the weekend, he told me: numerous people. According to Jeff, he was so busy that he just didn't have time to count the drawers and switch them. In other words, he ran a communal drawer all weekend. The thief could have been anyone — including him. Jeff is fortunate I didn't fire him on the spot.
I had policies and procedures in place for a reason. I expected the people who worked for me to follow them.
Fast forward to today. The Bruce from yesteryear still lives in my mind. I still have an exacting work ethic. I still make to-do lists. The difference now, of course, is that I can no longer mentally or physically work the list. Oh, I want to (just ask Polly, my children, or my counselor), but I can't. I need to, but I can't. The drive is still there, but there's no gas in the tank. Gastroparesis, fibromyalgia, and degenerative spine disease have robbed me of the ability to do the things I used to do. My life is now measured by the things I have had to give up. Last year, I sold all my professional camera equipment. No longer able to hold a camera due to its weight, I had to give up on photography. Two years prior, I sold all my woodworking equipment, fearing that I would hurt or kill myself if I didn't. I haven't driven an automobile since March 2020. I sold my car, knowing that I will never physically be able to drive again. Two years ago, I was excited to rekindle my love affair with O-gauge Lionel trains. I spent months buying engines, cars, and equipment on eBay. Two of my sons helped me build my layout table. Polly painted it for me — a dirt tone. And then, the proverbial train ran out of fuel. A year later, the trains, buildings, and equipment gather dust. I wonder if I might as well give up on this too, and sell the things I have collected. Simply, I am not sure I can (mentally) do this and still want to get up in the morning. So, it sits.
I have kept our financial records our entire married life — forty-four years. Polly never had any interest in doing so. Our checkbook always balanced to the penny. I used programs such as Quicken or Microsoft Money to track income and spending. Always the list maker, I used categories to track everything from the money we spent for utilities to the money we spent buying candles (a lot 🙂 ) We have never been very good with money, but we knew exactly what we were spending money on. Come the first of the year, I would tell Polly, "do you know we spent X dollars on ___________?" We would both laugh/cry/groan, and then promise to do better in the new year.
Three years ago, I started having an increasing problem keeping up with our finances. Receipts would sit on the desk for months. The "checkbook" no longer balanced. I started missing payment due dates. So, I gave up. After talking with my oldest son about this, I was able to develop a system that worked for me in my present dilapidated condition.
I know that tomorrow will not be better than today. I have resigned myself to the fact, that I will be forced to give in until there is no more to give. That's the nature of my afflictions. They rob me of my life, one inch at a time, launching at me and mocking me as they do. I try to focus my energy on Polly, our children and grandchildren, and writing. If I'm lucky, I will get to spend time sitting in the yard, taking a short road trip, attending one of my grandchildren's games/performances (though I can rarely do so since I require someone to drive me to these events), going to the grocery store, or eating out with the love of my life.
Last night, Polly and I went out to eat at Sweetwater Chophouse in Defiance. Bethany stayed home and watched the new Elvis movie on HBO Max. After we were done eating, Polly asked if I wanted her to take the long way home. The answer is always "yes." I never want to go home. So we drove west from Defiance to Sherwood (where we stopped at the Apache Dairy Bar and I had a chocolate malt) and then turned north and east to our home in Ney. When we arrived in Ney, I told Polly that I want to tour the town (population 356, about 100 houses). She asked, "which way?" I replied, "I want to go down all the streets." "All of them?" Polly asked. I replied, "all." And so we did, gossiping about our neighbors along the way. We noticed a block from our home six or so feral cats, six to eight months old. We love cats and have fed feral animals for decades, but we despise humans who show no regard for them and leave them to their own devices.
I returned home in time to watch Sunday Night Football. As I tiredly sat in my recliner, I opened up my iPad Pro to check for new blog comments, emails, and social media messages. There were — a couple of emails from people upset that I didn't respond to their email when they thought I should. Of course, I will, when I can, politely respond to them, apologizing for my delinquent behavior. I want to ask them, "do you know how sick I am?" In recent days, I have thought about doing away with my comment form, but even if I did, people would still find ways to contact me. Last week, a man in his 70s from Chicago somehow found my phone number and called me — at 8:30 am. I had been asleep for two hours. His call disrupted my sleep for the rest of the day. Yes, he needed someone to talk to. Yes, he had questions about religion and atheism. But, damn, it has taken me several hours and a plethora of medications to fall asleep, and you woke me up!
Deeply engrained in my mind is the need to work the to-do list. The list is still there; it will always be there. The difference now, of course, is that I can no longer work the list like I used to. The list gets longer and longer and longer. On "good" days I will knock a few things off the list, but on most days, the list continues to grow. Three weeks ago, I bought a kit at Menard's to repair our toilet. There it sits on the kitchen shelf, unused. Everywhere I look I see jobs half-done, projects incomplete. Whether it is my home or this blog, things left undone have become tyrants who love to mock my fragility and inability. On "good" days, I ignore their voices, telling them to fuck off. On "bad" days, I find their mockery and taunts to be overwhelming, constant reminders that I am a frail, dying man.
I am at a place where I have more decisions I must make. I am facing increasing physical problems. The memory problems that were just a niggling problem for years are now getting in the way of me doing what I want and need to do. (This is not dementia or Alzheimer's. It is more likely driven by the cumulative effect of chronic illness and pain.) I will have days when I feel like the man on The Waterboy: "you can do it." Such days are flights of fancy, much like an auto engine that runs its best just before it blows up. Reality says that I must use a cane, walker, or wheelchair everywhere I go. I am not stable on my feet. Prone to falls, I must plot out every step when in public. I know a bad fall could be the end for me. I am losing strength in my hands. A new problem, nerve-related, causes my left thumb (I'm left-handed) to fold under my fingers, numb and unmoveable for several minutes. This is likely caused by the herniated discs in my neck. I continue to have problems with my eyes. I have done from near-sighted to far-sighted. I have given up wearing glasses.
These days, even the basics of life are challenging. Nausea and vomiting have turned eating into a chore instead of a joy. I try, but I have found nausea to be an enemy I cannot defeat. Medicine helps, but I can only take so much Zofran. The rest of the time, I endure nausea. It's really not fun when drinking ice tea makes you nauseous
I don't write these things to whine or solicit sympathy (fuck you, Derrick Thomas Thiessen). Writing about my life is a distraction, a medication that lessens my suffering. And maybe, just maybe, my writing might resonate with a few of you, a reminder that you are not alone. I will continue to do what I can for as long as a can, but I know there will likely come a day when I must further trim my to-do list, reducing it to one line: breathe.
Bruce Gerencser, 66, lives in rural Northwest Ohio with his wife of 45 years. He and his wife have six grown children and thirteen grandchildren. Bruce pastored Evangelical churches for twenty-five years in Ohio, Texas, and Michigan. Bruce left the ministry in 2005, and in 2008 he left Christianity. Bruce is now a humanist and an atheist.
Connect with me on social media:
Your comments are welcome and appreciated. All first-time comments are moderated. Please read the commenting rules before commenting.
You can email Bruce via the Contact Form.