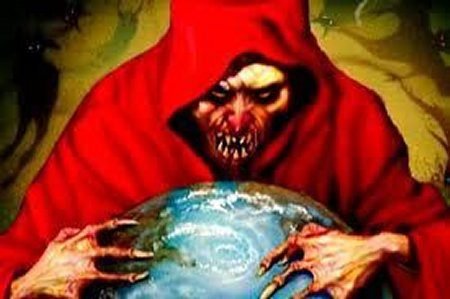 Yes and no. Satan is real to the degree that people believe he is. Evangelicals, in particular, believe that Satan is a living, breathing fallen angel. Evangelicals are Biblical literalists, so when they read what the inspired, inerrant, infallible Word of God says about Satan, the Devil, or Beelzebub, they believe what they are reading is non-fiction and biographical in nature. In their minds, Satan is every bit as alive as Jesus. He is a roaring lion who walks on the face of the earth seeking whom he may devour. Satan is a tempter who finds great joy in causing Christians to fall into sin. The number one excuse Evangelical preachers give when accused of sexual misconduct? No, not "I DIDN'T DO IT!" No, not "I thought she was eighteen." No, the number one excuse given by Evangelical preachers is, to quote Flip Wilson, "THE DEVIL MADE ME DO IT!"
According to Evangelicals, Satan has a large army of demons, and in legion with one another, they do their damnedest to tempt Christians to sin against God. Satan dangles the wares of the world in front of them, and in moments of weakness, they give in and sin. Much like the red scare in the 1950s McCarthy era, Evangelicals see Satan under every bed. Try as they might to bind him and cast him out, Satan continues to afflict God's chosen people. He is their arch-nemesis.
Believing Satan is real allows Evangelicals to escape personal responsibility for bad behavior. The thinking goes that if Satan had not led them astray they wouldn't have sinned. Dammit, Satan. If you hadn't tempted me, I never would have had sex with my secretary! Just exchange "sex with my secretary" with whatever sin they are accused of committing. Wait a minute. I thought Evangelicals are indwelt with the Holy Spirit? Shouldn't having God living inside of you provide an inoculation against sinning? How is it possible that the voice of Satan drowns out the voice of God? Evangelicals regularly attend church and do all the religious stuff they are expected to do, yet they continue to sin in thought, word, and deed. What gives?
Of course, Evangelical preachers have all sorts of answers for the continued Satan-fueled sinfulness of Christians, one of which is that they are a work in progress (sanctification) and God is not finished with them yet. Fine, I can understand that. We all grow and mature as we age. None of us is the person today that we were when we were in our twenties. However, it is Evangelicals who demand non-Christians perfectly obey the moral teachings of the Bible. Who is the primary driver and funder of the culture war? Evangelicals. Who is it that has a hard-on over homosexuality, same-sex marriage, and premarital sex? Evangelicals. Hear voices screaming long and hard in the public square about "immorality"? Who is it? Evangelicals. Everywhere we look we find Evangelicals who feel they are the morality police. Yet, these same people don't practice what they preach.
If Evangelicals can use Satan as an excuse for their bad behavior, why can't non-Christians, atheists, agnostics, and pagans do the same? After all, the Bible says that non-Christians have been taken captive by Satan and he does whatever he wants with us. This makes sense, as the Bible also says that Satan is our father. Damn parental training, right? If only God had been our father . . . oh, wait, he doesn't seem to be a very good daddy either.
Here we are, it's 2022. We live in an enlightened scientific world. You would think that believing Satan is real would be banished to the dustbin of human history. Unfortunately, Evangelicals still live in a world where a real Satan is required to explain evil and behaviors deemed sinful. Over the past fifteen years, I have been told by Evangelicals countless times that I am a tool of Satan. How else to explain my deconversion from Christianity? Satan made me do it!
As an atheist, I firmly believe that culpability for good or bad behavior rests with the person committing the act. While there may be mitigating factors, we are the ones who do what we do. We are responsible for our actions. Imagine how different Evangelical churches might be if personal accountability was preached? Instead, congregants are told that they are broken and in need of saving, and even after Jesus saves them, Satan lurks in the shadows ready and able to tempt them to "sin." Church members are encouraged to continually prostrate themselves before God, begging for his care and protection. Paul reminded first-century Christians that they were powerless without Jesus; that the Christian life is one of constant battle with Satan and the flesh. Preachers tell congregants to attend church every time the doors are open, tithe, pray, tithe, read the Bible, tithe, and fast, and maybe, just maybe, when Sister Verily Voluptuous walks down the aisle, they might be able to withstand having "impure" thoughts. And you Christian ladies, the same goes for you too. Don't think for a moment you are exempt. Your longing looks at Brother Wellhung Hunkubut have been noted! Time to follow the lust-prevention plan mentioned above.
I have long argued that Evangelical doctrine infantilizes church members; that it teaches them they are powerless and weak and in need of constant religious care; that without Jesus they will run headlong into sin and act just like the unwashed, uncircumcised Philistines of the world. Hey, don't tar us worldlings with that brush! We're better than that, and when we aren't we accept responsibility for our bad behavior; all without God, Jesus, the Holy Spirit, the Bible, Christianity, and preachers. Granted, our "sin" lists are much smaller than those of Evangelicals, but we can and do behave in ways that are harmful to others. When I harm others, I apologize and, if necessary, make restitution. No Satan or "flesh" to blame, no God from whom to ask forgiveness. I am to blame, end of story.
I am sure some smart-ass Evangelical will attempt to argue that good behavior requires God/Christianity/Bible, but based on my observations of the Evangelical landscape, that methodology is not working out too well. It seems to me that neither God, Christianity, or the Bible is stemming bad behavior. Catholic and Evangelical churches alike are overrun with pedophiles and skirt chasers, and Christians watch porn at the same levels as their counterparts in the world. Christians seem to, in every way, live their lives in the same manner as those they damn to Hell for not believing Jesus is the Way, Truth, and Light. But, Bruce, a recent study said Christians are HAPPIER! Take that! Yeah, delusion will do that to you. Eighty-one percent of voting Evangelicals voted for the worst American president in American history, so it is clear that their happiness, at least politically, is derived from lies. And I readily admit that the promise of a room in God's Trump Hotel® in the afterlife might make me happy too, but there is no evidence for the fulfillment of such a promise. We live, we die, end of story. Solemn, at times depressing? Sure, but life is what it is. You can either choose to live in a fantasy world, or you can see things as they are, and not how religious gurus tell you they will be someday.
Did you attend a church where Satan was alive and well? Did you fear Satan? Were you tempted by his wiles and devices — or thought you were anyway? Please share your stories in the comment section!
Bruce Gerencser, 66, lives in rural Northwest Ohio with his wife of 45 years. He and his wife have six grown children and thirteen grandchildren. Bruce pastored Evangelical churches for twenty-five years in Ohio, Texas, and Michigan. Bruce left the ministry in 2005, and in 2008 he left Christianity. Bruce is now a humanist and an atheist.
Connect with me on social media:
Your comments are welcome and appreciated. All first-time comments are moderated. Please read the commenting rules before commenting.
You can email Bruce via the Contact Form.