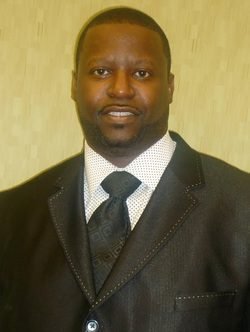 The Black Collar Crime Series relies on public news stories and publicly available information for its content. If any incorrect information is found, please contact Bruce Gerencser. Nothing in this post should be construed as an accusation of guilt. Those accused of crimes are innocent until proven guilty.
James Smith II, pastor of New Jerusalem Baptist Church in Pompano Beach, Florida, stands accused of defrauding his church to support his drug habit.
A Pompano Beach pastor was arrested on multiple charges after authorities said he defrauded his church to support his drug habit.

James Edward Smith II, the pastor of New Jerusalem Baptist Church in Pompano Beach, is facing multiple fraud and theft charges, Florida Department of Law Enforcement officials said Wednesday.

The investigation into Smith began last April after authorities received complaints from parishioners and church founders that Smith had fraudulently gained control over the church and church funds, officials said.

Authorities found the 49-year-old Smith filed a forged quit claim deed allowing him to assume complete control of the church property and then sold it for $600,000, using the money to support a drug habit.

Smith is also being charged by the Broward County Sheriff's Office for larceny and fraud associated with worthless checks totaling more than $1,600 that were written on the church's bank account, officials said.

….

When authorities searched Smith's home, they found heroin, methamphetamine, marijuana and a stolen firearm, officials said.

Smith was charged with organized scheme to defraud, fraud, grand theft, criminal use of personal identification information, unlawful filing of false document records against real or personal property, grand theft of a firearm, possession of a firearm by convicted felon and violation of probation.

More charges are pending.
For Reverend James Edward Smith II, Pastor of New Jerusalem Missionary Baptist Church of Pompano Beach, Florida praise and worship is more than a style it's a way of life.  It is what he does in response to God's presence in his life.  His desire is to preach and teach the gospel so others may recognize the awesome power of God and praise him for his mighty acts.

He hails from the south Florida, a third generation preacher, married to Mrs. Dionne E. Smith, and together they have four children; xxxx, xxxx, xxxx, and xxxx.  Reverend Smith is a proud 1992 graduate of Boyd Anderson High  School, and a 1996 graduated of Edward WatersCollege in Jacksonville Floridawhere he acquired a degree in Business Administration.   Since his call to the ministry, he has taken several biblical training courses and workshops, and presently matriculating in the Masters of Divinity at Ames Theological Seminary. 

His passion for the ministry has led him and kept him in many trying times.  Along with a powerful gift in ministry comes anointed vocal and song writing ability that is proven by one of his original songs "I'm no longer the same".  His traditional flavor layered with a contemporary draw has made it easy for the old to connect and the young to relate.

One of his favorite quotes is; "What would I know about being restored if I'd never lost my place? What would I know about God's mercy if I'd never fallen from grace?" Reverend Smith extracts from experiences that God has brought him through to be a testimony to the young and a reminder to the old that God can do anything but fail! When ministering, his dynamic energy and conviction invites you into a place of worship and praise.

Reverend Smith is active in several levels of ministry conducting various kinds of worship services, revivals, retreats, conferences, weddings and concerts. God has recently called Reverend Smith to expand his ministry to include mentoring young men without active fathers in the home. When asked who he would like to reach while ministering he said, "Those who know and don't know they need Jesus!" He laughs"So this covers everybody. I want people to know that the forces of Satan are real but so are the forces of God. People must understand there is another good time that Satan doesn't want them to know about and it is in
Jesus.

Reverend Smith is a former associate minister at New Jerusalem Missionary Baptist Church located in Fort Lauderdale Floridawhere his father, Bishop David C Poole, is Pastor. He served in the leadership capacity as the minister of music, bible study instructor, and trustee board member. Reverend Smith's servant hood to God extends the walls of the church to those in the surrounding community: he is a board member of Elijah's House for Ex-offenders, Member of the Broward County Coalition for ex-offenders, member of the South Florida Renowned singing ensemble In-Unity, and a life time member of Gamma Beta Chi fraternity.

When asked Reverend Smith says that he considers himself a living testimony of what God can do for those who love and trust him with their whole heart. Because of His abundant grace and unconditional love, it is his mission to share the goodness of God with everyone he places in his path. When asked what his message is, Reverend Smith says, "You will not experience a genuine sense of spiritual fulfillment until you realize and live within God's will for your life."
Bruce Gerencser, 66, lives in rural Northwest Ohio with his wife of 45 years. He and his wife have six grown children and thirteen grandchildren. Bruce pastored Evangelical churches for twenty-five years in Ohio, Texas, and Michigan. Bruce left the ministry in 2005, and in 2008 he left Christianity. Bruce is now a humanist and an atheist.
Connect with me on social media:
Your comments are welcome and appreciated. All first-time comments are moderated. Please read the commenting rules before commenting.
You can email Bruce via the Contact Form.