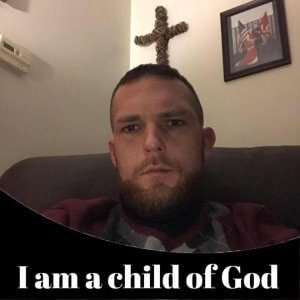 The Black Collar Crime Series relies on public news stories and publicly available information for its content. If any incorrect information is found, please contact Bruce Gerencser. Nothing in this post should be construed as an accusation of guilt. Those accused of crimes are innocent until proven guilty.
Dennis Laferty, pastor of Thompson United Methodist Church in Thompson, Ohio, stands accused of the sexual abuse of minors: five counts of sexual battery, one count of gross sexual imposition, and one count of sexual imposition. It is alleged that the church covered up Laferty's crimes.
The minister of a church in Geauga County has been arrested and is facing multiple criminal charges after he was accused of the sexual abuse of minors.

Dennis Laferty, 37, who is pastor at Thompson United Methodist Church in Thompson Township, is charged with five counts of sexual battery, all third-degree felonies, according to Geauga County Common Pleas Court records. He also is charged with one count of gross sexual imposition, a third-degree felony, and one count of sexual imposition, a misdemeanor. A judge ordered he be held on a $100,000 bond.

Laferty was arrested Friday in Crawford County, the Geauga County Sheriff's Office says. If Laferty is convicted, he could be sentenced to a maximum of five years on each felony count.

A news release from the sheriff's office says Laferty is accused of sexually abusing minors beginning in 2019 and continuing until January of this year. Investigators believe there might be more victims.
The Geauga County Maple Leaf added:
The seven-count indictment against Laferty states a county grand jury found between Nov. 30, 2019, and Jan. 30, 2023, Laferty engaged in various acts of sexual misconduct with one or more minors. Specifically, Laferty was charged with five counts of third-degree felony sexual battery, one count of third-degree felony gross sexual imposition involving a person less than 13 years of age and one count of third-degree misdemeanor sexual imposition involving a person 13 years of age or older but less than 16 years old. The third degree felony counts in the indictment each carry a maximum potential sentence of five years in prison.

Laferty, a former staff sergeant in the U.S. Marine Corps, joined TUMC in July 2018 after serving three years as pastor at The United Methodist Church in Nevada, Ohio. He is married and has three daughters, according to his Facebook page.

On March 8, a former member of TUMC contacted the Geauga County Maple Leaf with information that Laferty was removed from his home on or about March 7 and was not allowed to have contact with his family. The person agreed to speak with the Maple Leaf on condition of anonymity.

"The Thompson Methodist Church is trying to cover this up, but the town's people have a right to know," the former member said. "The Thompson Police Department along with a few unmarked Chevy Tahoes were at his residence across from Dollar General. They came back later and confiscated some of his belongings."

The former member was aware of at least one minor victim who is a member of TUMC and said one or more of the church leaders have known about other inappropriate behavior involving Laferty, but have covered it up for years.

"It has torn the church apart," the former member said. "They don't want anyone to know, especially the people of Thompson Township or the United Methodist Church District."

Whether the leaders knew about the sexual battery allegations is unknown, the former member said.

Flaiz said as the investigation is still ongoing, he is unable to comment further on Laferty's charges at this time.

"An indictment is only a probable cause finding by the grand jury," his statement said. "A defendant is entitled to a fair trial in which it will be the State's burden to prove guilt beyond a reasonable doubt."

A law enforcement source familiar with the investigation, but not authorized to speak publicly, told the Maple Leaf authorities learned of Laferty's alleged sexual battery through a current TUMC member who was concerned with how the matter was being handled internally at the church.

In addition, the former member said Laferty has a criminal history and provided the Maple Leaf with a copy of a 2012 sentencing entry filed in the Richland County Court of Common Pleas. According to the entry, Laferty admitted to aggravated trafficking in drugs, a third-degree felony. He was ordered to pay a $1,500 fine to the City of Mansfield Police Department and hand over a Kimber .45 semiautomatic handgun to the state of Ohio. He also was ordered to complete a mental health evaluation and treatment program.

The former member claims some church leaders knew of Laferty's prior conviction but failed to inform the "majority of the hiring committee" before he was hired in July 2018.

In October 2018, Laferty paid to have the 2012 case record sealed so he could get a passport to go to Jerusalem, the former member said, which he did earlier this year, according to his Facebook page.

The Maple Leaf reached out to the lay leader and president of the church, Steve Roessner, for comment on Laferty's hiring, current status with the TUMC and the criminal allegations. Roessner, who is a tax map manager in the Geauga County Engineer's Office, did not respond to a text message requesting comment.

The Maple Leaf also reached out to board member Kirk Fowler for comment. Fowler also did not respond.
Thompson United Methodist administrative council released the following statement:
We have recently been made aware of very concerning allegations regarding Pastor Dennis Laferty. Please be aware that we are taking matters very seriously and allowing the appropriate authorities to take action. At this time, we ask that you pray for our church and community, and that answers may be brought in a just manner. Please know that we at Thompson United Methodist Church do not condone any form of harm to any person and we care for all our members. To ensure the protection of our congregation and community Dennis has been suspended as Pastor.
Nine years ago, the Mansfield News Journal wrote a feature story about Laferty, then the pastor of Adario United Methodist Church in Shiloh, Ohio:
Dennis Laferty, 29, admits he joined the Marine Corps to run away from his true vocation.

After 71/2 years, three tours in Iraq and various injuries, Laferty was honorably discharged for medical reasons.

Today, he is the senior pastor of the Adario United Methodist Church.

"I planned to stay in the Corps for 20 years and retire," he said. "But you can't run away from God."

He admits he was still running away when he and his wife, Lisa, moved to Tiro in Crawford County after his discharge.

By habit, he and Lisa attended the United Methodist Church.

"But I was still angry. I had no idea what it was like to be a civilian," he said. "But a lot of love from a lot of people helped."

But, Pastor Laferty said, church members such as Elvon Pry "took me under their wings."

The running was over.

Laferty obtained a degree in criminal justice from North Central State College and looks forward to earning a master's degree in divinity soon.

After some training, he was assigned to the United Methodist Church in Adario. He and Lisa found a small, comfortable home just down the road from the church.

He is a licensed local pastor who can serve communion, perform marriages and funeral services, as well as conduct baptisms and Sunday services.

He has come a long way from the Marine "gym rat" who served in Iraq three times too many.

A native of Mansfield, Laftery attended the local United Methodist church.

"I knew by the sixth grade that the church was where I belonged. But I didn't want it," he said.

He met Lisa at Mansfield Senior High School, and the two were married in between his junior and senior years.

They have three children — Jessica, 9; Abigail, 6; and Rebecca, 2 — plus a friendly dog named Alice.

Laferty joined the Corps right out of high school and was trained in logistics. But every time he went to Iraq, he was on the road with the infantry.

Halfway through his third tour, his vehicle was blown up by a mine.

"The engine was blown almost 500 feet away," he said.

But of the six men on board, only he was seriously injured — with a concussion and broken ribs.

His real problem was a bone cyst in his right arm. Four operations failed to eliminate it, and he was discharged with disability.

He went from a muscular gym rat to a smaller size.

He also had to face reality. The running was over. God, as he said, was calling.

He doesn't lift weights any more, but he hopes to lift hearts.

"I was appointed to Adario last July. I needed a new ballgame, and I've loved every minute of this."

His congregation has 71 members, and many are elderly. He knows them all.

This is a busy church with several activities, including free meals for people who need them.

His sermons are taken from a few notes he marks down in his small home office.

"I'm no theologian," Laftery said.

He takes off from there, hoping to reach the members of his congregation.

While his home office is filled with books on theology and the Bible, a Marine Corps sword sits prominently on a table.

Laferty is a man of God, but always a Marine.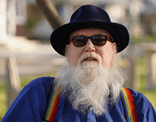 Bruce Gerencser, 65, lives in rural Northwest Ohio with his wife of 44 years. He and his wife have six grown children and thirteen grandchildren. Bruce pastored Evangelical churches for twenty-five years in Ohio, Texas, and Michigan. Bruce left the ministry in 2005, and in 2008 he left Christianity. Bruce is now a humanist and an atheist.
Connect with me on social media:
You can email Bruce via the Contact Form.
Your comments are welcome and appreciated. All first-time comments are moderated. Please read the commenting rules before commenting.