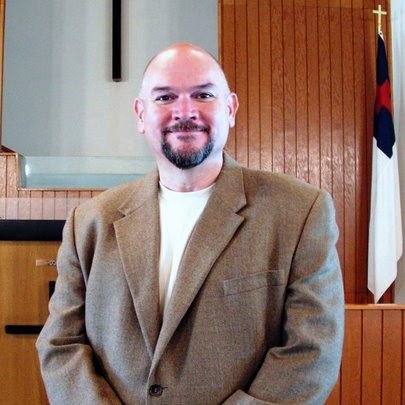 The Black Collar Crime Series relies on public news stories and publicly available information for its content. If any incorrect information is found, please contact Bruce Gerencser. Nothing in this post should be construed as an accusation of guilt. Those accused of crimes are innocent until proven guilty.
In 2019, Curtis Brown, pastor of Grace Baptist Church (Chapel) in Albuquerque, New Mexico, was accused of sexually assaulting a five-year-old boy. Grace is a King James-only Missionary Baptist congregation. Brown resigned after his arrest. According to news reports, Brown pastored Grace Baptist for over eighteen-years.
Curtis Ray Brown has been charged with criminal sexual penetration and criminal sexual contact of a minor. The charges stem from an August 23, 2019 incident in which authorities say Brown sexually abused the boy while he stayed at his home overnight.

A criminal complaint states that the boy would spend Tuesday afternoons after school with Brown and details that after staying with Brown, the 5-year-old boy told his father of his "secret."

According to police, the child's father then confronted Brown, who allegedly didn't deny the allegations, and told the child's father "it just happened," and "started in the shower one day."

The child's father told authorities of a Facebook messenger "group chat" in which the child's mother, Brown, and other members of his family are a part of, and that Brown had allegedly apologized for his actions.

Screenshots of the chat message were provided to police and were transcribed in the criminal complaint which reads in part:

"I know no amount of words or actions can undo the damage that I have done. I can only express my shame and disgust in what I have done. I am truly sorry for what I am putting our family through. "
In March 2020, Brown pleaded guilty to sexually molesting his five-year-old grandson. That's right, the boy in this story was Brown's grandson.
In May 2020, Brown was sentenced to 33 years in prison for his crime.
Bruce Gerencser, 63, lives in rural Northwest Ohio with his wife of 42 years. He and his wife have six grown children and thirteen awesome grandchildren. Bruce pastored Evangelical churches for twenty-five years in Ohio, Texas, and Michigan. Bruce left the ministry in 2005, and in 2008 he left Christianity. Bruce is now a humanist and an atheist. For more information about Bruce, please read the About page.
Are you on Social Media?
Follow Bruce on Facebook and Twitter.
Thank you for reading this post. Please share your thoughts in the comment section. If you are a first-time commenter, please read the commenting policy before wowing readers with your words. All first-time comments are moderated. If you would like to contact Bruce directly, please use the contact form to do so. Donations are always appreciated. Donations on a monthly basis can be made through Patreon. One-time donations can be made through PayPal.