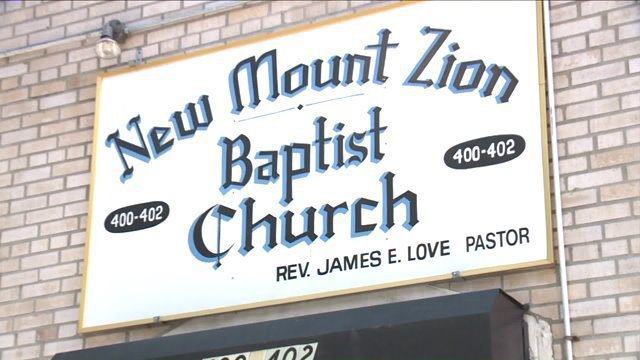 Last June, James Love, pastor of New Mount Zion Baptist Church in Brooklyn, was arrested and charged with sexually assaulting a six-year-old girl. The New York Post reported:
James Love, 45, was arrested Friday at 10 p.m. and slapped with criminal charges for sexually abusing the girl at an apartment in Woodside, according to a criminal complaint.

Police sources said Love, who told cops he was a pastor at New Mount Zion Baptist Church in Manhattan, assaulted the girl "on several occasions."

The church didn't immediately return a call seeking comment, so his status couldn't be confirmed.

The girl's mother told cops that Love exposed himself to the girl, placed his genitals in her hands and rubbed her privates over her clothes between March and June, according to the criminal complaint.
Yesterday was was the first day of Love's trial. The New York Post reports:
A 7-year-old girl bravely testified in Queens court Tuesday against a Manhattan pastor on trial for sexually abusing her.

The child told jurors that James Love, formerly a minister at New Mount Zion Baptist Church in Harlem, had fondled her several times when she was just 6-years-old between March and June of 2016.

Love's wife ran a daycare out of the couple's Woodside, Queens, apartment where she watched the victim and seven other children.

The 46-year-old minister was making peanut butter and jelly sandwiches for his son when the young girl, wearing her school uniform, went into the kitchen to get a glass of water.

"He touched me," she said at the first day of Love's trial in Queens Supreme Court. She told him to stop, but he persisted then led her into a bedroom, pushed himself against her and tried to kiss her.

"It was kind of disgusting," she said as Love, wearing a tan suit, sat at the defendant's table with his hands clasping his walking cane.

It wasn't the first time Love had put moves on the child. On another occasion, he opened his zipper and told her to touch him, she said.

Assistant District Attorney Jacqueline Rizk told jurors in opening statements that the girl finally told her mother "in between muffled sobs" what had happened, which led to Love's arrest.

Defense lawyer Todd Spodek insisted that the girl made the story up because her account kept changing.

He questioned how Love could have pulled off the alleged crimes when there were two other adults and seven children in the apartment.

Further, even after Love's arrest, two parents continued to entrust their children in his wife's care because they didn't believe the allegations, he argued.

"Children can lie for a number of reasons," he said.

Love is charged with one count of sex abuse and two counts of endangering the welfare of a child. If convicted, he faces up to seven years in prison.

Other victims came forward, but he's only charged with crimes relating to the young girl, according to a source.
Update #1
Love was found guilty and sentenced to seven years in prison. The New York Post reports:
A ​former church ​pastor recently convicted of molesting a six-year-old girl was sentenced to seven years in prison Monday, the Queens District Attorney announced.

James Love was found guilty of sexually assaulting the young child, who was a ward at his wife's Woodlawn day care, earlier this month.

Love, the former pastor of New Mount Zion Baptist Church in Harlem, sexually assaulted t​​he little girl numerous times over the period of a year from June 2015 to June 2016, prosecutors said.

The now-seven-year-old bravely testified against Love during the ten-day trial.

The 46-year-old ​fallen man of God must also register as a sex offender.

"The victim's mother dropped off the youngster at a trusted babysitter's home, she had every expectation that her daughter would be cared for and protected," Queens DA Richard Brown said in a statement. "Instead the husband of the sitter took advantage of the girl's proximity and repeatedly violated her for his own sexual gratification."

Defense attorney Todd Spodek called his client's conviction "a perfect example of the uphill battle victims of false allegations of sexual abuse face at trial, and ultimately at sentencing."